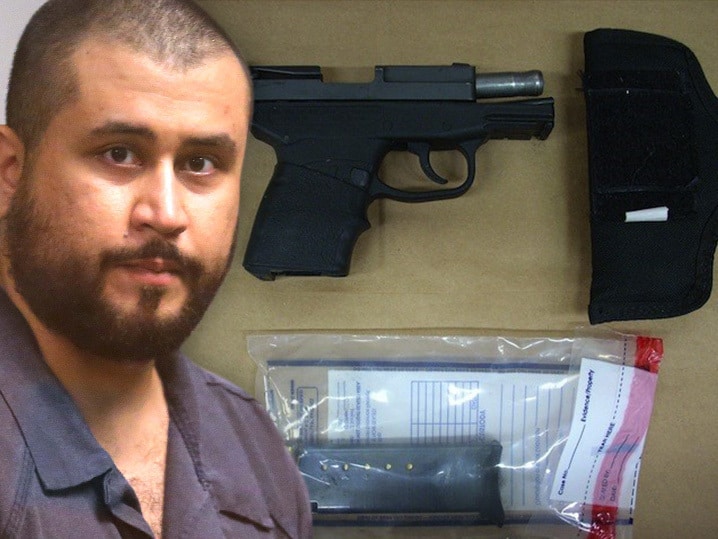 George Zimmerman gun: Eyebrows are raised as a former nightwatchman acquitted of murdering a 17 year old African American teen places the murder weapon for auction.
In what could be described as an absurdist surreal Florida plot, George Zimmerman the nightwatchman acquitted in the 2012 murder of unarmed black teen, Trayvon Martin has put the gun used in the killing up for auction.
Acquitted of murder and manslaughter, the 31 year old former neighborhood watch captain indicated opening an online auction for the Kel-Tec PF-9mm, Thursday morning at 11.am.
With suggested bids starting at $5000, Zimmerman describes the gun as an 'American firearm icon' which has been returned to working order. 
Extols Zimmerman, the poster boy of ongoing media attention/revulsion/fascination: 'Prospective bidders, I am honored and humbled to announce the sale of an American Firearm Icon. '
'The firearm for sale is the firearm that was used to defend my life and end the brutal attack from Trayvon Martin on 2/26/2012.'
Adding: 'Now is your opportunity to own a piece of American history.'
'But I found another auction site' GunBroker cancels selling George Zimmerman gun blood money
The bidding on gunbroker comes as Zimmerman continues to be the subject of wide disdain, with many believing him to have been guilty of the 17 year old teen's murder. A belief system many believe has been lent credence with a string of violent episodes, including road rage, beating up former girlfriends, since being declared not guilty.
Never mind the 'auteur's' latest foray as an 'iconic showman' with a highly functioning working gun. A choice of action which hasn't necessarily gone down too well with observers.
George Zimmermann met aux enchères l'arme avec laquelle il a tué Trayvon Martin en 2012 en #Floride #Sordide pic.twitter.com/qHtq2YbU1i

— jean-eric branaa (@BranaaJean) May 12, 2016
Why did George Zimmerman tweet photo of Trayvon Martin's body?
Trayvon Martin's dead body sends the media world into a tizzy.
Matthew Apperson shoots George Zimmerman: He threatened me again
George Zimmerman shot in face: Pointed gun first
Samantha Scheibe: George Zimmerman arrested for throwing bottle of wine at girlfriend
Challenged on his decision to sell the gun George Zimmerman told Fox News 51 he was a 'free American' and so 'can do what I like with my possessions.'
From there, the demi God claimed he 'couldn't care less' if many people found the move in bad taste while admitting he'd received more death threats than usual after posting the ad online.
Since relegated to a life in hiding, Zimmerman insisted his decision to sell his gun was not going to keep him safe from what he described as 'radicals.' 
If the weapon fails to sell, he plans to lock it in a safe to eventually give to his grandchildren. 'If I sell it, and it sells, I move past it,' he explained.
The auctioning of George Zimmerman's gun comes after the former neighborhood guard only recently had his gun returned to him by the Department of Justice following his murder trial.  
A report via the dailymail tells of the tabloid reaching out to Trayvon Martin's family attorney for comment, with a released statement that read: 'The Trayvon Martin Foundation is committed to its mission of ending senseless gun violence in the United States. This election season, we are laser focused on furthering that mission. As such, the foundation has no comment on the actions of that person.'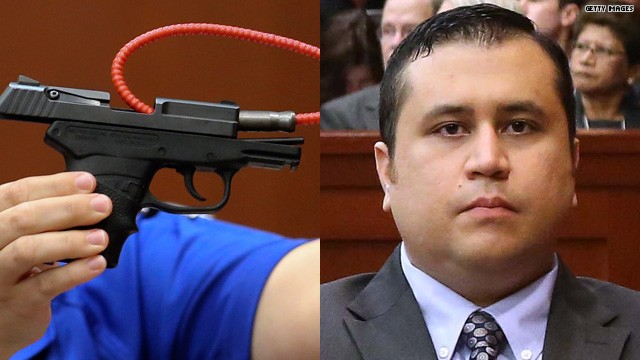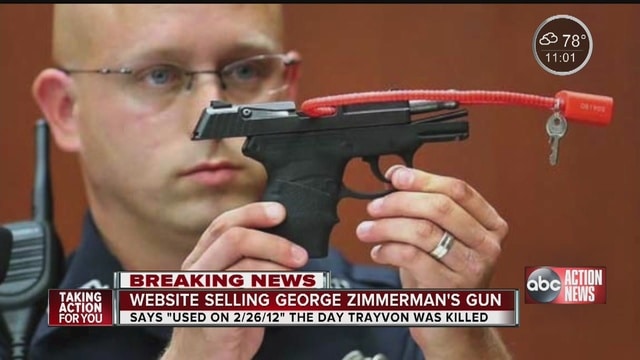 George Zimmerman protests lead to arrests.
Was justice served in the George Zimmerman Trayvon Martin verdict?
George Zimmerman acquittal leads to calls for civil rights prosecution.
George Zimmerman trial: Being a black man is a lost cause.
George Zimmerman not guilty, the media guilty as hell.
George Zimmerman not guilty. Did the jury get it right?
Trayvon Martin's dead body sends the media world into a tizzy.
@Ellevation_ ·#Blacklivesmatter I am so excited! George Zimmermann Famous self defense Gun Is Up for action. #TrayvonMartin

— Aurielle Marie (@EIlevation_) May 12, 2016
If there were a Christian god he would have turned George Zimmermann into a giant, fleshy, pulsing, screaming gun by now

— Will Stratton (@rosewoodalmanac) May 12, 2016
How is George Zimmermann even allowed to auction off the gun that killed Trayvon Martin?

— Adam (@reapcord) May 12, 2016
"In Florida, if you commit a crime with a gun, you're going away for a long, long while." Just ask George Zimmermann.

— Eric Morse (@elmorse) January 15, 2016