GunBroker cancels selling George Zimmerman gun: How an acquitted former night watchman's plan to sell the gun used in the murder of a black youth inflamed America.
Perhaps it was common sense, decency, empathy or just saving one's own hide when auction site, gunbroker decided at the last minute Thursday morning not to go ahead with the auctioning of nationally maligned George Zimmerman's gun.
With a starting bid set at $5000 for the pistol, a Kel-Tec PF-9, 9mm that the former night watchman had 'proudly' used to kill African American youth, Trayvon Martin, 17 in a 2012 incident, it was by early Thursday morning becoming abundantly clear that America was not having it.
Read a message on the site as the auction was set to begin circa 11 am Thursday morning: 'Sorry, but the item you have requested is no longer in the system'
A report via the orlandosentinel told of the gun site wishing to distance itself from the oncoming sale, telling, in a statement, that it wanted 'no part in the listing on our web site or in any of the publicity it is receiving.'
Adding: 'Mr. Zimmerman never contacted anyone at GunBroker.com prior to or after the listing was created and no one at GunBroker.com has any relationship with Zimmerman,'
'Our site rules state that we reserve the right to reject listings at our sole discretion, and have done so with the Zimmerman listing.'
George Zimmermann's gun aucton is an ugly symbol of racism | Steven W Thraser https://t.co/hnxgbBHMvg

— The Grauniad (@grauniad) May 12, 2016
George #Zimmermann illustrating everything that's wrong with the #USA today: capitalism and antiquated gun control laws.

— jake (@jaketbf) May 12, 2016
Don't be surprised if Donald Trump buys George Zimmermann's gun

— TeaPartyIsTheKKK (@SaberGato) May 12, 2016
So repulsed were pundits with the thought of the exonerated man of murder and manslaughter profiting from the death of the youth that social media became a lightning board of disdain directed at Zimmerman along with the auction site, gunbroker.com.
The upcoming auction was announced after authorities recently released the gun used in the shooting death of Trayvon Martin back to its owner, who proudly told of his intention to sell a piece of 'American iconic history'. Presumably at a steep profit if he could arrange it.
Posted the much maligned George Zimmerman who has been forced to live in hiding since being acquitted as he continues to be the object of a divided nation's recrimination towards race relations and violence and with whom many believe should never have walked free:
'Prospective bidders, I am honored and humbled to announce the sale of an American Firearm Icon. '
'The firearm for sale is the firearm that was used to defend my life and end the brutal attack from Trayvon Martin on 2/26/2012.'
$5000 bidding: George Zimmerman auctions gun he killed Trayvon Martin with
Why did George Zimmerman tweet photo of Trayvon Martin's body?
Trayvon Martin's dead body sends the media world into a tizzy.
Matthew Apperson shoots George Zimmerman: He threatened me again
George Zimmerman shot in face: Pointed gun first
Samantha Scheibe: George Zimmerman arrested for throwing bottle of wine at girlfriend
George Zimmermann met aux enchères l'arme avec laquelle il a tué Trayvon Martin en 2012 en #Floride #Sordide pic.twitter.com/qHtq2YbU1i

— jean-eric branaa (@BranaaJean) May 12, 2016
When challenged on his decision to sell the gun which led to Trayvon Martin's death, Zimmerman told Fox News 51 he was a 'free American' and so 'can do what I like with my possessions.'
During trial, the former nightwatchman told he had fired because he feared for his life after he confronted Martin, who was returning from a store while visiting his father at the same townhome complex where Zimmerman lived.
The former neighborhood watched captain claimed he acted in self-defense during the fight where he claims he was punched by the teen.
Martin's parents have always insisted that Zimmerman initiated the fight.
Since gunbroker's decision not to host the sale of what many decry as a symbol of racism and outright blood money, the orlandosentinel has reported George Zimmerman's gun is now for sale at unitedgungroup.com with a starting bid of $5,000.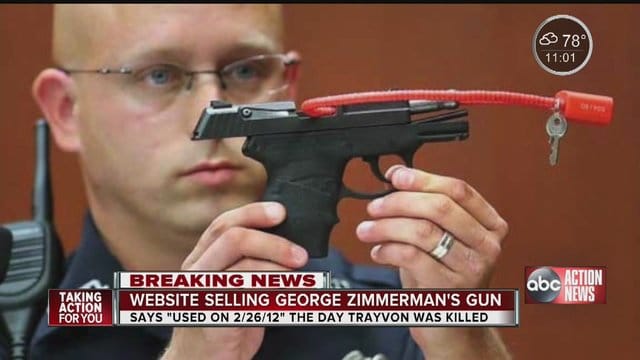 The sale of the gun comes amidst ongoing controversy surrounding the watchman who hasn't made it easy for America to let bygones be bygones as a series of  run-ins with the law along with the man courting online controversy presupposing his actual innocence or lack of.
Much decried behavior at the hands of Zimmerman includes the 32 year old former night watchman bragging about killing the African-American teenager on social media, being involved in much publicly reported instances of assault against a former girlfriend along with other run ins involving guns and act of violence.
Zimmermans' record, and general ongoing run ins with the law, perhaps not surprisingly has led to general unease and disdain towards the unrepentant former night watchman who these days remains largely unemployable and a social pariah.
Martin's family declined to comment on the sale of the weapon but said that the The Trayvon Martin Foundation, set up in his name, was continuing its mission to 'end senseless gun violence.'
Since giving notice of his intent to sell, Zimmerman has conceded receiving death threats while telling he has decided not to cower. Because America after all is a 'free country.' Or is it?
George Zimmerman protests lead to arrests.
Was justice served in the George Zimmerman Trayvon Martin verdict?
George Zimmerman acquittal leads to calls for civil rights prosecution.
George Zimmerman trial: Being a black man is a lost cause.
George Zimmerman not guilty, the media guilty as hell.
George Zimmerman not guilty. Did the jury get it right?
Trayvon Martin's dead body sends the media world into a tizzy.
Perhaps we may find someone as evil as George Zimmermann…the possible buyer of the gun that killed Trayvon Martin

— BlueIsTheColor (@LeftofLondon) May 12, 2016
"In Florida, if you commit a crime with a gun, you're going away for a long, long while." Just ask George Zimmermann.

— Eric Morse (@elmorse) January 15, 2016
The pro-gun community rallying around George Zimmermann is a fucking embarrassment to all gun owners.

— Plainview (@PlainviewJones) February 27, 2015