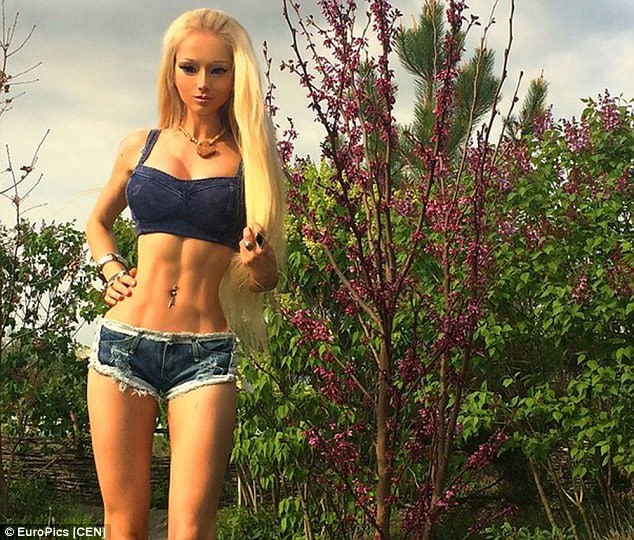 In a bid to show that she's trying to gain muscle and brawn, infamous human barbie doll, Valeria Lukyanova has posed (yes once again) for a new set of pictures where the Russian model eschews her once thin frame for that of her new 'Amazon' like look.
Hitting the gym the 29 year old real life doll now dons defined six pack abs as well as noticeably defined arms and legs which she proudly waxes over.
Human Barbie Valeria Lukyanova selfie. But where's the make up?
Human Barbie 'Valeria Lukyanova' race theory: How it got uglier.
Human Barbie starvation diet: just light and air
What terror! Real life Ken and Barbie, aka Justin Jedlica and Valeria Lukyanova meet.
Explains the effervescent model who insists everything about her is real except her breasts which she concedes she has augmented:
'The spring is late this year, but it has finally come. It has inspired me to do a photo shoot with a beautiful and all natural background… Oh, how I love spring!'
That said pundits have once again wondered if the new Amazon look is necessarily real and a product of having gone under the knife?
Exulted one fan, Marina Voron over the human barbie's long overdue new series of photos: 'I don't have enough words. I look at you and I understand that you are the most beautiful woman in the whole world.'
That said not everyone has been so congratulatory with some of Valeria's instagram followers taking issue with the barbie doll's new 'improved' look.
Told Mihail Lomov: '
Whilst critic Irina Korol, 42, posted: 'I think she used to play with Barbie doll in her childhood too much.
'When she grew up, she hated her real body that wasn't as ideal as Barbie's and now this poor young woman tries to be like her beloved doll.'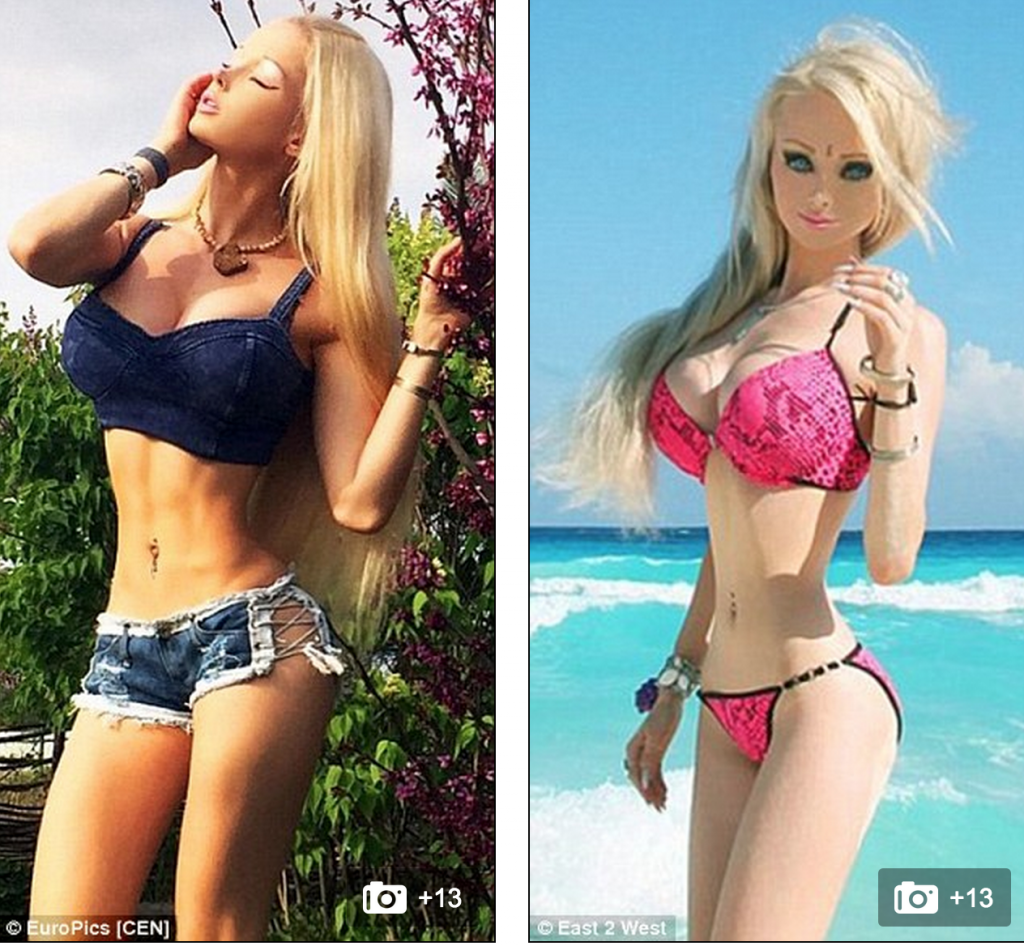 In a bid to retain her new and improved figure, Valeria boasts that she follows a strict diet to maintain her shape, has given up smoking and drinking and eats only tiny amounts of raw fish with fresh fruit juice and water.
Answering questions whether her new look is real or fabricated the model offers: 'All genetics came to me from nature, except my breasts,'
"I lost weight and, unfortunately, I have a very small breasts. I had to increase my size to feel like a normal girl. But I didn't subject myself to any other plastic surgery."
What do you think? Is Valeria's new look the product of painstaking discipline, diet, exercise or just a clever photoshopping ruse and the aid of another trip to the plastic surgeon?
Oh really?! Living Barbie doll Valeria Lukyanova meets her twin double, Dominica.
Valeria Lukyanova living Barbie doll is a fake according to new video.
Valeria Lukyanova living Barbie doll stars in high fashion shoot for V magazine.
Ukrainian model looks like Barbie Doll after operations, but is it all a hoax?
Meet the teenage girl who has transformed herself into a living Japanese anime doll.