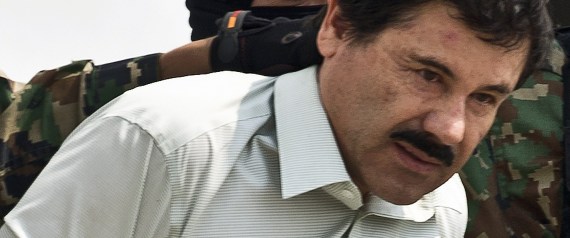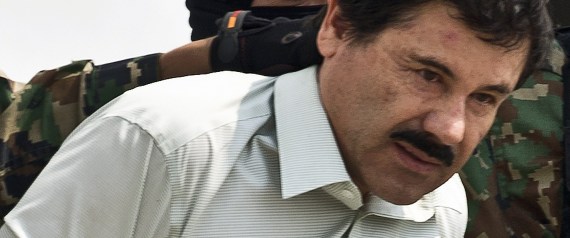 Authorities have told that Joaquin 'El Chapo' Guzman, a Mexican drug lord thought to be worth a billion dollars has been arrested after being on the run for more than 12 years. His arrest came early yesterday morning at a drug condominium whilst with a woman.
The man who broke free from incarceration in 2001 is believed to be the suspected head of the Sinaloa cartel which is responsible for moving a quarter of the drugs that enter the US from Mexico.
Headless bodies are a fact of life in Mexico these days.
Assassin dressed as a clown kills Mexican drug pin.
Mexican drug war sees seven men executed and dumped in chairs.
El Chapo came to attain notoriety after a daring breakout from a maximum security prison in the back of a laundry truck . At the time he had been serving a 20 year sentence of bribery and criminal association. Ironically his breakout came after bribing prison officials.
The man's capture came without any shots being fired. Along with El Chapo, there were three men arrested, believed to be his bodyguards. Authorities told that El Chapo's capture had been in the weeks of planning.
Despite being a billionaire, Joaquin Guzman was found in a relatively basic apartment. Photos of the condominium taken after the raid, show ripped bed sheets off a mattress, yellowing kitchen cabinets and  worn out tiled floors.
The raid on the apartment, which according to the Globe and Mail, costs about $1,200 a month to rent lasted just a few minutes.
A team of 25 marines entered the complex on Saturday morning, overpowering two security teams installed to protect the fugitive drug kingpin.
Residents in the 11-story seaside Miramar Condominium complex where Guzman was captured said he had moved in two days ago.
Told Secretary of Homeland Security Jeh Johnson upon the capture of El Chapo: 'The operation led by the Mexican government overnight to capture Joaquin 'Chapo' Guzman Loera is a significant victory and milestone in our common interest of combating drug trafficking, violence and illicit activity along our shared border,'
'We congratulate our Mexican partners in this achievement.'
Despite being wanted in two countries, Guzman had evaded capture for more than 12 years, but in the end, a general sense of complacency and invisibility led to the drug baron's fall.
El Chapo led a cartel with revenues estimated at more than $3 billion a year, and he has been ranked as one of the richest men in the world by Forbes for several years.
'He got tired of living up in the mountains and not being able to enjoy the comforts of his wealth,'
Michael S. Vigil, a former senior DEA official who was briefed on the operation, said.
He was rumored to live everywhere from Argentina to Guatemala. 
In more than a decade on the run, Guzman  was rumored to live everywhere from Argentina to Guatemala, having transformed himself from a middling Mexican capo into one of the most powerful drug traffickers in the world.
His Sinaloa Cartel grew bloodier and more powerful, taking over much of the lucrative trafficking routes along the U.S. border, including such prized cities as Tijuana and Ciudad Juarez.
Guzman's play for power against local cartels would cause a bloodbath in Tijuana and made Juarez one of the deadliest cities in the world.  
Mexican mayor who survived previous assassination attempts finally killed by drug cartel.
Headless bodies are a fact of life in Mexico these days.
Confessions of a drug thug. The inside story on killers, blood and your next fix.
Mexican cartel hires 12 year olds for $3000 to gun down people.
Drug Violence in Mexican Town Causes Entire Police Force to Quit
Mexican authorities make biggest drug bust in decade.
The Mexican Cartel Drug War doesn't want to get in the way of you enjoying the Good Shit.
It's confirmed- Mexico is a great place for vigilantes.
Looking for a new holiday destination? Well we've found one for you. Just bring your machine gun and sunscreen lotion….
El Chapo cartel's tentacles extend as far as Australia thanks to a sophisticated, international distribution system for cocaine and methamphetamines.
Guzman is celebrated in folk songs and is said to have enjoyed protection from villagers in the rugged hills of Sinaloa and Durango where he has hidden from authorities.
He is also thought to have contacts inside law enforcement that helped him evade capture, including a near-miss in February 2012 in the southern Baja California resort of Cabo San Lucas just after an international meeting of foreign ministers.
While El Chapo's capture may have symbolic importance, many, including Guzman's cartel partner, Ismael 'El Mayo' Zambada, say it won't stop the violence or flow of drugs through Mexico to the United States.
'When it comes to the capos, jailed, dead or extradited – their replacements are ready,' Zambada once told in a local interview.
Growing up poor, Guzman was drawn to the money being made by the flow of illegal drugs through his home state of Sinaloa.
He joined the Guadalajara cartel, run by Mexican Godfather Miguel Angel Gallardo, and rose quickly through the ranks as a ruthless businessman and skilled networker, making key contacts with politicians and police to ensure his loads made it through without problems.
After Gallardo was arrested in 1989, the gang split, and Guzman took control of Sinaloa's operations.
The Sinaloa cartel would in the years to come violently seize lucrative drug routes from rivals and built sophisticated tunnels under the U.S. border to move its loads.
In 1993, gunmen linked to the Tijuana-based Arrellano Felix cartel attempted to assassinate Guzman at the Guadalajara airport but instead killed Roman Catholic Cardinal Juan Jesus Posadas Ocampo.
Guzman was rumored to have once entered a restaurant in Culiacan, capital of Sinaloa state, where his henchmen confiscated every patron's cellphone so their boss could eat without fear of an ambush.
In keeping with the drug lords baron insouciance, it is rumored that El Chapo staged an elaborate public wedding in 2007 to an 18-year-old bride that was attended by officials and local police.
Federal police told they raided the town that day, but got there just a few hours too late.
Guzman had long been reported to move around frequently, using private aircraft, bulletproof SUVs and even all-terrain vehicles.
It is believed El Chapo spent a disproportionate amount of his time scrambling through tunnels and drains of safe houses in order to avoid detection. It was the location of one of those safe houses, owned by one of El Chapo's former wives that led to surveillance earlier in January.
An archbishop in northern Durango state said in April 2009 that Guzman lived in a town nearby. Days later, investigators found the bodies of two slain army lieutenants with a note: 'Neither the government nor priests can handle El Chapo.'
Since El Chapo's capture, Rep. Mike McCaul (R-Texas), the chairman of the House Homeland Security Committee, has lobbied the Mexican government to send the alleged drug lord known as to the U.S. for prosecution.
Then there were these comments on the web that made me wonder:
Smoke and mirrors. As Terence Poppa has pointed out in his book 'Drug Lord,'- The Mexican Government and army is deeply implicated in drug trafficking for years. Shorty got too big for his boots. Too well known. Mexicans need to please their sponsors. It's all a game.
Wachovia bank now renamed Wells Fargo, laundered 386 billion of Mexican drug money. So did HSBC. No arrests. No one going to jail. They were fined peanut money. What does that tell you about the war on drugs? Same with companies in US who supply chemicals in the production of coke. they are left alone.
The war is on the poor who are warehoused into for profit prisons.A new drug lord will replace Shorty. War on drugs is insane. The warriors have a vested interest in keeping drugs illegal. Good for the DEA and the rest of the vast security apparatus. Good business for the prison industrial complex.
When one boss goes, there will be another 10 ready to step in and take his place. These people aren't to blame, if coffee was illegal, they would be smuggling coffee……
what a charade everybody in mx knows and the CIA too..that one capo goes down an there are 10 waiting in line to replace him..besides this is just a media circus to placate public opinion ..cause the truth is that mx security forces including the army are in the payroll of the cartels is more like a extortion money.you want to work this way you have to pay ..and this is being going on for long long time..hipocrisy of the US and the banks who launder the money for those politicians and ex military who are loaded in dirty money and living large in a palaca hidden somewhere in Switzerland or Rio or London or Dublin that money is being laundered in the blood of more of 100,000 mexicans some of them children others innocent bystandards and other enemy combatants.
The largest drug cartels are the pharmaceutical companies who LEGALLY get folks depended hooked on prescription drugs. When will they be arrested?