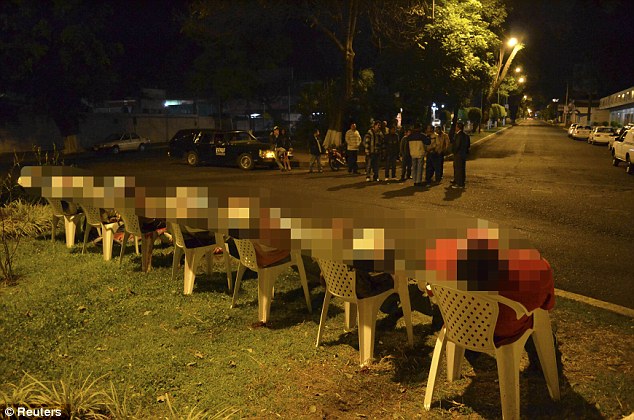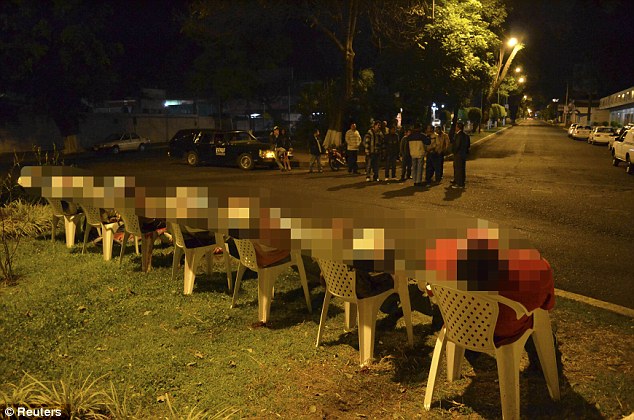 The blood letting in Mexico continues to awash anew with the revelation of a new spade of killings which this time saw the public murder of seven individuals.
Caught in photos the seven individuals are shown each shot in the head, saddled in perfectly aligned plastic chairs with threats nailed onto their chest via ice picks.
Read one placard on one of the seven men: 'Warning! This will happen to thieves, kidnappers, sex offenders and extortionists.'
The images were taken outside of a Pepsi bottling plant in Uruapan, the state of Michoacan. The seven murdered are said to have ranged from the ages of 15 to 40 with some of the individuals said to have had both their hands and feet bound.
But that's not all, another brutal attack is said to have taken place in the neighboring town of Guerrero, where armed men opened fire in a bar in Ciudad Altamirano late on Friday. In that incident four civilians and three off-duty federal agents died.
A local report went on to describe how the officers were pursued by gunmen while walking to a local bank, and were killed after seeking refuge in a nearby hotel.
The increasing spate of violence has come as drug cartels continue to mobilize their businesses with little regard to life, limb or law, as they continue to orchestrate daylight  brazen death operations. Estimates now point to the number of killed in drug related killings close to 70 000 in the last 7 years.
The UK's dailymail goes on to note that President Enrique Pena Nieto, who took office in December, has vowed to quell the lawlessness and killing that have stained Mexico's image as a tourist destination and rattled investors.
At present the The local attorney general's office did not provide a motive for the killings involved for the individuals in the plastic chair. Can anyone guess why?
Mexican mayor who survived previous assassination attempts finally killed by drug cartel.
Headless bodies are a fact of life in Mexico these days.
Confessions of a drug thug. The inside story on killers, blood and your next fix.
Mexican cartel hires 12 year olds for $3000 to gun down people.
Drug Violence in Mexican Town Causes Entire Police Force to Quit
Mexican authorities make biggest drug bust in decade.
The Mexican Cartel Drug War doesn't want to get in the way of you enjoying the Good Shit.
It's confirmed- Mexico is a great place for vigilantes.
Looking for a new holiday destination? Well we've found one for you. Just bring your machine gun and sunscreen lotion….