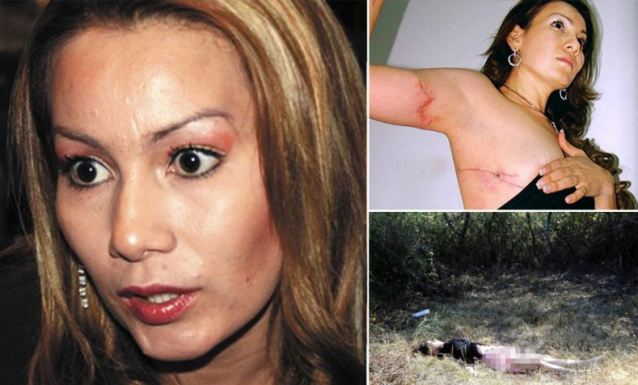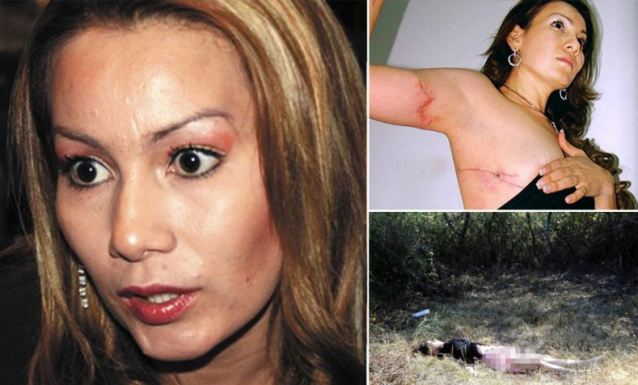 36 year old Maria Santos Gorrostieta, a former mayor of drug plagued district Tiquicheo, Mexico has been reportedly killed by a drug cartel, this after two previous attempts made on her life failed to put a dent on her fierce resolve to combat drug dealing and smuggling in her community.
According to authorites, her multiply stabbed, battered and burned body was found dumped by a roadside in San Juan Tararameo, Cuitzeo Township. It has been disclosed that at the time of her murder she had been bound at the wrist and ankle.
According to eye witnesses, whilst on a trip she was ambushed by another vehicle with its occupants brazenly hauling her out of her van, screaming and kicking her. Somehow she managed to get her perpetrators to leave her accompanying daughter and two other eye witnesses alone as she volunteered to enter her assailant's car.
The UK's dailymailgoes on to report that following the kidnapping, which took place on November 14, the family spent hours waiting for a telephone call, thinking she was going to be released in return for a ransom.
But when the hours turned into days, they decided to report her disappearance to the police, which led to a massive police search until her body was found, some eight days later after she was taken.
Gorrostieta had seen her government security team withdrawn in November last year, and then her police escort in January.
The decision has provoked much soul-searching in Mexico which has been torn apart by brutal drug cartels.
Speculation has also mounted that protection for Mrs Gorrostieta may have been dropped pursuant to pressure from the cartels themselves who were fiercely adamant about putting an end to Gorrostieta's efforts who by now had become increasingly lionized by the community for standing up to the cartels. It was also feared that despite no longer being in office she planned to mount another attempt with the promise of provoking tougher legislation and sanctions against the drug cartel industry.
More than 50,000 people have been killed in clashes between rival drug cartels and security forces and about two dozen mayors have been murdered.
Complicating recent attempts to rein in the terror is the fact that states, north of the border, including as Colorado and Washington have voted to legalize marijuana,  which may now wipe billions of dollars from the cartels' annual profits.
Which in turn has left politicians in Mexico with a tough question: How can they continue to justify spending money – and lives – fighting drug distribution to America when it will be legal in some states from next month?
Reports the christianpost: She survived two assassination attempts; the first was in 2009 when the car she was traveling in came under heavy gunfire.
Her husband was killed in the shooting, but Gorrostieta survived.
Then, three months later, another vehicle she was traveling in was hit with at least 30 bullets from assault rifles. Three of those bullets hit Gorrostieta and left her with severe scars and in constant pain. Gorrostieta did not retreat, though, and took photos of her injuries, releasing them to the public. She also gave an interview after that second attempt.
'At another stage in my life, perhaps I would have resigned from what I have, my position, my responsibilities as the leader of my Tiquicheo.
'But today, no. It is not possible for me to surrender when I have three children , whom I have to educate by setting an example, and also because of the memory of the man of my life, the father of my three little ones, the one who was able to teach me the value of things and to fight for them.
'Although he is no longer with us, he continues to be the light that guides my decisions.'
She added: 'I struggle day to day to erase from my mind the images of the horror I lived, and that others who did not deserve or expect it also suffered.
'I wanted to show them my wounded, mutilated, humiliated body, because I'm not ashamed of it, because it is the product of the great misfortunes that have scarred my life, that of my children and my family.'
'Despite my own safety and that of my family, what occupies my mind is my responsibility towards my people, the children, the women, the elderly and the men who break their souls every day without rest to find a piece of bread for their children.
'Freedom brings with it responsibilities and I don't dare fall behind. My long road is not yet finished – the footprint that we leave behind in our country depends on the battle that we lose and the loyalty we put into it.'
At present the cartels continue to perpetuate their trade almost with impunity, offering bribing officials, townspeople and killing those without a second thought who risk their efforts to continue feeding the ever expanding appetite for narcotics to the north, the United States.
A murder hunt has been launched and police are still searching for her missing husband who also went missing at the same time.
It has been estimated that more than 50,000 people have been killed in clashes between rival drug cartels and security forces and about two dozen mayors have been murdered in recent years with as many as 12,903 murdered from January to September last year alone.
The business of trafficking drugs from Mexico into the U.S. is estimated to be a business worth between $13billion (£8billion) and $49billion (£30billion), with 90 per cent of all cocaine used in America originating from the country, according to a U.S. state report.
In the end one has to wonder why is it left to solitary mayors such as Gorrostieta to fight solitary battles against cartels when her peers here in the US and Mexico perpetuate such grief with policies and tactics which in essence empower the cartels? Which might auger another question, who's really making money in all this? Is it just the cartels?
Headless bodies are a fact of life in Mexico these days.
The Mexican Cartel Drug War doesn't want to get in the way of you enjoying the Good Shit.
14 year old girl and 4 women found murdered in Acapulco beauty parlor.
Mexican cartel hires 12 year olds for $3000 to gun down people.
Drug Violence in Mexican Town Causes Entire Police Force to Quit
Mexican authorities make biggest drug bust in decade.
US Border Official Charged with Bribery, Lets Vehicles Allegedly Carrying Meth and Cocaine Into Country
Life in Mexican town has become total anarchy.