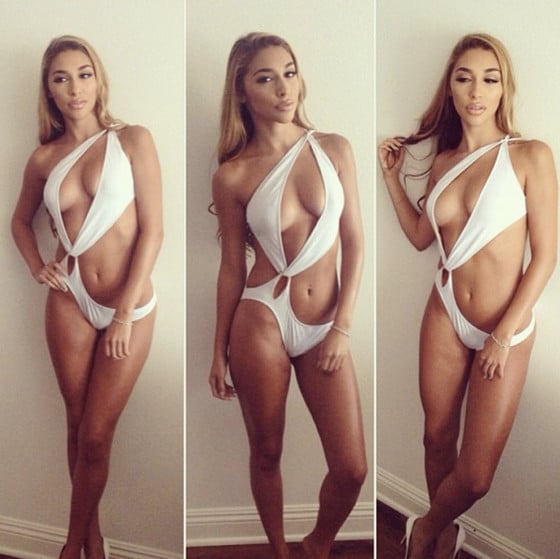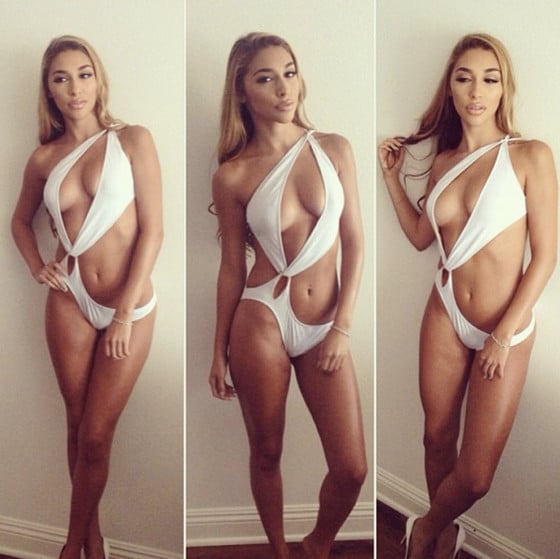 One wonders how long the pair may end up staying a couple after revelations that Justin Bieber's purported new girlfriend, Chantal Jeffries tried to sell her side of the Justin Bieber drag race scandal for $20K.
According to page 6, the new it girl had reached out to a variety of tabloids via a representative in the hopes of talking about her night with Bieber that would lead to his arrest.
Told a source: 'She hired an attorney and was negotiating a deal with the weekly magazines and the big TV shows. She wanted $20,000 plus a guaranteed mention of her modeling career.'
Modeling career. 'Which is Chantal's passive aggressive way of telling you that bixch 'don't mind whatever cover you can find me, just find me one!'
Unfortunately for the aspirational media whore, Chantel Jeffries got no bites as neither of the big name tabloids, 'GMA,' 'Today,' or 'Inside Edition,' wanted to fork out any cash. Which is Jeffries' dumb ass way of failing to understand one doesn't make a motza off sitting down for a tabloid rag but waiting for a volley of sponsors to come looking for you after us media types anoint you into a bona fide media whore.
To date Chantel Jeffries' representatives have yet to comment on the assertions. Can anyone gue$$ why?
Yes kids my eyes are very sore looking at the above 'modeling' pictures too…
Chantel Jeffries Justin Bieber's new girlfriend?
Justin Bieber drag race scandal cost me $2500. Fxck you world.