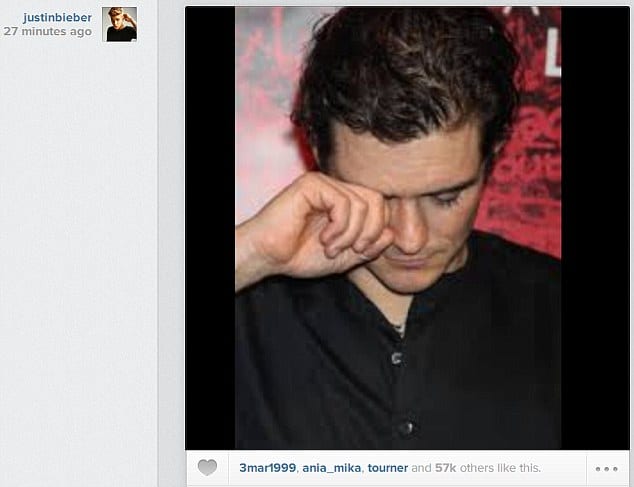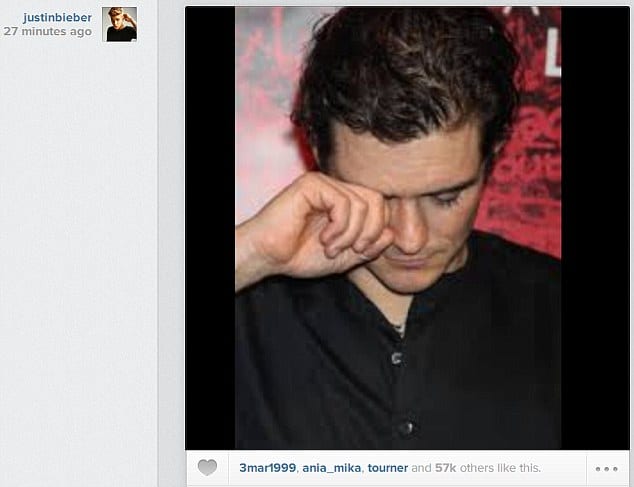 A day after the Orlando Bloom Justin Bieber punching incident at an Ibiza nightclub, Justin Bieber has taken to instagraming a photo of Orlando Bloom crying.
Perhaps thinking better of it the Canadian singer and 'enfant terrible' then thought better of his low blow gesture and after 20 minutes took down the image which had originally been taken at a film premiere earlier this year.
Miranda Kerr posts topless selfie. Orlando Bloom, who's that again? 
Orlando Bloom Justin Bieber fight: New video emerges, punch seen 
Orlando Bloom takes swing at Justin Bieber at Ibiza club. Did Biebs date Miranda Kerr? 
Nevertheless by then it was already too late, having made clear  his contempt for the 37 year old actor who unquestionably must be reeling from the fracas and the contention that his former wife, Miranda Kerr may have indeed been unfaithful to him.
The image came a few hours after Miranda Kerr herself posted on instagram images of herself topless as well as image of her and Orlando's 3 year old son, Flynn, perhaps to remind fans where her allegiances lay and to ward off speculation that she may have been complicit in the breakdown of her marriage to Orlando Bloom. Which is to say deflection of said fracas might be a better way to go than joining in the squabble that has since served to humiliate her former husband as well as further ensure the love hate relationship fans have with 20 year old Justin Bieber.
Whilst Bieber may have sought to infer that he had something going on with Bloom's former wife, the Aussie supermodel has in the past remained steadfast that she never went out on a date with our collective hero.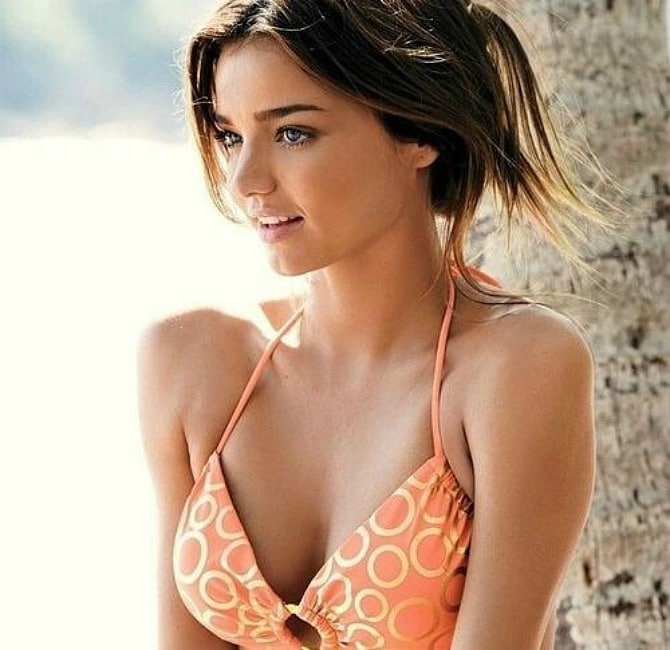 Not content to call it a day the singer had after the blow up also instagramed an image of Miranda Kerr in a bikini with a crown over her image before taking down the image not once but twice.
Not shy to use social media to assert himself the singer also chose today to share an image of himself topless and with a sparse smattering of facial hair on his upper lip. He would caption the image : 'Sunburnt and a mustache (sic)'.
To date neither Bloom or Bieber's camp have chosen to publicly comment on the matter, yet one suspects if Biebs social media shares are indicative, the singer has the utmost contempt for Bloom, having chosen to attempt to further humiliate the actor, rather than attempting an act of conciliation with the actor.
The latest fracas involving Biebs comes on the same day TMZ reported tensions with his neighbors has become so fraught that he's 'seriously considering' moving for the third time in four months.
A gesture that many fans the world are beginning to wonder might not make much of a difference as the singer continues to devolve into a thug like image, very much the opposite of the one that once helped him claim the ardent respect and adulation of fans.
Are Miranda Kerr and Orlando Bloom heading for a marriage split?
Miranda Kerr naked for GQ: I'm more sexually confident thanks
Did Miranda Kerr cheat with James Packer, media tycoon?
Video: Victoria's Secret fashion show 2012 leads to Rihanna, Miranda Kerr and Alexandra Ambrosio shining.
Oh really? Justin Bieber tries to get Victoria's Secret model phone numbers