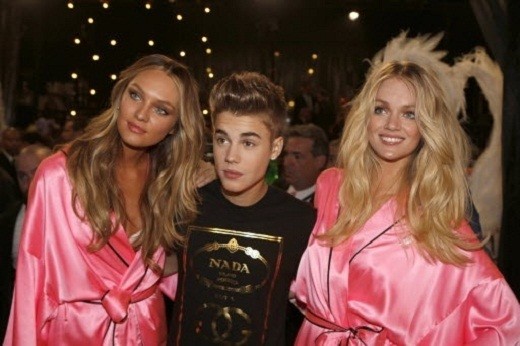 Justin Bieber not sure whether to go back to Selena Gomez or bang Victoria Secret models.
Justin Bieber and Selena Gomez may have broken up because of Barbara Palvin picture. The last straw…
Justin Bieber and Selena Gomez spotted together at NYC hotel. Reunited?
Justin Bieber's model girlfriend Barbara Palvin already has a boyfriend.
Justin Bieber wants Selena Gomez back after Barbara Palvin dumps him.
Justin Bieber's model girlfriend Barbara Palvin isn't that in too him.
Justin Bieber got his marching orders from Selena Gomez last week. Too immature…
Has Justin Bieber split from Selena Gomez? Seen going out with Victoria's Secret model…
And these were the hawt bixches that turned up to Victoria's Secret after party…
Justin Bieber couldn't resist eye balling all those Victoria's Secret models…
Video: Victoria's Secret fashion show 2012 leads to Rihanna, Miranda Kerr and Alexandra Ambrosio shining.
Rihanna reckons she was the real star of Victoria's Secret Fashion show…
Has Victoria's Secret supermodel Candice Swanepoel gone too far with her new abs instagram picture?
But what will Justin Bieber's girlfriend Selena Gomez think…?
Seems like Justin Bieber has a thing for tall skinny taut high cheek boned women as the teen bopper according to page 6 was trying his dammest to get a few of those hawt bixches to give out their number to him.
page 6: Justin Bieber tried very hard to hit on the bodacious babes of the Victoria's Secret fashion show, flirting and asking the models for their numbers during filming and at the after-party, sources tell us.
Bieber, who is dating Selena Gomez, performed at the VS show at the Lexington Avenue Armory on Wednesday, and attended the after-party at Lavo on East 58th Street, where models including Karlie Kloss, Alessandra Ambrosio and Doutzen Kroes celebrated.
Bieber also popped up at Avenue later, where the teenage heartthrob was spotted at a table with his entourage and VS Angel Miranda Kerr.
But unfortunately for the BIebs those hawt bixches weren't having too much to do with the Biebs (I know Biebs you're loaded, pimple free and drive an armored sports car….blah) who continued sticking his shiny self amongst the good shit and bubbly (never mind our hero is technically too young to be actually admitted at such venues but who cares about rules when you're the Biebs?).
But in case you think Biebs completely struck out that bixch reportedly did get a conversation started off with British newcomer and hawt bixch herself, Cara Delevigne who strutted the planks for Victoria's Secret this past Wednesday night.
And at Lavo, Delevingne was spotted climbing toward Bieber's table to chat to the singer, maneuvering over a banquette in a sexy, short and tight black dress. A rep for Bieber declined to comment last night.
Declined to comment because the Biebs will have to think of something clever to tell Selena…
Don't you wish you were a hawt Chi Chi too…?