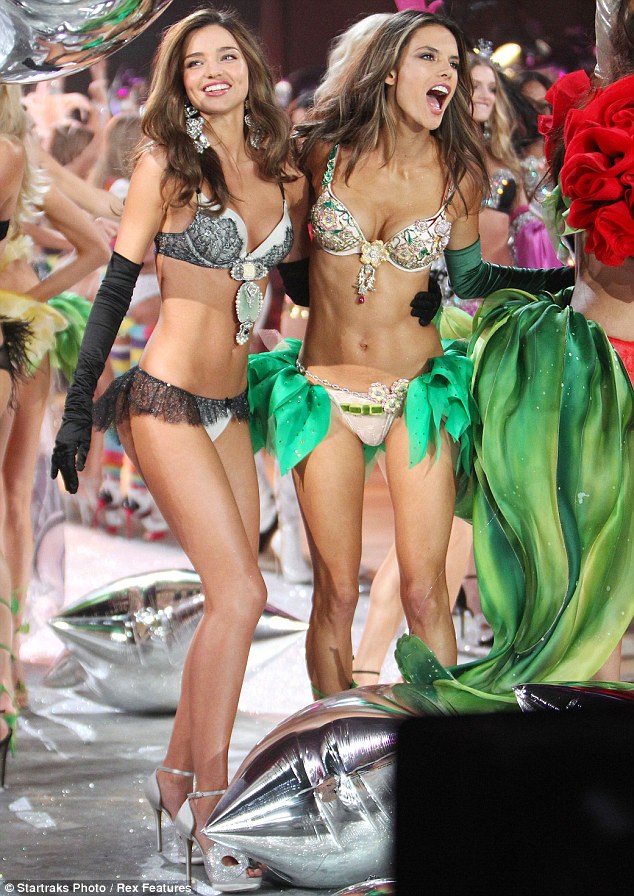 Oh really? Justin Bieber tries to get Victoria's Secret model phone numbers…
And these were the hawt bixches that turned up to Victoria's Secret after party…
Justin Bieber couldn't resist eye balling all those Victoria's Secret models…
Rihanna reckons she was the real star of Victoria's Secret Fashion show…
Has Victoria's Secret supermodel Candice Swanepoel gone too far with her new abs instagram picture?
By now tooted as one of the must go see and be seen fashion shows, yesterday's  Victoria's Secret  fashion show here in NYC despite the sudden snow storm was a resounding success.
With a who's who in the modeling world taking up the coveted slots of walking the plank for the lingerie label (including Karlie Kloss, Alessandra Ambrosio, Candice Swanepoel, Lily Aldridge, Doutzen Kroes, Adriana Lima, Behati Prinsloo, as well Leonardo DiCaprio's ex girlfriend Erin Heatherton, as well as British new comers Cara Delevingne and Jourdan Dunn) viewers were left with their mouths gaping.
With signature looks that included capes, oversized butterfly and swan wings, flags, feathered wings, body cages and then of course there was Alessandra Ambrosio's $2.5 million jeweled 'floral fantasy bra.'
There to bring out the pomp was Rihanna who also starred in her own corset as she thumped along the runway with the super girls, Justin Bieber and Bruno Mars with CBS planning to release the spectacle as a one hour show on December 4.
''It's highly televised, and you take that into consideration,'' said model Joan Smalls ahead of the show. ''This is kind of not the same as other runways. You have to prepare your body: No. 1 is the wings are heavy, and No. 2 is you have to be comfortable with your body because the camera will pick up on it if you're not comfortable and confident.''
Offered collective hawt bixch Justin Bieber prior to the show starting (and who certainly made no effort to keep from ogling during his performance at the show) : ''It's like a dream come true. I would rather be here than anywhere in the world.''
As for Rihanna herself, she just let that she was going to suck in her stomach, arch her back a little and of course flaunt that bixch, but really was there any ever doubt….?
The show — which Victoria's Secret has been running annually since 1995 — was split into six themed segments this year: Circus — complete with acrobats and Lima as a ringmaster; Dangerous Liaisons; Pink Is Us; Silver Screen Angels; Angels in Bloom; and Calendar Girls.