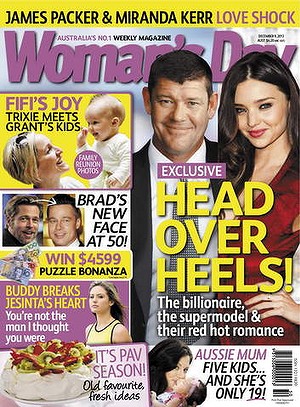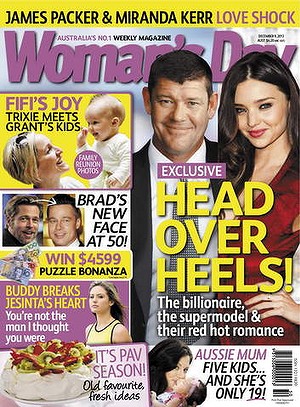 In the months since super model, Australia's Miranda Kerr split with actor husband Orlando Bloom speculation has been rampant as to why the golden couple were no more.
There may be an answer as to the why the couple called it quits and it comes in the form of Aussie media tycoon, James Packer who Aussie media now tells are a romantic item, three months going strong.
The relationship comes coincidentally off the back of James Packer calling it a day on his six year marriage to the mother of his three children, Erica, herself a former model.
smh.com.au: On Monday morning Woman's Day magazine, which was once owned by the Packer family, is set to publish claims Packer, 46, and Kerr, 30, are now in a serious romantic relationship.
On the magazine's cover are images of Packer and Kerr, digitally manipulated to appear together, with a headline boldly proclaiming ''Head over Heels: The Billionaire, The Supermodel and Their Red Hot Romance''.
Which raises the interesting question when did the pair actually start seeing each other and did them seeing each other have anything with the pair calling it quit on their respective marriages?
To date neither Miranda Kerr or James Packer have denied the report which in of itself is telling.
It is understood the status of their relationship, said to still be in its very early stages after a long friendship, is a sensitive matter given their recent marriage breakdowns.
Packer and Kerr, who was married for three years to the actor Orlando Bloom and with whom she has a 2-year-old son Flynn, announced their marriages had come to an end just 45 days apart. An interesting coincidence to say the least.
Both the Packers are said to be long term friends of Kerr and Bloom, their respective families holidaying together at luxury resorts in Tahiti last year, just months before their marriages broke down.
They were also known to mix in the same circles in Los Angeles in more recent months.
Reports tell that James Packer provided Kerr with business advice when she launched a range of beauty products several years ago.
That said it is no secret that the billionaire media tycoon has a thing for glossy models, having over over the years courted luminaries including model Jennifer Flavin, former fiancee Kate Fischer and his first wife, bikini model Jodhi Meares.
James Packer tell reports has told friends business pressures caused the breakdown of his second marriage, is expected to spend Christmas in the US with his children, who now live in Los Angeles with their mother. Kerr, by coincidence, also calls the US home.
Interestingly whilst promoting a recent Aussie cover, Packer's wife, Erica went on to discuss her marriage breakdown but notably declined to divulge the specific reasons why her marriage to Packer had come to such an abrupt end, just weeks before the first birthday of their youngest child, daughter Emmanuelle.