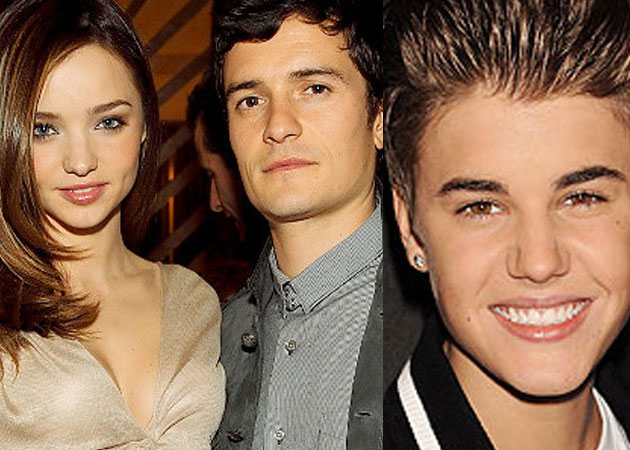 A new video has emerged showing the Orlando Bloom Justin Bieber fight. The video since taken by an anonymous Swede shows the moment leading when Orlando Bloom  moved towards the foul mouthed singer and try to land a punch only to be stopped by a handler. Nevertheless the video does show Orlando Bloom cocking back his right arm and attempting to go in on our collective hero.
Justin Biber instagrams photo of Orlando Bloom crying. Low blow… 
Miranda Kerr posts topless selfie. Orlando Bloom, who's that again? 
Orlando Bloom takes swing at Justin Bieber at Ibiza club. Did Biebs date Miranda Kerr? 
Are Miranda Kerr and Orlando Bloom heading for a marriage split?
Miranda Kerr naked for GQ: I'm more sexually confident thanks
Did Miranda Kerr cheat with James Packer, media tycoon?
Video: Victoria's Secret fashion show 2012 leads to Rihanna, Miranda Kerr and Alexandra Ambrosio shining.
Translated via google, aftonbladet.se offered the following: Cipriani Restaurant on Ibiza was last night packed with celebrities like Lindsay Lohan, Diddy and Paris Hilton when the quarrel between the stars Orlando Bloom and Justin Bieber started.
According to Swedish Andreas (which is actually called something else) noticed he and his companion how there began to be pandemonium inside the restaurant.
– You know how Biff hung in the air, the whole restaurant felt the atmosphere I think, says Andreas.
"People applauded"
He stood up and filmed right as Orlando Bloom approached Bieber and then swung down.
On the film shows how a bodyguard go between, a bodyguard who looks to have taken a hit.
– It looked pretty funny out and people inside the restaurant started clapping afterwards said Andreas.
The atmosphere must have calmed down afterward and according to eyewitnesses Bieber left the restaurant shortly afterwards. Swedish Andreas tells how guards afterwards went about among the diners and deleted people's mobile camera recordings of the incident, but Andreas telephone bad they never on.
The actor was said to have retaliated when the 20-year old singer made a rude comment about his ex-wife and Victoria's Secret model Miranda Kerr. However, other sources said that Justin Bieber only made the remark after Orlando Bloom took a swing at him and missed.
Sources said that the singer came into the restaurant unaware that the actor was around. When Justin Bieber's entourage approached Orlando Bloom's table, witnesses said that the actor refused to shake hands with the singer.
Feeling offended, Biebs then made a comment about Miranda Kerr, saying something like, 'She was good.'
Reportedly, after the actor took a swing at the singer, Justin Bieber yelled, 'What's up, bixch!"
But that it seems wasn't quite enough for the scandal embroiled singer as he then took to posting a picture of Miranda Kerr in a bathing suit with a symbol of a crown as a caption. A sleight of hand affront to Orlando Bloom.
Biebs would in the end up taking down the above photo, not once but twice.
Making matters even more complex is the fact that Orlando Bloom himself has ties with Justin Bieber's ex girlfriend, Selena Gomez, where the pair were seen partying together at the Forum in LA after taking in Chelsea Handler's Uganda Be Kidding Me show.
At the time it came to be heavily speculated that the pair could have been on a date.
Earlier in the day Bloom was seen with pretty women on a yacht in the Ibiza area. Eric Packer is thought to be one of them. She is the former spouse of James Packer, an Australian billionaire who has been linked to Miranda.
On Tuesday Bieber shared a photo where he was boarding a private jet with a pal. Both were shirtless and showing off tattoos.
It is likely they were headed to Spain to Orlando Bloom's very unfortunate regret…
above image found here