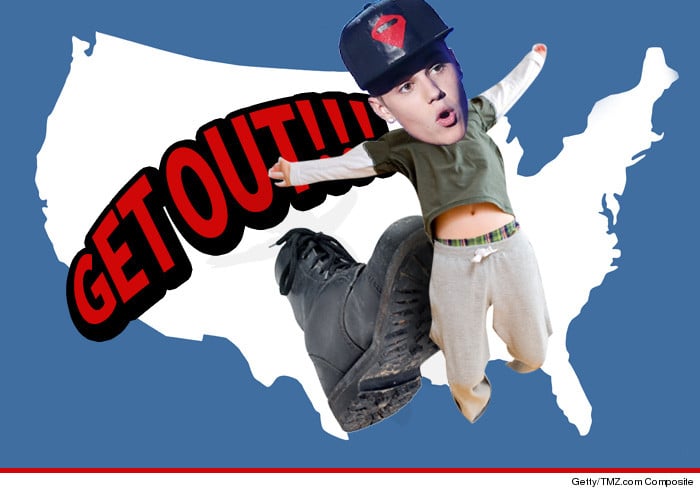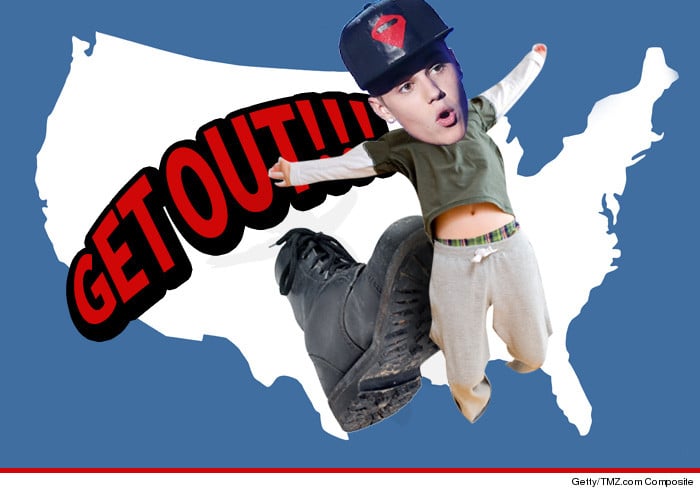 America it seems has finally had enough with Justin Bieber. Case in point the recent Justin Bieber deportation petition which came to be last week after our Canadian born collective media whore dared to transgress our public affection for him when he went hell for leather on an illegal alcoholic bent drag racing sprint.
With the petition now having racheted the necessary 100K signatures (and going…) to be brought in front of President Obama, calls are made to have the 19 year old legend (let's face it) extradited.
Titled 'Deport Justin Bieber and revoke his green card' the petition had in less than a week amassed the required signatures before the 30 day deadline for the "We the People" petition program.
States the petition: 'We the people of the United States feel that we are being wrongly represented in the world of pop culture,'
'We would like to see the dangerous, reckless, destructive, and drug abusing, Justin Bieber deported and his green card revoked. He is not only threatening the safety of our people but he is also a terrible influence on our nations youth. We the people would like to remove Justin Bieber from our society.'
As of 9.35 . EST Thursday, it had nearly 185,000 signatures.
Asked if our collective hero might actually be on the way out, State Department spokesperson Jen Psaki  told yesterday during a press briefing that the petition program doesn't necessarily mean action would be taken but it's rather 'an opportunity for the voices of the American people' to be heard. Loud sigh of resignation….pfff
Nevertheless the terms of the program, as stated on the White House website, tells if a petition meets the 100,000 signature threshold, 'it will be reviewed by the administration and we will issue a response.'
Yes kids let's not give up hope just yet. 'Keep beliebing.'
In addition to the charges our idol faces in Florida, (and now in Toronto over assaulting  a cabbie) investigators in California are also weighing whether Biebs will face a felony vandalism charge tied to an egg attack there. Yes kids I know, life is too surreal.
Immigration lawyers tell convictions on those charges wouldn't generally lead to deportation for someone like Bieber, who has a visa allowing him to legally live in the United States because of his 'extraordinary ability' in the tabloid papers arts.
Legal pundits tell the charges aren't considered to be aggravated felonies or crimes of moral turpitude – the two types of crimes that federal law defines as grounds for the deportation of non-citizen immigrants.
Nevertheless the question has arisen. Is America finally ready to be rid of its collective hero and how much slack is a host nation willing to give one of its favored imports cozy status? Which is to say America may have a rabid appetite for idols but as long as they appreciate and behave within certain parameters. Ironically it's the behaving and being outside of normal parameters that normally makes many an artist the much ballyhooed and contentious character that the public succors. But then again if corporate trolls and miscreants are being asked to be to account perhaps America has arrived at a place and time that it demands its icons and money wheelers and captains of industry to tow the moral line. Fat chance.
above image via tmz
Chantel Jeffries tried to shop the Justin Bieber drag race scandal for $20K.
Chantel Jeffries Justin Bieber's new girlfriend?
Justin Bieber drag race scandal cost me $2500. Fxck you world.
Justin Bieber deported for egg attack?