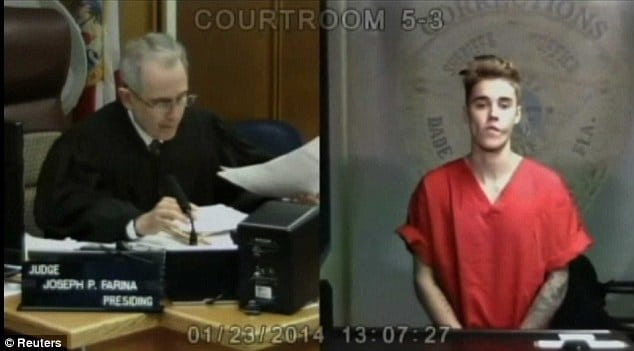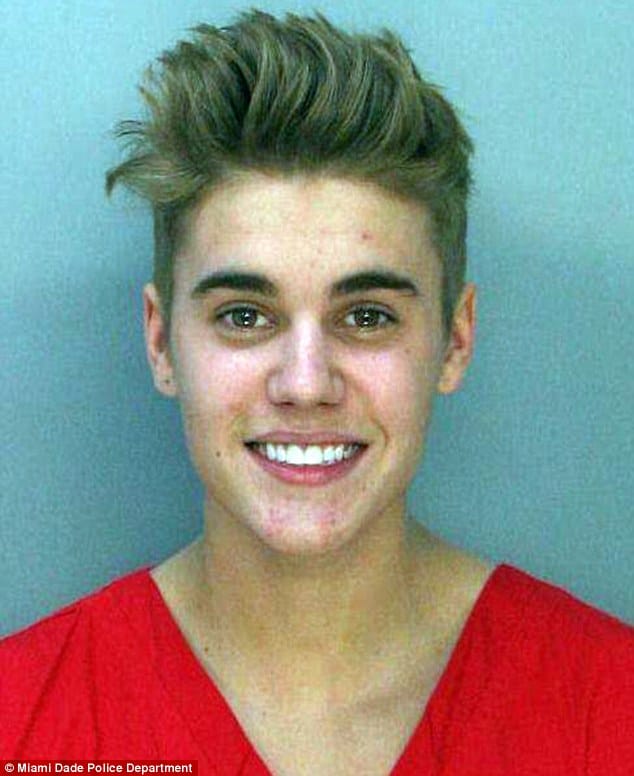 Justin Bieber is the bixch of all time. The hot wetness of my loins. The swift lust of my steering wheel. The upstart that can not do wrong. The little monster that smashed my drunken life apart and had me begging for one more shot. Justin Bieber to be pure is the reckless drag race scandal artist that I always wished I could have been. And by proxy I am now him.
Where to start, where to begin? How many shots to down and where did I last leave the keys to my shiny yellow Lamborghini with the go between teenage model to dare or devil fast life with? $500 000 $2500 fine? That's all? That judge smudge was lame anyway. Yeah whatever. Wass'up? I'll try harder next time to run down some of the fans. The ugly ones of course….
And it went something like this: The 19-year-old singer had earlier appeared in court by video link after he was arrested for drunk driving and resisting arrest while allegedly drag racing in Miami early this morning.
He looked emotionless and fidgeted as he heard his bail set at $2,500.
Police arrested the pop star as he drove a bright yellow Lamborghini at up to 60mph in a 30mph speed limit zone while allegedly racing Def Jam rapper Khalil Sharief who was driving a Ferrari.
He had spent a night partying with model Chantel Jeffries and allegedly admitted to officers that he had been smoking marijuana 'all day', taking anti-depressants and drinking beer when he was stopped at 4am.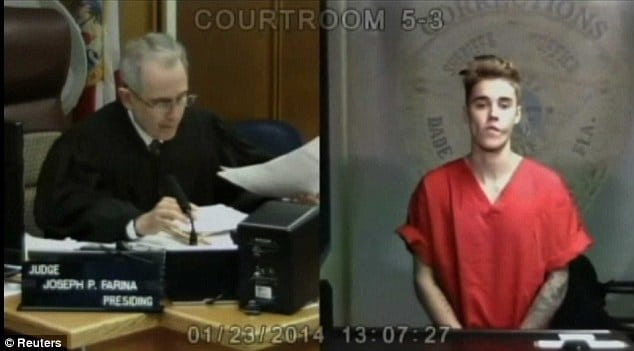 And that kids is the extra nightcap that landed me in jail. I was boozed, happy, horny. Ready to roll on to further depravity. Ready to scorch my ass out the window. Ready to throw it all away. Ready to just hang loose and ham it up. Ready to teach my niggah Khalil the bad ass that I am.
Yes yes, I know what you are thinking: I am the insufferable self abusive gangsta pop star with too much money and pizazz to know what to do with. But that's the way I like it. I am after all a self entitled rich megalomaniac overpaid entertainment star. But damn I work hard for that money and all that attention. And let's face it. I'm good looking and a rags to very riches story of your wet dreamz. Shiitt niggah pleaze. Can you let me breathe before you point that flash bulb at me? What is it with peep these days?'
Satisfied. Got the picture you wanted? Geez. Give me another spliff already bixch. I got another drag race to ride. Judges, smudges. Weapons? Coke stashes? Search me? Nigga please? You know whom you cursing at?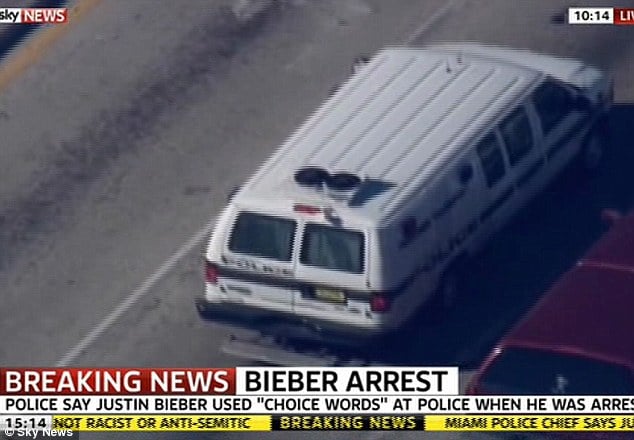 I am the Mac Daddy of gangsta and I am here to entertain you dead or alive 24/7. Face it. I am the King niggah who I always wanted to be and got to be. Shiiiit. Where did I leave them damn car keys anyway? Woah, what do you think you're doing? You can't arrest me? I'm toooo good looking and rich. Please my niggah. You're holding up the drag race. Get that damn flash bulb out of my face already!
Anyway I'll drink you all a salute to the wild west and the effervescent tangy aroma of my jiz that is my essence. Salute. Drink up. And again. Giddy up. Again bixch.
Argh. Get out of the way bixch before I run overz your ass. The king has arrived. I am here to anoint you. Shock you. Love you. Violate you. Petrify you. The mac Daddy of your wet dream that I got to live.
Here to help you sell more tabloid trash. Here to be the tabloid trash hero that my gilded name gives me licence to be. I am the God of your wet dreams and the insufferable tool of my self deceiving ways. Yeah whatever…. judge smudge… coke stash, weapon stash , whatever. Just get off the bonnet bixch and hand me another cover story…Stop with them flashes already bixch….