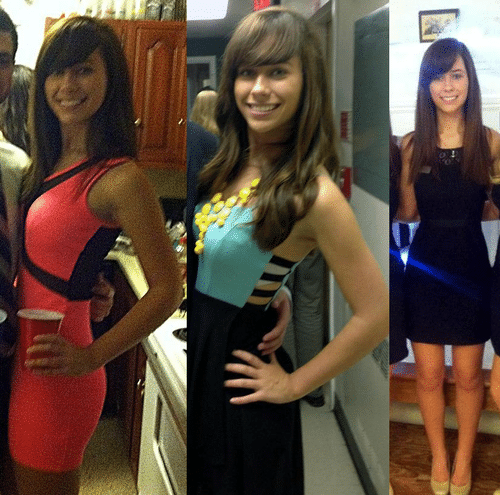 Oh really? Rebecca Martinson now offered porn gig with scoreslive.com
Wow! Rebecca Martinson is now offered a paid internship with the tabloids.
The world reacts to Rebecca Martinson's resignation.
Rebecca Martinson finally resigns from Delta Gamma Sorority
Rebecca Martinson of Delta Gamma sorority gets a Barbie video take too.
Rebecca Martinson to be punished for her deranged Delta Gamma sorority letter.
Michael Shannon gives the perfect Deranged Sorority letter reading courtesy of Rebecca Martinson.
Indiana University's Kappa Delta sorority attend make believe homeless party and make fools of themselves.
Rebecca Martinson has foul mouthed tweets too. More shit courtesy of Delta Gamma sorority's University of Maryland.
Identity of Delta Gamma sorority's University of Maryland freeky letter writer revealed.
Delta Gamma sorority's University of Maryland creepy letter will make you gush.
Indiana University's Kappa Delta sorority attend make believe homeless party and make fools of themselves.
Are you a Swug? Senior washed up girls who no longer believe in love (for now).
Suzy Lee Weiss ivy league letter causes America to reflect on the misery of getting ahead.
It seems when it rains it really pours hard and drenched in an avalanche of hail is sorority hero Rebecca Martinson who may have single handedly caused her sorority group, the University of Maryland's Delta Gamma to lose face with her recent foul mouthed letter gaining traction the world over. But it seems might just get worse too now…
If one website is to be judged as a barometer for how things stand for Rebecca Martinson and co over there at the University of Maryland's Delta Gamma sorority house is the risk that the entity may have its charter revoked.
Not that anything is official yet but rumors are flying and the call for the sorority group to be dismantled is beginning to catch waves. Hardly the good news all the other sorority sisters could have hoped for when Rebecca Martinson first sent off her foul mouth expletive letter to fellow sorority sisters. A letter which naturally soon found its way in the hands of the media and every happy trigger tabloid reporter looking to size up the misery of certain women in society. Or perhaps the lack of….
Perhaps for now it just be enough for Rebecca Martinson to receive disciplinary action as has been explicitly stated by Delta Gamma's president, Laurie Petrucce Roselle,  and Colleen McGuire, it's executive director, but who knows if that will be enough to stem the tide of disgust at the sisterhood after many of 'Becky's' less than convivial (for a lack of a better word Becky) thoughts when it came time to race, gays and materialism. Yes very yummy and lady like shit that Rebecca Martinson boldly paraded for the world at large…
Some choice comments from the site which specializes in the culture and ranking of Greek fraternities are as below (personally I think the last comment is bound to knock your socks off):
Thank you, Ms. Martinson for ruining not only your chapter within 20 minutes behind a keyboard, but also the reputations of DG's nationwide at other colleges.
Rebecca Martinson is a Boss. No Class and No Sisterhood but a ****ing BOSS! Love that Hoe I hope she gets a TV show or something!
As a sister of the Delta Gamma Fraternity at a different chapter, UMD should remove your charter.
bottom-tier sorority before the e-mail, now the whole world knows how pathetic you all are.
awful, awful example of "sisterhood"
Rebecca Martinson my hat and I wish my pants are off to you I have never met a women with ure veracity. I want to bang you in McKeldin while we shout obscenities at random students from behind the stacks.you can even bring on of ure sisters for a threesome as long as u demonstrate a **** punt. Marry me? I always have morning wood.