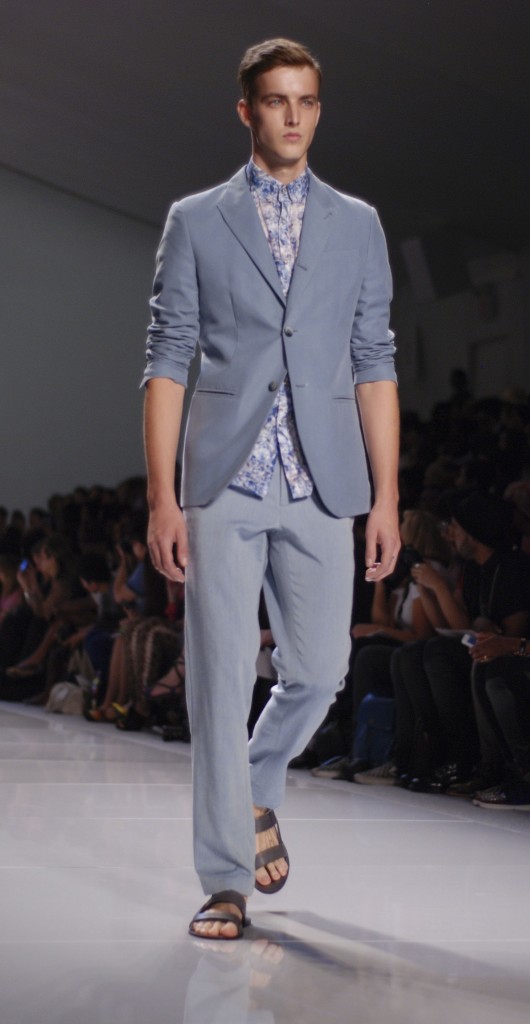 Chic, professional, and not to be ignored; these are ways to describe Qing Wing Wu's 2013 Spring Fashion Week designs. Though the colors and designs remain subdued, the point of view has become more welcoming, making for a collection that any man would find something in to add to his wardrobe.
In 2012, Wu's silhouettes were much more fanciful, suggesting a futuristic vision of fashion. This time around, Wu has given us a collection that's ready to wear come season. Wu's ideal customer is a professional who isn't afraid to show some personality. The outfits shine as they come down the runway. They catch the eye with bold, simple colors, both navy and sky blues, as well as charcoal and gold. The boldest color on Wu's otherwise modest palette is a beautiful peach for a suit that capped off the collection, a bold statement and a hint of what Wu may yet have in store.
If the clothing is less provocative, it is still interesting. Wu hasn't lost his fondness for mismatched collars and prominent zippers. Wu frequently combines business wear with casual wear, and he hasn't lost his penchant for incorporating traditional Chinese style. The clothes are fitted, but they seem to drape each model in comfortable ways. He apparently sought to express a sense of ease and tranquility through his latest collection. The laid back feeling I got from these clothes tell me he succeeded.
Pictures continue next page.