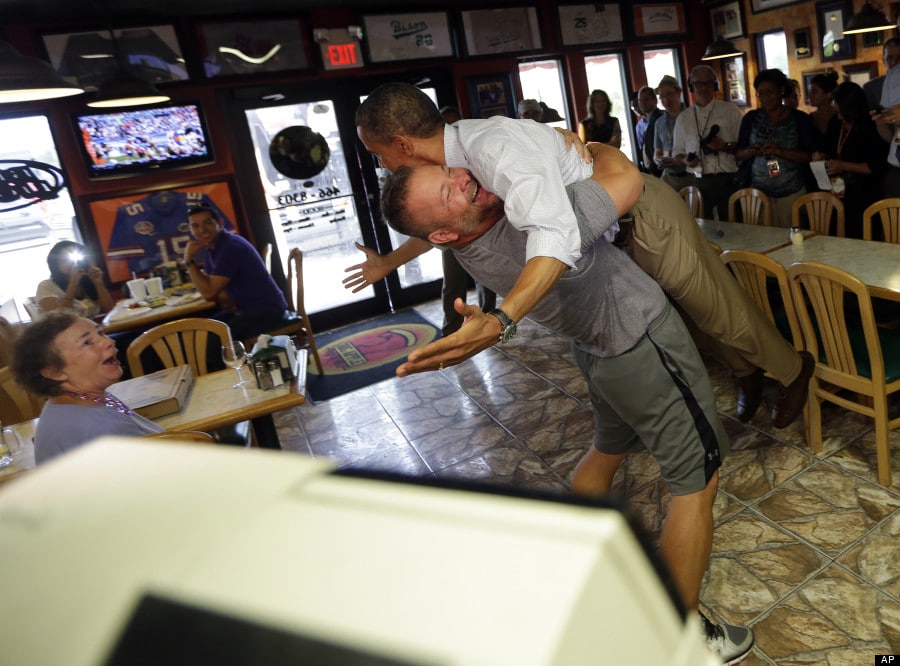 Did anyone order pizza? See what happens when you go out and meet the voters…?
An enthusiastic Barack Obama supporter, Florida pizza owner Scott Van Duzer of Big Apple Pizza and Pasta in Ft.Pierce Florida was captured giving the President an overwhelming greeting when he unexpectedly dropped by.
The photo taken by Doug Mills of the New York Times shows the moment when President Obama announced to the 6'3" Van Duzer that he was the biggest pizza owner he had ever seen, which of course elicited the pizza owner to prove our president how correct he was by lifting off the ground in a gushing bear hug.
What though makes the story even more interesting is that Van Duzz is a registered Republican but that's ok cause he voted for Obama back in 2008 and he strongly hinted he will be doing the same again later this year.
But the good shit gets even better:
gawker: Not to be outdone, Joe Biden posed with a female biker sitting on his lap. Here's that AP photo, care of BuzzFeed's Andrew Kaczynski.
Never mind it's just one of those weekends when Barack and Joe are just trying to outdo each other…