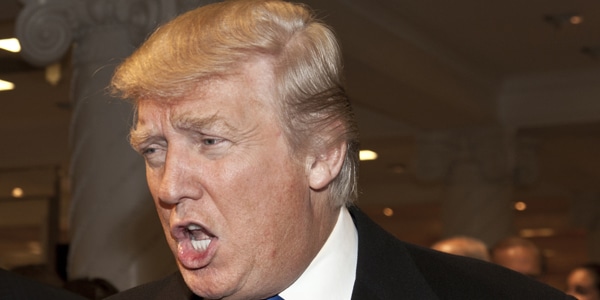 Donald Trump goes on David Letterman and announces he will shell out more money for Barack Obama's transcripts.
Donald Trump announcement is met with $1 million offer to dip Stephen Colbert's 'balls in his mouth…'
Donald Trump's announcement is lampooned by Barack Obama on the Jay Leno show.
Donald Trump scores a dud over Barack Obama.
Donald Trump says all predictions are wrong and will reveal all at noon about Barack Obama.
Donald Trump to reveal divorce papers of Michelle and Barack Obama says source.
Might the Donald Trump announcement be that Barack Obama sold cocaine in college?
Donald Trump's be all and end all announcement came and went today without really disclosing what many haven't heard or raised before: chiefly where was President Barack Obama really born and how did he manage to get into Harvard or any other college for that matter.
For their part camp Obama has largely ignored Mr Trump's 'breaking news' and his offer to give Mr Obama  $5 million to his charity of choice if he discloses his college as well as passport applications. Instead they have gone on carrying on their campaign trail as if Mr Trump never existed but that hasn't necessarily quieted down those who are now wondering if Mr Trump's demands have any legitimacy in the political process.
Reflects the examiner: Many people believe, however, that Trump may be on to something. If the President chooses to produce these documents and there is nothing "wrong" with them, the joke will be on The Donald, right? However, it's not like the President to bite when it comes to challenges. Will he comply with Trump's requests? For charity? For the people who have their doubts? Only time will tell.
Of course replying or even acknowledging Mr Trump's assertions will only lead to camp Obama playing into Mr Trump's hands who is ostensibly sponsored by the Republican team, then again there is the danger that some might wonder if Mr Trump's assertions do indeed have merit thus forcing the president's hand to release documents that he has long declined to release the public…
Argues one feisty commentator :
What does Obama have to lose by releasing his records? He has never held a job, got into college in unconventional ways, and I suspect he never passed his bar exams in law school. He also cannot explain why he was president of Harvard law review when he attended school there but never wrote on single review. What's the deal on that? I think our deficit has largely come from Obama paying off everyone who knows anything about his illegal activities. In my opinion, Barack Obama is hiding so much that he is frightened to death to reveal anything about himself. That is why he will not answer or produce any papers that make him a legal citizen of the U.S., prove he make it into college on his educational merits, or has a license to practice law. From the research I have done, which is a lot, he has never had a job (except for drug running), before attending college, at all. Cough it up Obama or the U.S. will become suspicious and eventually everything will come out anyway and you will be impeached. We will be left with a brain damaged President (if Biden's claims are correct) to lead our country is the most trying of times.