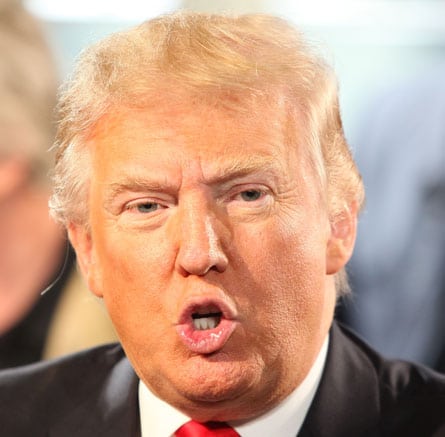 Donald Trump goes on David Letterman and announces he will shell out more money for Barack Obama's transcripts.
Donald Trump announcement is met with $1 million offer to dip Stephen Colbert's 'balls in his mouth…'
Donald Trump's announcement is lampooned by Barack Obama on the Jay Leno show.
Donald Trump announcement is ignored by Barack Obama, calls to release documents continue.
Donald Trump scores a dud over Barack Obama.
Donald Trump says all predictions are wrong and will reveal all at noon about Barack Obama.
Donald Trump to reveal divorce papers of Michelle and Barack Obama says source.
Grabbing at straws in the Donald Trump dustbin…
As the world patiently awaits to hear what Donald Trump supposedly has on President Barack Obama that is suppose to shock us new assertions are being made courtesy of a source that is now telling radaronline that Barack Obama used to use cocaine and sell it whilst in college.
radar: A man claiming to be a close pal to President Obama during college made contact with Republican operatives recently, ready to go public with claims that Obama used and sold cocaine in college, RadarOnline.com is reporting exclusively.
The operatives tried to spread the story through the media and the Romney campaign, a source close to the situation told Radar.
"At first he wanted to do a book," a source close to the situation told RadarOnline.com about the alleged college pal. "But there just wasn't enough time before the election.
But there just wasn't enough time before the election? That sounds odd given what is at stake. If republican operatives were legitimately able to suss out that Barack Obama had used and sold cocaine that book would have been written over a long weekend.
Nevertheless radar aren't flinching. Continues the outlet:
A proposal of the man's story was created and viewed by Radar. The document claims that there are multiple sources who can back up allegations that Obama used and sold cocaine in college.
The alleged pal was willing to go on the record for the story and take a polygraph test, according to the source.
"People who would have taken the information to the highest levels of Romney's campaign just wouldn't touch it.
"They don't want their candidate smeared with this type of activity."
But then there was this comment from one radar reader that also caught my eye too. You be the judge, did Barack Obama really deal and use cocaine…?
Let's see…the birther lie didn't work, all the racists emails/statements didn't work so now lets see if calling him a "drug dealer" will work. Where was this so-called "friend" four years ago? Oh, that's right, he didn't exist. This all boils down to the fact that you can't handle having a Black man as President. Go back to 1800s and let the grown educated folks handle the business of running this country because if it's left up to you, women and minorities will be stripped of their rights but you bigots/racists will still be broke busted and without teeth.
And then I had to include this comment below which made me reach for a fire extinguisher….
Is there anything that could be revealed about the Bamster that would shock anyone? I doubt it. We already know he did drugs, and drank beer, is an Indonesian citizen and declared that in his school records, That Frank marshall davis may have been his real father, there are nude pics of his mom, he ate dogmeat, he has more half brother and sisters than you can count, he got into fancy schools from arab oil money and Bill Ayres parents, etc. New allegations about cocaine use? Who cares. Mooshellle wanted a divorce? Not suprised, she's a horrid b****. The only thing that would shock me is if he made porno movies to pay for college.