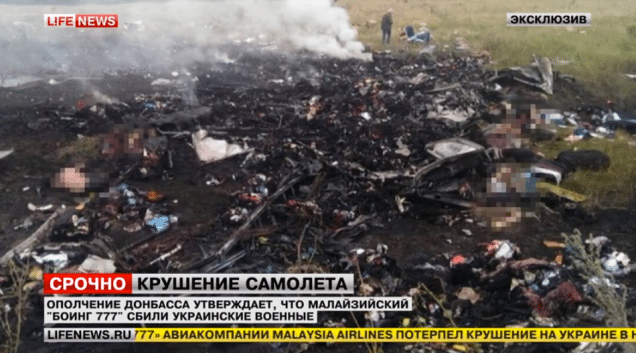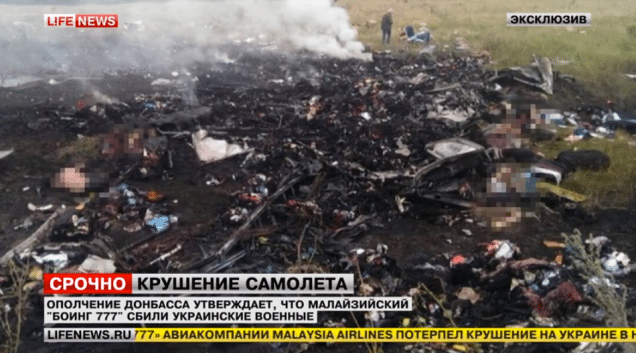 A Malaysian Airlines MH17 plane carrying 295 people has been shot down this afternoon over Ukrainian air space. It is believed that the terrorist act was perpetrated at the hands of pro Russian forces inside the Ukraine, but as of yet neither Russia or Ukraine has admitted responsibility with each side blaming the other.
Malaysia Airlines MH17 Media bias. How Vladimir Putin became the bogeyman 
Malaysia Airlines MH17: Where are the black boxes and who has them? 
Did Malaysia Airlines MH17 last minute route over Ukraine airspace put it in peril? 
Ukraine air traffic controller suggests military shot Malaysian Airlines MH17 
BUK missile launcher was positioned 2 hours before Malaysia Airlines MH17 flight 
Did Russia's Igor Girkin shoot down Malaysia Airlines flight MH17? 
The attack came after Malaysian Airlines MH17 departed Amsterdam 12.14pm  local time bound for Kuala Lumpur, Malaysia when it came to be hit by a BUK surface to air missile at an altitude of 33 000 feet over territory near Donetsk held by pro-Russian rebels who the Ukrainian government says are backed by the Kremlin.
Witnesses would tell that body parts of up to a 100 individuals laid strewn over a distance of 15km, suggesting the plane breaking up in mid-air.
Interfax cites Ukraine's Interior Ministry advisor as saying all aboard the plane—including a reported 23 American citizens—have died. At the time there were 280 passengers and 15 airline crew members.
Reuters is reporting that the plane did not enter Russian airspace when expected and crashed, though Ukraine maintains that the plane was taken down by a missile. Malaysia Airlines would confirm that it lost contact with the plane at 2:15 local time.
Since the aggressive attack, Ukraine's president Petro Poroshenko has told hat his country's military "did not take action against airborne targets." Pro-Russian forces in Ukraine similarly deny responsibility, stating that they do not possess the type of missile that is alleged to have brought the jet down. Separatist leader Alexander Borodai followed that up by laying blame at the feet of the Ukrainians.
If Russian military forces did indeed shoot down the jet, it won't have been their first time being involved in such a situation.
Meanwhile, Russian President Vladimir Putin in a telephone conversation told U.S. President Barack Obama that a Malaysian airplane crashed on Ukrainian territory, the Kremlin said.
The two leaders held a pre-planned call on the situation in Ukraine during which information became available from air traffic controllers about the crash.
The downing comes a day after pro-Russia rebels claimed responsibility for surface-to-air missile on two Ukrainian Sukhoi-25 jets.
The Ukrainian Defense Ministry said the second jet was hit by a portable surface-to-air missile – not a BUK – adding that the pilot was unscathed and managed to land his plane safely.
Defence experts have expressed fears in the past they could be used to target at civil aircraft.
Earlier, defense analyst Major Charles Heyman believes it could have been downed by a 'slack' Ukraine air defense centre.
He told Sky News: 'It looks like confusion. It's possible that Ukraine thought it was hostile and not civilian and shot it down.'
The New York Times also reported the Ukrainian government said that a Russian military plane had shot down a Ukrainian fighter jet in Ukrainian airspace the previous evening. According to reports, the plane came down 20 miles short of entering Russian airspace. There would also be mention of Ukrainian troops being fired upon by missiles from a village inside Russia.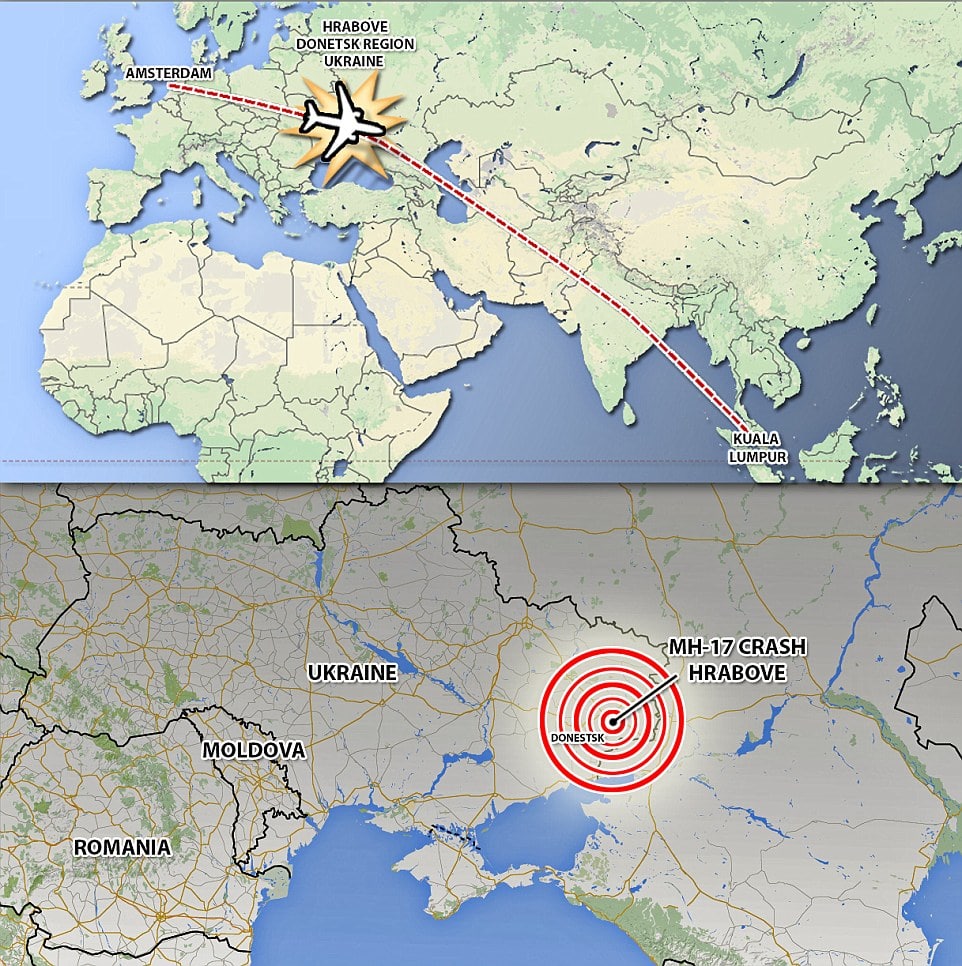 Perhaps too aware that blame would fall on its shoulders, Donetsk People's Republic, the pro-Russian separatist movement in southeastern Ukraine has denied involvement in the downing of Malaysian Airlines MH17.
'We do not have any idea what this is about and who shot down the plane. We're heading there now to investigate everything independently,' Tatyana Dvoryadkina, co-chair of the DPR told gazeta.ru.
Nevertheless screenshots floating around the Russian-language internet from what seems to be the Facebook page of Igor Strelkov, a rebel leader in eastern Ukraine, depict posts of  plumes of smoke and bragging about shooting down a Ukrainian military Antonov plane shortly before MH17 fell.
'Don't fly in our skies,' he reportedly wrote. If true, it would seem rebels downed the jetliner, having mistaken it for a Ukrainian military jet.
There is also an off-chance that the Ukrainian military did it, having also declared a no-fly zone in the area recently. The rebels have since blamed the Ukrainian military.
Compounding matters is the assertion that Malaysian Airlines pilots ignored several warnings to avoid the airspace over Ukraine. It is understood the Malaysian Airline jet used the Ukrainian route to save fuel as diverting north or south would have taken longer.
In April, the European Aviation and Safety Agency warned: 'Taking into consideration the recent publication by the Russian Federation of a series of notices to airmen (NOTAMs) modifying the Simferopol FIR which is under the responsibility of Ukraine, and their intent to provide air traffic services (ATS) within this airspace, the Agency draws the aviation communities' attention to the possible existence of serious risks to the safety of international civil flights.'
And then there was this contemplation via newrepublic that made me wonder:
Even if and when the evidence is marshalled to point to the rebels, what can the West do to punish them? What can it do to punish Russia for giving them these capabilities? What can it do to end the conflict? More sanctions? Putin's been blowing them off and they haven't altered his calculus all that much. A peacekeeping mission? There is still no appetite for boots on the ground and Russia still has that U.N. veto. Even if the U.S. gives Ukraine lethal military aid, it in no way guarantees that Kiev's military will be able to crush the separatists, especially not without some bloody, horrific urban warfare. The plane went down, raised the stakes, but what can the West—or Moscow—really do about it?