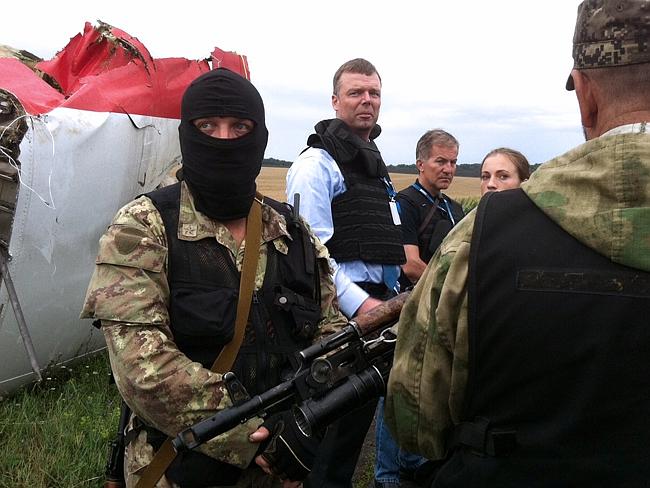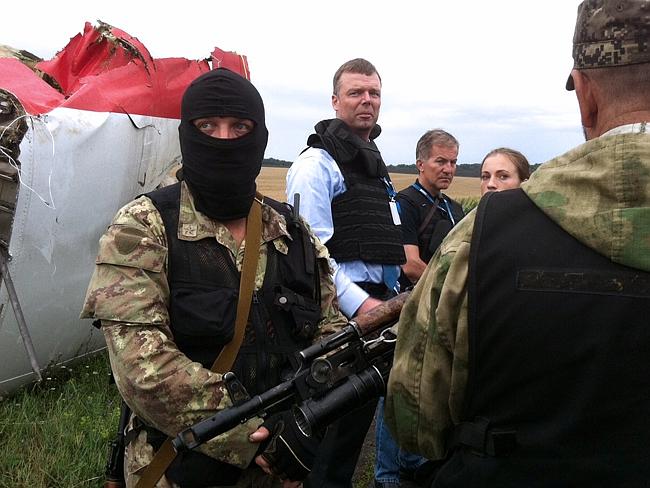 With a task force now on the grounds inspecting the scene of the Malaysia Airlines MH17 crash, questions are being asked if whether the flight's black box has been found and if so who is holding them? Implicit is the notion that the rebels and Russian forces may already be holding onto such data presumably in an effort to thwart any culpability by removing as much as evidence of the 'crime' as possible.
Malaysia Airlines MH17 Media bias. How Vladimir Putin became the bogeyman 
Did Malaysia Airlines MH17 last minute route over Ukraine airspace put it in peril? 
Ukraine air traffic controller suggests military shot Malaysian Airlines MH17 
Malaysian Airiines MH17 BUK missile launcher smuggled back to Russia. Missing 2 rockets 
BUK missile launcher was positioned 2 hours before Malaysia Airlines MH17 flight 
Did Russia's Igor Girkin shoot down Malaysia Airlines flight MH17? 
Malasysian Airlines MH17 plane carrying 295 shot down. Who's to blame? 
Making matters increasingly challenging for the team of nearly 30 international monitors who have now taken to attempting to scour the scene where the plane came down is the presence of militia men guarding the terrain, with monitors telling that they have only been offered access to the outskirts of the field of where the plane came to rest.
This in turn has led to the Ukrainian government, anxious to draw European and US allegiance against its enemy Russia to issue a statement declaring that the "terrorists with the support of Russia are trying to destroy proof of this international crime." Which may be true or may of course may be a cynical attempt to further prod disgust and resentment towards the Russians and separatists movement, especially as it has everything to win if the international community chooses to force Russia's hand and get Putin to stop backing insurgent rebels.
Remarked perhaps all too presciently, aviation analyst Gerard Feldzer out of Paris: 'We are in a country that is at war, and that is in a war of communication. Everyone is pushing a pawn.'
To date, Kiev has accused militia fighters of refusing to hand over 'black box' data recorders and inexplicably moving 38 bodies to a morgue in the insurgent-controlled city of Donetsk. Of debate is whether rebels are indeed in possession of the black box and if they are or come to be will they pass such items over to the Ukraine or the monitoring body?
Flustered over accusations that they are tampering or holding back evidence, rebel leader Oleksandr Borodai told reporters that militias had never recovered the data recorders along with denying tampering with any evidence.
Borodai would also dismiss an earlier announcement by Kiev of the two sides having agreed to set up a 20-kilometre buffer zone around the expansive site where remains of flight MH17 hit the ground.
'That has not been an issue,' Borodai said.
The Interfax-Ukraine news agency had previously claimed the first black box has been sent to Moscow for analysis, the BBC reported. The news agency now reports a second black box has been recovered at the crash site. Assertions that Borodai maintains are not true.
In the interim Berlin would announce that German Chancellor Angela Merkel and Russian President Vladimir Putin had issued a joint call for an independent commission to have immediate access to the site.
Putin and Merkel 'agreed that an international, independent commission under the direction of ICAO (the United Nations' International Civil Aviation Organization) should quickly have access… to shed light on the circumstances of the crash and move the victims,' the German government said.
Since the downing of MH17, Kiev has increased its shelling of rebel strong holds, having killed as many 20 civilians yesterday who had stepped out at a local market in the rebel strong hold town of Luhanks.
above image found here