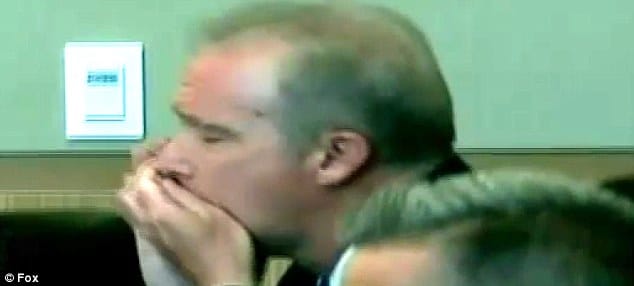 What was Michael Marin thinking the moment he decided to take that pill? Did he have it all planned out? The same way he had the insurance scam all planned out that brought him to this Arizona courtroom?
A courtroom was exposed to the shock spectacle of 53 year old Michael Marin taking his own life after a verdict of guilty was read pursuant to a false insurance claim at the hands of his own arson. It was thought he could no longer afford mortgage payments and had been unable to offload the property to potential sellers.
Having been rendered the verdict, Marin raises his hands to his mouth appearing to gasp in despair when in fact he was feeding himself a poison pill than rather deal with his sudden dire poverty and impending sentence of a probable 16 years (which in the state of Arizona may count as an onerous penalty).
At the time of taking the pill, the man began to convulse before he was rushed to hospital where he would later die.
Marin who had pursued a career on wall st leaves behind 4 children and 2 grandchildren. The America dream it seems has failed to work for one individual who had until the arson had every reason to believe in it.