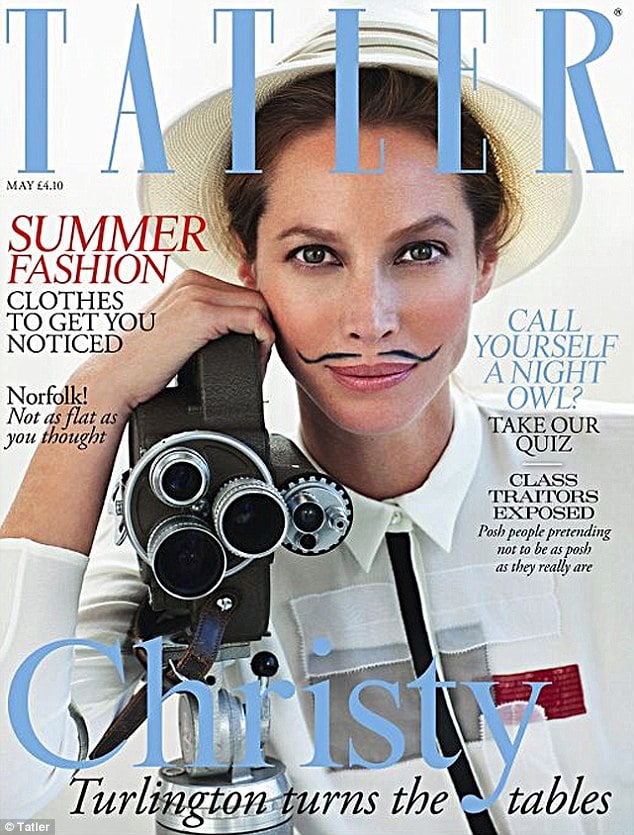 In a sartorial take on high fashion, ex super model and perennial darling of the fashion world Christy Turlington can be seen donning a pencil thin moustache for Tattler magazine's May cover (interesting how hard the mags fight to get attention and we're still in March thank you very much).
Love it or scorn it (I personally love it) Christy's cover has certainly got some tongues wagging as she proves once again that even though she is 43 and a mother of two children who tends to keep a low profile these days with husband, actor/director Edward Burns she can still command our collective attention and how!
Dressed as a male director with camera in hand (what could she be shooting?) Christy aims to bring attention as she too now like her husband embarks in the next chapter of her life as a budding film maker.
Offers the dailymail: In 2010, she made No Woman, No Cry, a documentary about pregnant women in developing countries. The film is currently touring the U.S. via specially-staged screenings.
What equally makes her cover shoot compelling is how this time the tables have been turned on the audience. Instead of male models, like our beloved Andrej Pejic evoking the glam of an androgynous female now we have the ever feminine Christy evincing the spectacle of a chic male auteur (could this author's aspirations be any louder?!).
So what do you think ladies, should you be thinking about going a little masculine this spring or will you all just be sticking to the frilly dresses?