I'm just too pretty for you.
Welcome to the visage of new comer David Chiang who it appears is the counterpart of other too pretty male model- Andrej Pejic.
styleite: The Cut found out that Chiang decided to go to college first, then model (which, honestly, is a pretty good plan.) While he's waiting in the wings to become an elementary school teacher, he travels all over the world walking in shows for everyone from Alexander McQueen to Emporio Armani. Backstage at a Dior show, Karl Lagerfeld told him that he was a very beautiful Chinese girl. And that might come in handy for his ultimate modeling goal, walking in the Victoria's Secret fashion show.
Kids, as a former model myself, I got to say David is on the mark about getting that education on the mark, but with respect to being this hot pretty thing that had Karl Lagerfeld swooning, mercy me- 'even I'm blushing behind my tiara this afternoon…'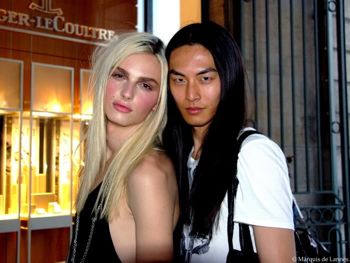 Excerpts of the NY Mag's Cut's Q and A:
Tell us something random.
My dream is Victoria's Secret. I'm working on it. I really want big wings. Not the small wings, but Tyra wings. Not Heidi's wings because they look heavy, but Gisele's wings would do, too.
What does your family make of your success?
My mom was really against it at first. She told me being a model was like being a homeless bum on the street, so at the beginning it was really hard. But I convinced by mom that my agency was serious about my career. My mom is now really happy about my career because she sees me on TV and reads my interviews. She watches a lot of Chinese channels so she's up on it now
Lastly, where do you see yourself in five years?
I see myself as the next Linda Evangelista. I don't wake up for less than $10,000.
Indeed why toss out of bed unless they spray you with at least $10,000 assuming you're pretty enough to get it….