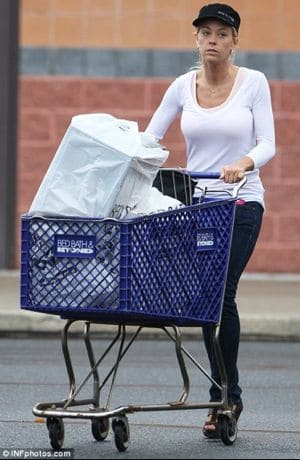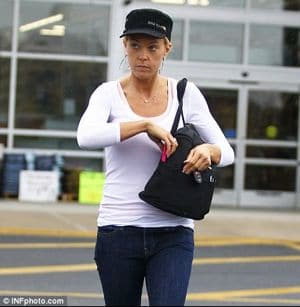 What goes up must eventually, ahem come back down. This perhaps could be the best description of the latest inconvenience that has befallen our collective reality miscreant Kate Gosselin whom for a while thought she was going to be moving in next door at Buckingham palace. Alas it was not meant to be…
With her reality show axed (who could wonder why?) and the God Sheba of good fortune and expensive pedicures frowning on her our Kate has suddenly had to make do with downsizing her existence. And how.
Still a favorite on the tabloid circuit (isn't it obvious why, the mullet hair transplanted into a beaver puff and accessories portends to the learned patina of a society gal on the go), reports have started to fly that Kate and her brooding chipmunks (bless their souls) have been forced to switch from 5th avenue trinkets to shopping at common vernacular outlets like Target, Bed Bath and Beyond. Such it seems are the disarming realities of no longer being welcomed by money buckets and the good moods of studio heads that once believed in the notion of letting Kate swim in $100 notes that Kate only ever thought was possible through stripping in back barns in the outlets of Pennsylvanian suburbs.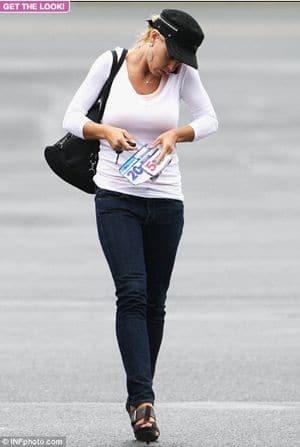 As the following photos show, Kate is seen awkwardly fumbling with discount coupons and the horrible reality of having to wear the same outfit two days in a row. Something that some of us have perfected with aplomb over the years, but as the awkward grimace on Kate's face shows – the downsizing of her very own reality existence has yet to have hit the spot.
dailymail.co.uk: Kate, who appeared makeup free, looked just like a regular mother as she made her way from the shops with her purchases, a far cry from her glamorous look seen during the height of her fame.
As well as ensuring her home is well stocked the mother-of-eight also tweeted the she had been spending time helping her children with her homework.
She posted: 'Good evening!Making my way thru 6 1st gr readers&their homework,dinner, doublebus pickup& 5th gr math! So so much homework!I'll b up all pm!' (sic)
Make up free and helping the kids with homework as opposed to wiping away at the champagne stains from last night's premiere? Could this really be the new and improved downtrodden Kate and what are we, her devout fans in ardent commiseration to think now that our idol has been forced to reckon with day to day suffering necessities?
Surely some studio head must be scratching out his eyeballs wondering if a comeback for Kate can ever exist?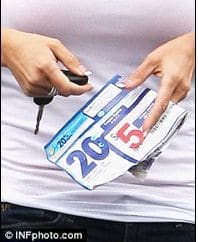 A source told the magazine: 'She just completed more courses to renew her license.'
'She has no clue how she'll continue to pay for the kids' private school and living expenses.'
Kate, who divorced her husband Jon in 2009, was worked as labor and delivery nurse until 2004 before she found fame as a reality TV star.
Oh dear Kate, when all else fails there's always a job as a cashier or if inclined the odd occasional barn where fast money can be had with the blare of yesterdays repeats on autopilot as you shake against that dancing pole. Such are it seems the horrid realities of one day being the token media reality pretty penny and the next the disillusioned frump wondering where it all went…such is life in the shiny outlet called America's disillusion avenue.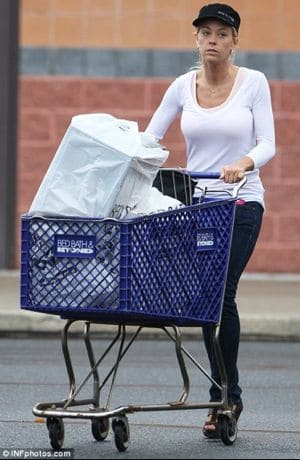 SARAH PALIN WANTS TO TELL YOU ABOUT HER KATE GOSSELIN CAMPING DISASTER.
JON GOSSELIN DENIES EXTORTING HIS EX- KATE GOSSELIN.
HOW YOU BECAME A MODERN DAY CELEBRITY.
KATE GOSSELIN DITCHES HER KIDS FOR A TANNING SALON.
IT'S THE WORLD'S FAULT KATE GOSSELIN DOESN'T GET IT.
JON AND KATE GOSSELIN FINALLY DIVORCE.
NY MAGAZINE WANTS YOU TO KNOW THAT JON GOSSELIN IS STILL A HUMAN BEING.
THE FAME GAME: HOW THE NOUGHTIES HAVE CHANGED THE FACE OF CELEBRITY.
THE INS AND OUTS OF MEDIA WHOREDOM.
HOT HAIRCUT OF THE DAY- KATE GOSSELIN LOOKALIKES.
KATE AND JON GOSSELIN ARE INTERRUPTED IN THEIR GRAB FOR SLEAZE AND FAME BY THE AWKWARD REALIZATION THAT THEY ARE STILL PARENTS.
JON GOSSELIN NO LONGER WANTED BY REALITY TV.
KATE GOSSELIN BREAKS DOWN ON TV SET BECAUSE SHE IS SICK OF LIVING HER SURREAL LIFE.
TIME TO FEEL SORRY FOR A REALITY STAR…