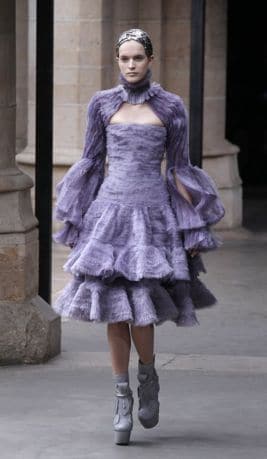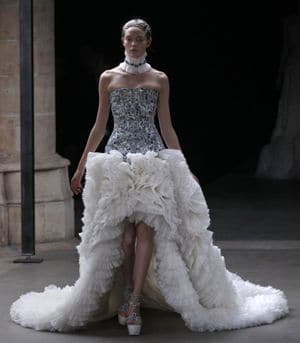 Will Kate Middleton be marching in daggers and speared frocks down Westminister Abbey in April?
Sarah Burton who has taken over as chief designer for deceased designer Alexander McQueen has once again pursuant to her dynamic showing in Paris being rumored to be designing Kate Middleton's wedding dress. Although she denies the rumor, the fact that she rolled out with one wide frock after the other at the Paris collections has some insiders wondering.
huffpo: After seeing the collection Hilary Alexander Tweeted, "Alexander McQueen.. Fit for.a Queen," Joe Zee: "Kate Middleton, I love you but if you don't have Sarah Burton design your wedding dress, you're making a big mistake. HUGE," Anne Slowey: "LIFT OFF AT McQUEEN!!!! Kate Middleton: HELLOOOOO!!!!" and Meenal Mistry: "Honestly, I don't really understand why Sarah Burton at #McQueen making Kate Middleton's dress isn't a foregone conclusion."
Judging by some of the images below, Burton's designs might make for revealing wedding attire, but some of us here are wondering how exactly Kate Middleton will navigate the dagger shoes, but then again, who can ever manage to navigate such bravado? And let's not forget she's marrying the future king of Great Britain, not Ziggy Stardust…
WHAT IS THIS OFFICIAL ENGAGEMENT PICTURE OF PRINCE WILLIAM AND KATE MIDDLETON MISSING?
It's time to meet Kate Middleton, the wife of the future heir to the throne of England.