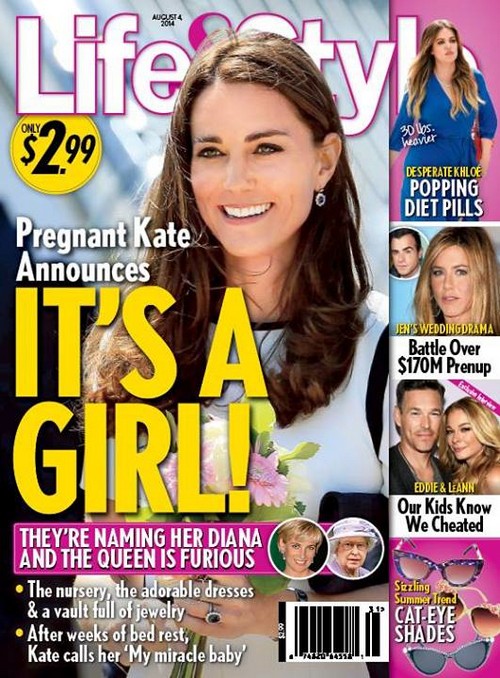 The Duchess of Cambridge, Kate Middleton this morning at 8.34 gave birth to a baby girl weighing 8lbs and 3 ounces (3.7kg), her second child who is now destined to the fourth in line to the crown. Of mystery is what will the royals now choose to call the nation's new collective heart throb?
According to bookies, the heavily contended names for the Kate Middleton baby girl include Alice or Charlotte, with bookies having placed 5 to 1 odds and 6 to 1 odds respectively. Also showing up on the punter paddypower list is Olivia with 4 to 1 odds.
Next on the list is Elizabeth at 3 to 1, Victoria at 8 to 1, and Alexandra at 12 to 1. There was some speculation that Prince William, 32, would pay homage to his late mother Princess Di by naming his own daughter Diana, but the name is showing odds of 14 to 1.
That said punters and the public at large will have probably have to wait until the end of the day
following a formal reveal of the baby outside of St. Mary's Hospital in London.
A Kensington Palace spokesman reports Us has told the name will be announced in 'due course.'
It all began when the Duchess arrived at the hospital at 6:00 a.m. on Saturday morning, checking into the Lindo Wing, where she gave birth to Prince George on July 22, 2013.
'Her Royal Highness The Duchess of Cambridge was safely delivered of a daughter at 8.34am,' a representative from Kensington Palace wrote on the palace's official Twitter page on Saturday. 
Making matters even more intriguing is the fact the Duke and Duchess have had no visitors since the baby was born six hours ago suggesting the families know the baby will be on her way home soon.
A 2012 intervention by the Queen also means that the new baby will automatically become an HRH – Her Royal Highness – and be permitted to take the title of princess.
As the second child of the second heir to the throne she would, until then, only have been a Lady.