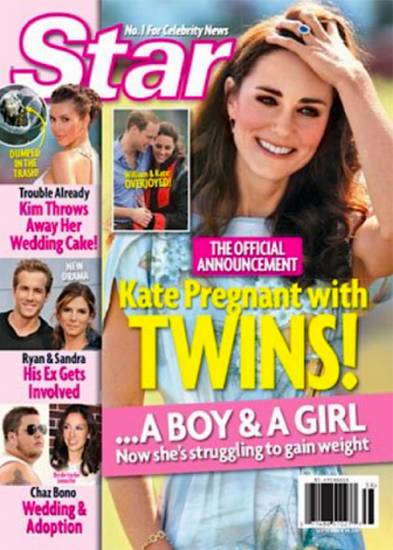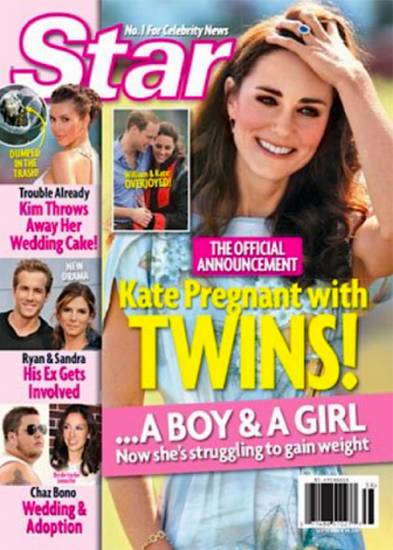 Sources are telling that Kate Middleton, the Duchess of Cambridge is pregnant once again, with baby number 2.
Said to be three months pregnant, the source via Star magazine goes on to tell Kate Middleton hasn't told many people of her new pregnancy to date (except for the tabloids), claiming instead that Kate has only just confirmed her new pregnancy with her doctor.
Told the source in relation to the recent December 11 Natural History Museum Alive 3D premiere that Kate Middleton attended with Prince William: "She looked absolutely beautiful and glowing, and her hand rested only on her stomach for most of the night," 
 "There was definitely what seemed to be a little bump showing already. And William was so tentative to her, quietly whispering to Kate and asking if she wanted to sit down or needed a sip of water. It was so sweet."
Kids tell me like me you aren't gushing and reaching for an extra hallelujah cartwheel to dear Jesus who must be smiling from the inter-galaxy department.
Goes on to add a palace insider: "Their immediate families are obviously thrilled beyond words when the couple told them news,"
"The other royals, including William's grandmother, Queen Elizabeth II, were let in on Kate's wonderful secret during their Christmas lunch at Buckingham Palace on Dec. 18 — and the entire family is now sworn to keeping it quiet so that an official announcement can be made in the New Year."
And of course we in tabloid land are also going to do our best to keep Kate Middleton's pregnancy a secret too!
The source goes on to tell that Kate Middleton is hoping for a girl.
Reiterated the source: "Kate's mum Carole Middleton, has already been pushing for the baby to be named after William's late mother, Diana, as a beautiful tribute," 
"But Kate and William would also consider Elizabeth or Philippa. If it's a boy however, they're thinking Charles, Henry, Philip or Spencer."
Despite the hoopla and the increased tabloid sales that Star's dizzy story has inspired, Gossip Cop has told that they checked in with the Duchess of Cambridge's spokesman, who went on to note it's rare to comment on stories crap like this, however, the spokesperson was willing in this case (naturally) to assure the tabloid that theStar story is 100 percent not true.