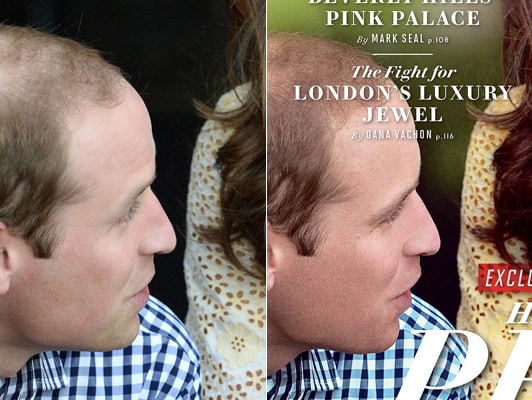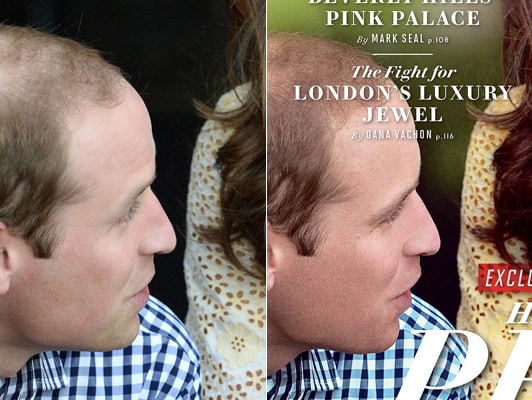 It seems Vanity Fair has taken umbrage with Prince William, the Duke of Cambridge's palette of thinning hair as the journal has come in for some heavy criticism after readers took to criticizing the journal's decision to make the Prince's hair appear more fuller in a new cover depicting the Prince, his wife Kate Middleton and their son, Prince George during their recent tour of Australia.
Prince William flies economy class, world expresses pleasant shock
What will the royal baby look like when it grows up?
The image which glosses the cover of the upcoming August edition of American Vanity Fair shows Prince William smiling from the side on as he and Kate Middleton take pleasure in their son. But it's the comparison of the original image versus the doctored image which has some wondering as the original image shows Prince William with much less hair than that of him on their cover.
Tells racked who first discovered the doctoring: 'Upon comparison it is undeniable that Vanity Fair has photoshopped a little more hair onto that head. Le scandal!'
A spokesman for VF told the UK's Telegraph that it had altered the photo but that it had not added more hair to Prince William's head.
Reiterated the spokesman: 'We gave the image a poster-like palette. Because it is a cover image, the colours are richer and more graphic and vibrant. We obviously did not add more hair.
'His face, head and shoulders were just darkened as though he was a bit in the shadow… which put more emphasis on Prince George,'
As an interesting aside, during the Australia and New Zealand tour,  Kate Middleton had handed Prince William some alpaca wool, suggesting he use it as a wig, commenting at the time: 'You need it more than me.'
Nonplussed about his receding hair line, Prince William came to tell waiting paparazzi at the time of his son's birth as they clambered for images: 'He's got more hair than me, thank God.'
Also not spared by the way the media has chosen to represent the royals, were images of Kate Middleton by Grazia magazine who took to airbrushing her waist during pictures of the royal wedding, while US Weekly was also accused of manipulating a photo of their son Prince George, who turns one on July 22.
Historian Dan Snow told the Telegraph that retouching images of the Royal Family was historically about highlighting the positive parts of a royal.
He said: 'It is following an honourable tradition of making the best of your subject, whether royal or not.'
Nevertheless some of us in the media have been left wondering by the media's insistence of portraying royalty and celebrity in 'preferred terms' and why such phenomenons continue unabated?
And then there was this comment on the web that led to this author emitting a rueful laugh:
They've also photoshopped the tendon in Kate's neck and her lower teeth for some bizarre reason…