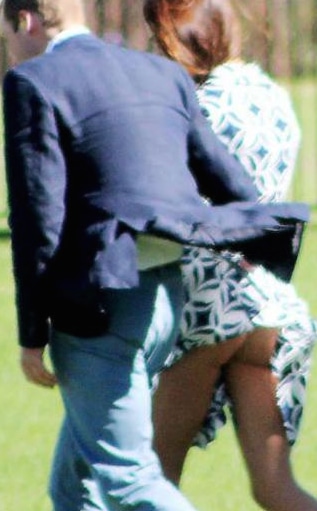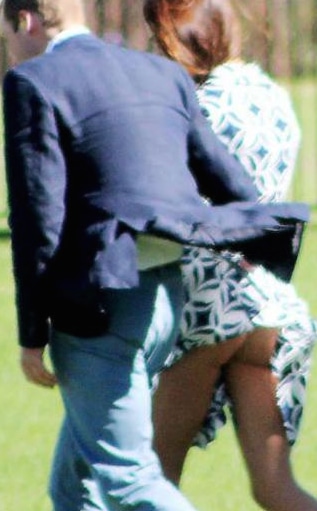 (NSFW) It seems Kate Middleton may indeed be in a spot of bother once again after a photographer managed to photograph Kate Middleton's naked butt. The photo is believed to have come about as a sudden gust of wind blew allowing one photographer the yummy gravy of Kate's derriere (ass) whilst the royal was on tour with Prince William in Australia and New Zealand last month.
Australian media now runs Kate Middleton butt pictures. Are they wrong? 
Queen Elizabeth appalled with Kate Middleton bum naked photo scandal 
(NSFW) Should Kate Middleton butt picture be pulled down by Bild? 
Despite the furore the posting of previous images of Kate Middleton topless and naked has in the past, Germany's Bild magazine blew caution to the wind as it paid top dollar for the rights to publish the images.
Whilst Kate Middleton can initially be seen wearing a blue and white Diane Von Furstenberg dress whilst during a royal outing, it's what happens next when a sudden gust of wind caught the Duchess of Cambridge unaware.
Reports the Daily Mail: 'Bild's decision is likely to have infuriated the Cambridges, but Clarence House refused to comment today,'
'The pictures were offered to the British press — who refused them — so the photographer sold them to the 'highest bidder' around the world, according to the Daily Star."
While some have decried the tastefulness of the images, unlike last time when France's Closer magazine was embroiled in a fiasco with privacy rights, this time Kate Middleton rather than being in an enclosed private area was legally snapped whilst in the public domain. Snapped that is amongst a dozen photographers who had been happily summonsed by publicists to capture the royal's special moments.
Souces have since disclosed that Kate Middleton is utterly humiliated by the new images, whilst Prince William is said to be furious and wants Bild to take down the images.
It is thought that Kate Middleton has since been promptly advised by the Queen herself as to proper dress modicum….
Queen Elizabeth thinks Kate Middleton's skirts are too short
Kate Middleton topless pictures now leads to Irish Daily Star editor resigning 
Paparazzo who took nude topless Kate Middleton photos identified. To be imminently arrested….
What a shame! Pippa Middleton's career being ruined by Kate Middleton topless pictures crises.
Breaking: Danish mag now denies new Kate Middleton bottomless photos will appear.
NSFW: Kate Middleton bottomless and topless photos here. Will the royal house pursue legal action?
NSFW: Here are Kate Middleton topless and now bottomless pictures courtesy of Danish magazine Se og Hør.
Kate Middleton topless: Only one in five Brits have seen the photos…
Kate Middleton nude images lead to police raid on Closer mag offices. Overkill?
Danish magazine now set to publish Kate Middleton topless pictures. Suck it up Kate…
Kate Middleton topless pictures. Spoiled, presumptuous and simply asking for it…?
So what! Kate Middleton wins hollow court victory.
Kate Middleton pictures. Court to order criminal investigation against Closer magazine and photographer.
Court rules Kate Middleton topless pictures must be handed to her within 24 hours.
Kate Middleton nude pictures were sparked by animosity towards royal house by Silvio Berlusconi.
Valerie Suau is now suspected of taking Kate Middleton topless pictures.
The bastardization of Kate Middleton…
Court will decide tomorrow on Kate Middleton pictures. Closer mag defiant.
Oh my! Kate Middleton naked pictures: Here they are courtesy of Chi magazine Italy….
Kate Middleton topless pictures published on Italy's Chi magazine. Sales sluggish…
Kate Middleton is greeted by topless dancers and she barely winces. Sort of…
NSFW: Kate Middleton topless pictures. Royals to seek criminal charges against Closer and Italy's Chi magazine.
Kate Middleton topless. Porn company now wants to run sexual pictures said to exist.
Kate Middleton topless. Photographer Valerie Suau said to have taken pictures…
Kate Middleton topless. Italy's Chi magazine plans to run 50 new intimate pictures.
Kate Middleton topless photos now published on Irish Daily Star and Italian gossip site Chi.
NSFW. Kate Middleton topless photos removed from Closer magazine's website. But should they have to?
NSFW: Kate Middleton topless nude photos stir privacy and royal debate.
Pippa Middleton wants to reassure you, you can still find her topless on the web.
NSFW: Kate Middleton's cousin Katrina Darling nearly loses her thong during burlesque striptease.