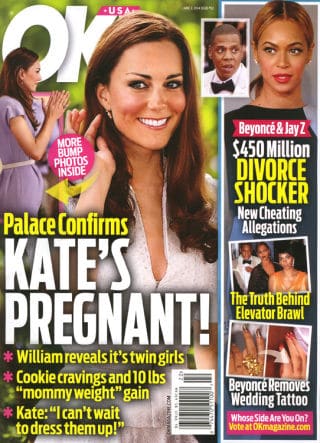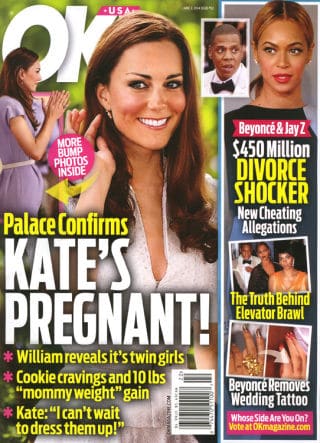 Rumors are once again flying about in tabloid land with the releasing of OK magazine's cover theorizing that Kate Middleton is once again pregnant, but this time with twins. Naturally.
jezebel: The proof is mostly two (2) separate photos of her hand resting on her stomach, which is essentially the same thing as a sonogram. According to a source, William has already notified the Queen, who will slither off her treasure hoard in order to bequeath diamonds upon the infants once they are born.
Kate Middleton pregnant with baby number 2?
Kate Middleton baby birth leads to twitter overload. 487 million tweets
Kate Middleton baby baby boy born. 8lb 6oz, Prince Wiliam was by side.
But for those of you willing to believe what tabloid land has up its sleeve, the mystery source goes on to tell the following:
'Kate has always wanted a daughter, and she's talked about it so much that William did too. Kate's upbringing with Pippa Middleton was idyllic and she always wanted to have girls of her own to carry on the legacy of strong, happy women. Plus, she thinks George having sisters will be tremendously good for his character.'
Who might also be overjoyed by the prospect of being a grandmother all over again, is her majesty, Queen Elizabeth who has managed to squire away some diamond rubies and other yummies.
Tells the source of even more abundant joy awaiting at Buckingham palace: 'Queen Elizabeth has been keeping jewelry and gifts for years now, just in case William ever had a daughter. It's a tradition in the family. The new princess will inherit priceless antique diamonds and artwork.'
As for Kate and Wills, they've opted to both keep mum as the tabloids take their respective turns guessing the inevitable- will Kate Middleton give Baby George someone cuddly and cute to play with and the public another reason to love the monarchy?