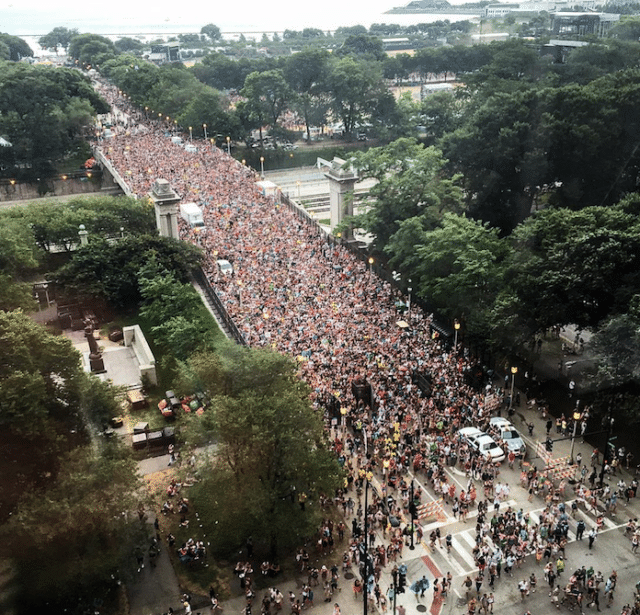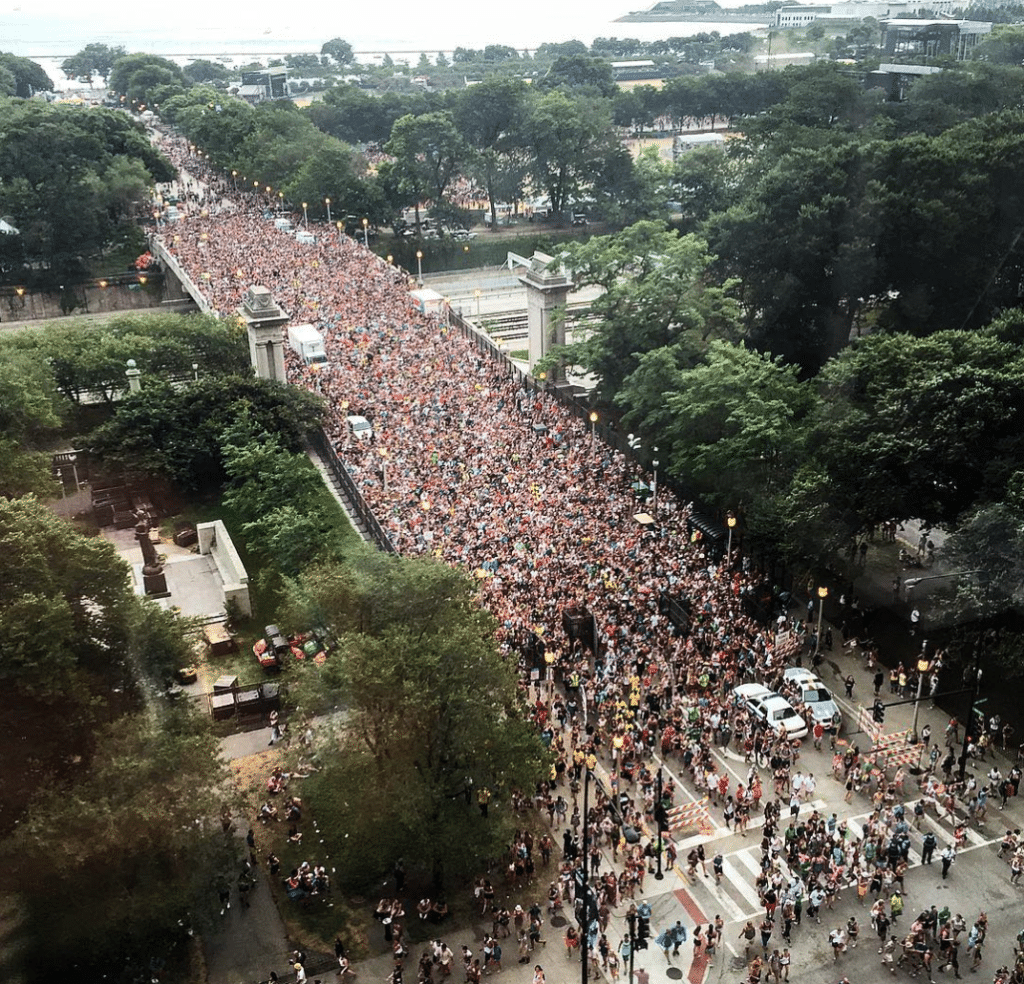 Stephen Paddock Lollapalooza: How the Las Vegas shooter scouted for maximum killing death factor. Was massive death the end all and the be all, any ideology aside?
New revelations have told of Las Vegas shooter, Stephen Paddock allegedly booking two rooms at the Blackstone Hotel in Chicago, overlooking the summer's past, Lollapalooza festival.
It's thought the bookings come as Paddock 'scouted' major concerts including Lollapalooza and near Boston's Fenway Park before settling on Las Vegas' Route 91 Harvest country music festival.
A report via NBC News told of Paddock 'testing' out a myriad of locations, including doing online research for hotels near Fenway. That said, a senior law enforcement official said that hotels in the vicinity typically have an obstructed view, if one at all.
'The Boston Regional Intelligence Center is in contact with our local and federal law enforcement partners here and in Las Vegas and continues to monitor the situation,' the Boston Police Department said in a statement. 'There is currently no known threat to the Metro Boston Homeland Security Region related to this incident.'
There's no indication that Paddock ever made it to Boston.
Nor is it clear if he made it to Chicago, where he reportedly booked two hotel rooms during the popular Lollapalooza festival in August.
His reservations at the Blackstone Hotel started on Aug. 1 and 3, the day the show started, and lasted until it ended on Aug. 6, TMZ reported. The hotel overlooked the main stage.
The celebrity blog told of Paddock not showing despite asking for rooms that overlooked Grant Park — where 400,000 concert goers including Malia Obama converged this summer. 
Possibly putting off Paddock is the fact that the overlooking Blackstone Hotel with only 21 floors isn't as tall as Las Vegas' Mandalay Bay Hotel with 43 floors (Paddock booked a 32nd floor suite), with trees in part obstructing views.
That said, authorities indicated the scouting of large size venues housing captive large audiences suggested Paddock's intent to kill, as opposed to his particular disdain for any particular sect or class of individual. Which is to wonder what ultimately inspired Paddock wasn't so much ideology (that normally identifies a terrorist who victimizes on principle) but rather size and massive impact. Vast death was all that mattered. He was hooked to the pay-off, the king lottery payout, the king lottery death, except this time, his casino black jack cards were live human beings …
Did Stephen Craig Paddock have an accomplice?
Marilou Danley break up: 'I thought Stephen Paddock gave me $100K to get rid of me'
Did Marilou Danley know about Stephen Paddock mass murder plot?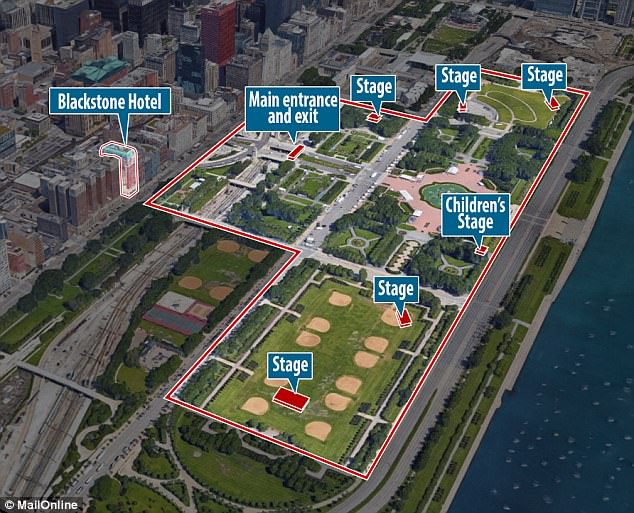 Stephen Paddock Lollapalooza: Figuring out what would give him the most bang for his buck killing wish.
Responded The Blackstone Hotel in a statement on Thursday: 'We can confirm that there was no guest under that name who stayed at our hotel in August during the Lollapalooza music festival,'
While adding, 'We can confirm that a reservation was made under the name Stephen Paddock, however authorities have not confirmed that this is the same person as the Las Vegas shooter.'
Of note, the Las Vegas Review-Journal reported Paddock using Airbnb to book a room at The Ogden during the three-day 'Life is Beautiful' festival.
The concert, which ran from Sept. 22 to 24, featured Chance the Rapper, Lorde and Blink 182.
Paddock rented three rooms in total at the 21-story Las Vegas hotel over the course of a week. It wasn't clear if he was scouting out the concert ground where a week later he would fire hundreds of bullets at a crowd of 22,000.
'We don't know yet,' Clark County Sheriff Joe Lombardo reportedly said Wednesday of Paddock's stay.
The first room was rented from Sept. 17 to 22, the second from Sept. 21 to 23 and the third from Sept. 24 to 28.
Come September 28, Paddock checked into the Mandalay Bay Casino and Resort where he would stay until Sunday night's massacre.
Authorities have yet to say what ultimately motivated Paddock, except to say the multimillionaire accountant and gambler lived a secretive double life.
Why did Stephen Paddock wire Marilou Danley $100K week before Las Vegas shooting?
How did Stephen Paddock 'lone wolf' pull off Las Vegas mass shooting?
Hayley Geftman Gold CBS exec fired: 'I've no sympathy for gun toting Republican victims'
Marilou Danley Stephen Paddock's girlfriend broke up with Las Vegas shooter
Stephen Paddock Las Vegas shooter: heavy gambler, pilot with no criminal record
Why? Stephen Craig Paddock I'd as Mandalay Bay Las Vegas shooter
With #LasVegas shooter Stephen Paddock scouting Lollapalooza 2mos ago, why did @FBI rule out radicalized terrorism so fast? Psst, Manchester pic.twitter.com/FOp6Q2TA2c

— Boston??Bobblehead (@DBloom451) October 5, 2017