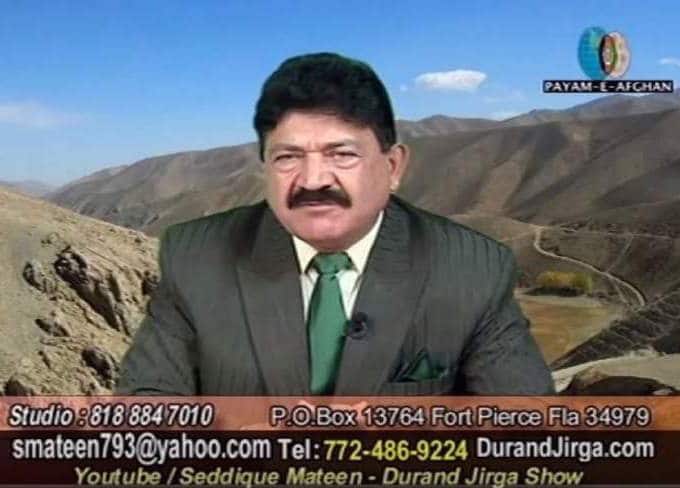 To what degree did Seddique Mateen, Omar Mateen's father influence his son's political/terrorist activities? An ardent supporter of the Taliban.
Seddique Mateen also known as Mir Seddique, the father of Omar Mateen, the Orlando Pulse nightclub shooter has been revealed to be an ardent supporter of Afghanistan's Taliban.
An Afghan emigre, Mir Seddique Mateen according to the washingtonpost is a host of an Afghan tv talk show, 'Durand Jirga Show' on a channel called Param-E-Afghan broadcasting in California.
Disconcertingly or at the very least perversely, Omar Mateen's father presents himself as the president of Afghanistan, or at least a valid candidate for reasons not necessarily understood.
Explains the washingtonpost: '… the elder Mateen speaks in the Dari language on a variety of political subjects. Dozens of videos are posted on a channel under Seddique Mateen's name on YouTube. A phone number and post office box that are displayed on the show were traced back to the Mateen home in Florida. Mateen also owns a nonprofit organization under the name Durand Jirga, which is registered in Port St. Lucie, Fla.
In one video, Mateen expresses gratitude toward the Afghan Taliban, while denouncing the Pakistani government.'
The Pakistan government has been a captive ally of the United States, begrudgingly supporting the US on its war of terror, while earning the scorn of nationals and presumably the ire and hate of Afghanistan civilians next door, who continue to suffer as the Taliban, despite efforts to oust them continue to occupy more area.
'Swapped numbers' Omar Mateen kept gay dating app Jack'd
Seddique Mir Mateen: 'Homosexuals deserve to be punished but only by God'
Was Omar Mateen a closet homosexual? Was regular at Pulse Orlando nightclub 12 times
Did Noor Zahi Salman Omar Mateen's second wife also leave him?
Omar Mateen: 'It's easier to ban Muslims than guns in America'
AR-15 rifle: Omar Mateen used same gun favored by other mass shooters
'Mommy I'm going die' Mina Justice missing son sends last text
Sitora Yusufiy Omar Mateen ex wife: 'He abused me'
Omar Mateen Pulse nightclub shooter: 'I got angry when I saw 2 men kissing'
Terrorism? Pulse Orlando nightclub shooting leaves 20 dead, 42 hospitalized, shooter dead
NSFW: Pulse Orlando nightclub shooter dead after leaving carnage
Told Seddique Mateen in one video: 'Our brothers in Waziristan, our warrior brothers in [the] Taliban movement and national Afghan Taliban are rising up,'
'Inshallah the Durand Line issue will be solved soon.'
The Durand Line, which straddles the line between Afghanistan and Pakistan's tenuous border is a historically significant one, particularly for members of the Pashtun ethnic group, who the Mateen's may belong to.
Yet perhaps even more disconcertingly, just hours before his son's shooting rampage, (coincidence?) Seddique Mateen posted a video on a Facebook page called Provisional Government of Afghanistan — Seddique Mateen. In it, the elder man takes on the persona of Afghanistan's president ordering the arrest of an array of Afghan political figures.
'I order national army, national police and intelligence department to immediately imprison Karzai, Ashraf Ghani, Zalmay Khalilzad, Atmar, and Sayyaf. They are against our countrymen, and against our homeland,' the father says while dressed in army fatigues.
Responding to his son's Omar Mateen's shooting episode, the father Sunday morning told NBC News that his son's rampage 'has nothing to do with religion.'
Instead, the tv makeshift TV host offered another possible motive. He said his son got angry when he saw two men kissing in Miami a few months ago. He said his son was especially enraged because the kissing took place in front of his own three year old son.
'We are saying we are apologizing for the whole incident. We weren't aware of any action he is taking. We are in shock like the whole country,' Seddique Mateen said.
Explained further the father: 'We were in Downtown Miami, Bayside, people were playing music. And he saw two men kissing each other in front of his wife and kid and he got very angry.
'They were kissing each other and touching each other and he said, "Look at that. In front of my son they are doing that". And then we were in the men's bathroom and men were kissing each other.'
Efforts to reach Omar Mateen's father have come to nil as the aspiring statesman refuses to answer his published cellphone…