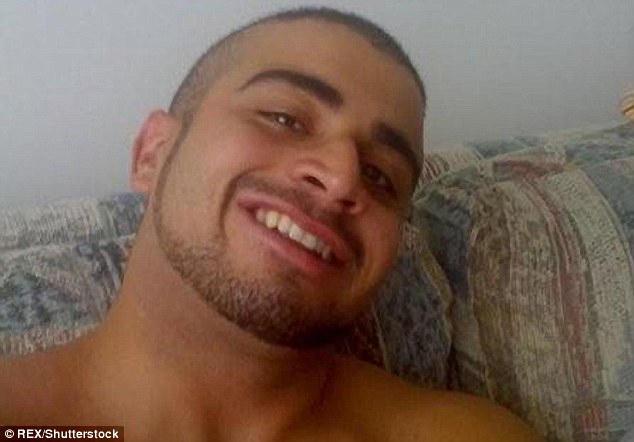 Omar Mateen gay dating app: How one son and husband maintained a secret double life while cavorting the attention of other same sex males.
In what is increasingly beginning to look like a 'tormented' individual revolting between his strict religious upbringing and that of his preternatural base homo erotic desires, new revelations tell of Pulse Orlando nightclub mass shooter, Omar Mateen having used a gay dating and chat app whilst living a clandestine double life.
According to Pulse Orlando club patrons, Mateen had been coming to the gay venue for the last 3 years and had been seen turning up no less than a dozen times in the last few months.
A report via smh.com.au tells of one regular, Kevin West saying Omar Mateen messaging him on and off for a year before the shooting using the gay and dating app Jack'd.
Ironically, the two men never met until early Sunday morning.
According to West, he had just dropped off a friend at the venue when he noticed Mateen, whom he knew by sight but not by name, crossing the street wearing a dark cap and carrying a black phone about 1am, an hour before the shooting.
Told West: 'He walked directly past me. I said, 'Hey,' and he turned and said, 'Hey,' ' and nodded his head, West said. 'I could tell by the eyes."
But it wasn't just one individual telling of encounters with Mateen on gay dating apps.
'I recognize him from one of the apps,' told user Cord Cedeno, referencing Grindr. 'But I instantly blocked him because he was very creepy in his messages. I blocked him immediately. Yeah, I recognize him off Grindr. The one of him in the tie.'
Cedeno said Omar Mateen had visited Pulse night club a number of times, and that his friends had seen the gunman on Grindr, Adam4Adam and Jack'd.
Told regular club patron and performer, Chris Callen who'd over the recent months come to recognize Mateen via the Canadian Press: 'It's the same guy,'
'He's been going to this bar for at least three years.'
Seddique Mir Mateen: 'Homosexuals deserve to be punished but only by God'
Was Omar Mateen a closet homosexual? Was regular at Pulse Orlando nightclub 12 times
'He hated blacks, Jews & gays' Daniel Gilroy former Omar Mateen coworker
Did Noor Zahi Salman Omar Mateen's second wife also leave him?
Omar Mateen: 'It's easier to ban Muslims than guns in America'
AR-15 rifle: Omar Mateen used same gun favored by other mass shooters
'Mommy I'm going die' Mina Justice missing son sends last text
Sitora Yusufiy Omar Mateen ex wife: 'He abused me'
Mir Seddique Mateen TV host: 'I support the Taliban'
Omar Mateen Pulse nightclub shooter: 'I got angry when I saw 2 men kissing'
Terrorism? Pulse Orlando nightclub shooting leaves 20 dead, 42 hospitalized, shooter dead
NSFW: Pulse Orlando nightclub shooter dead after leaving carnage
Another regular, Ty Smith, told of having seen Mateen being escorted drunk from the club, Pulse, on multiple occasions.
Told Smith: '(He'd get) really, really drunk… He couldn't drink when he was at home—around his wife, or family. His father was really strict… He used to bitch about it.'
'Sometimes he would go over in the corner and sit and drink by himself, and other times he would get so drunk he was loud and belligerent,' Smith also explained via the Orlando Sentinel which spoke with at least four clubgoers who remembered seeing Mateen at Pulse at least a dozen times.
Told a regular: 'We didn't really talk to him a lot, but I remember him saying things about his dad at times… He told us he had a wife and child.'
Both Callen and Smith, who are married, told of having stopped speaking to Mateen after he threatened them with a knife, apparently after someone made a joke about religion.
'He ended up pulling a knife,' Callen said. 'He said if he ever messed with him again, you know how it'll turn out.'
To boot, a report via gawker tells of MSNBC host Chris Hayes saying he spoke to a man who claims both he and a friend received messages from Mateen via a gay dating app, Jack'd.
The latest revelations come a day after Mateen's father, Seddique Mir Mateen posted a video on his facebook conceded not necessarily understanding why his son orchestrated the attack, while at the same time appreciating that homosexuals need to be punished, but only at the hands of God, as opposed to the hands of his deeply tortured and conflicted son.
And then there was this comment on the web that made me wonder. See what you think?
THERE IT FUCKING IS.
Self-hating bigot who couldn't come to terms with who he was. Probably yelled about ISIS so that people wouldn't question his sexual orientation, even in death.
People REALLY want this to be about terrorism and Islam, but honestly, my first thought upon reading this was that the killer was in denial and took it out on everyone else. Anti-muslim or anti-radicalization rhetoric wouldn't have saved him – being part of a community that could be loved and accepted for who they are would have been able to save him.
Edit: The dad bringing up him raging over a couple of guys kissing was really telling, too. I'd bet the father knew.
Turns out #Orlando shooter was just a repressed homosexual after allhttps://t.co/6nA3lD5vVg

— anne teller (@RealMaatilda) June 14, 2016
If you were ever foolish enough to think Omar Mateen was actually an "ISIS fighter," this ought to put that to rest. https://t.co/jsS8b7uPn0

— Craig Harrington (@Craigipedia) June 14, 2016
I Wonder if Omar Mateen's father still thinks homosexuals will be punished by God now given how his son was a closet homosexual ?

— Subin George Sajan (@ObiWanSunobi) June 14, 2016
Update: Omar Mateen was actually a closet homosexual who not only had been a frequent customer at Pulse but was also on gay dating apps.

— jon bay (@jon__bay) June 14, 2016