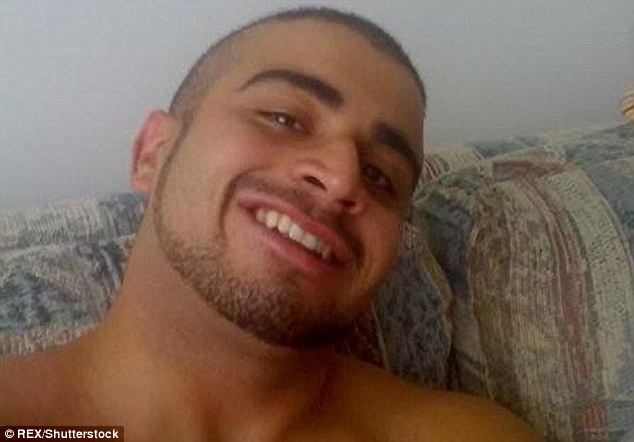 Omar Mateen closet homosexual: Did the Orlando Pulse nightclub shooter bear latent desires which he struggled with in relation to his faith which admonished such desires? Hating the thing you secretly yearn for.
For an individual who allegedly detested same sex congregations, it must come as a distinct surprise after new revelations by Pulse Orlando club patrons that Omar Mateen was a regular at their venue, having in recent months visited the gay venue no less than a dozen times.
The revelation comes via the Orlando Sentinel which cites patrons telling that they had seen a belligerent Mateen attend the venue a number of times.
The assertion comes remarkably after Omar Mateen's father, Seddique Mateen insisted that his son was homophobic.
Told regular Ty Smith via the orlandosentinel: 'Sometimes he would go over in the corner and sit and drink by himself,'
'Other times he would get so drunk he was loud and belligerent.'
Remarks that Mateen drank heavily conflict with his apparently strict adherence to his Muslim faith, including regular worship at a mosque in his home town of Port St. Lucie – where he was quiet and kept to himself according to sources.
Smith said he'd seen Mateen at Pulse 'at least a dozen times', joining three others who said they'd seen the shower at the club before.
'We didn't really talk to him a lot, but I remember him saying things about his dad at times,' Smith said. 'He told us he had a wife and child.'
Mateen's father, Seddique Mir Mateen, has since denied that Sunday's attack had anything to do with religion, saying instead his son becoming enraged after seeing two men kissing in Miami months before.
Told the father over the weekend: 'We were in Downtown Miami, Bayside, people were playing music,'
'And he saw two men kissing each other in front of his wife and kid and he got very angry. They were kissing each other and touching each other and he said, 'Look at that. In front of my son they are doing that.' And they we were in the men's bathroom and men were kissing each other.''
'Swapped numbers' Omar Mateen kept gay dating app Jack'd
Seddique Mir Mateen: 'Homosexuals deserve to be punished but only by God'
'He hated blacks, Jews & gays' Daniel Gilroy former Omar Mateen coworker
Did Noor Zahi Salman Omar Mateen's second wife also leave him?
Omar Mateen: 'It's easier to ban Muslims than guns in America'
AR-15 rifle: Omar Mateen used same gun favored by other mass shooters
Sitora Yusufiy Omar Mateen ex wife: 'He abused me'
Mir Seddique Mateen TV host: 'I support the Taliban'
Omar Mateen Pulse nightclub shooter: 'I got angry when I saw 2 men kissing'
Terrorism? Pulse Orlando nightclub shooting leaves 20 dead, 42 hospitalized, shooter dead
NSFW: Pulse Orlando nightclub shooter dead after leaving carnage
'Mommy I'm going die' Mina Justice missing son sends last text
The father's claims come off the back of Mateen's first wife, Sitora Yusufiy divorced her husband along with new claims that his current estranged wife, Noor Zahi Salman had also left the man. In each instance there have been suggestions of abuse.
Others, including this author wonder to what degree such antipathy in each marriage may have come as a result with the increasingly tortured man, who straddled religious dictum and hedonism may have had latent homosexual desires he was struggling to come to terms with?
Contentions that a report via Gawker served to accentuate after picking up on a Brazilian TV interview in which Mateen's first wife, Sitora Yusufiy, spoke to the foreign media outlet Monday, while joined by her Brazilian fiance, Marcio Dias.
Speaking Portuguese, the fiance said that Yusufiy told him Mateen had 'gay tendencies' and had been called gay in front of her on several occasions by his father.
He also said that she didn't believe that Mateen's Islamic beliefs were at the root of his attack.
According to the fiance, Yusufiy had told the FBI that he he was unstable, and that she didn't believe he was part of a terrorist group.
'The FBI asked her not to tell this to the American media,' he told the station.
Adding fissure to claims of a secret double life Omar Mateen was living, a report via the Palm Beach Post, sourced a former classmate of Mateen who told of the mass-murderer once asked him out on a date.
The man, who did not wish to be named, was a classmate of Mateen's in 2006, when they both attended the Indian River Community College police academy.
According to the Post, the source told he would hang out with Mateen alone and in groups, and that they went to gay clubs together.
He also said that Mateen had asked him out on a date at one point.
'We went to a few gay bars with him, and I was not out at the time, so I declined his offer,' he said.
The former classmate told believing Mateen was gay and closeted, and that he was an 'awkward' figure.
'He just wanted to fit in and no one liked him,' he said. 'He was always socially awkward.'
And then there was this comment on the web that made me wonder. See what you think?
THERE IT FUCKING IS.
Self-hating bigot who couldn't come to terms with who he was. Probably yelled about ISIS so that people wouldn't question his sexual orientation, even in death.
People REALLY want this to be about terrorism and Islam, but honestly, my first thought upon reading this was that the killer was in denial and took it out on everyone else. Anti-muslim or anti-radicalization rhetoric wouldn't have saved him – being part of a community that could be loved and accepted for who they are would have been able to save him.
Edit: The dad bringing up him raging over a couple of guys kissing was really telling, too. I'd bet the father knew.
Omar Mateen was a closet homosexual and regular visitor to Pulse. But you know. Brown skin. Terrorist.

— Thomas Healy (@hawkguy87) June 14, 2016
Hmm so was Omar Mateen a frustrated closet homosexual? That would explain allot actually..

— Faisal Khan (@FKhan123) June 13, 2016
Quite sure Mateen Omar was a closet homosexual who lashed out at those living the life he wished he could but his religion would not allow.

— Jay Austin Graham (@Acidsmooth) June 13, 2016