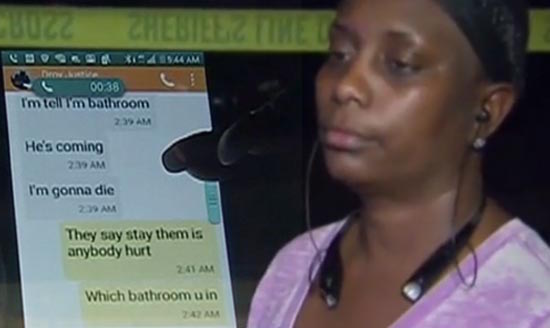 Mina Justice speaks of the terror of receiving texts from her son who told her he was about to die as Omar Mateen indiscriminately shot at Pulse Orlando nightclub goers.
Mina Justice a forlorn Florida mother has told of the final texts she has received from her missing 30 year old son, Eddie Justice, who this morning along with a hundred other plus Pulse Orlando nightclub patrons became ensnared in a hate filled mass shooting at the hands of Omar Mateen.
To date officials have told of Mateen slaughtering up to at least 50 club goers along with injuring 53, with officials telling they expect the death rate to continue rising. 
###Update: Eddie Justice confirmed dead; The City of Orlando has Monday morning confirmed Eddie was one of the 50 partygoers who were shot dead by Islamic extremist Omar Mateen on Sunday morning. 
While still hopeful, a solemn Mina Justice has told she has yet to have located, seen or heard from her missing son, who in the midst of the unfolding carnage and confusion desperately texted Mina, telling her he was in deep trouble. 
Eddie Justice's first texts came around 2.06 am, where he asked his mother to call police. By now the Orlando Pulse nightclub shooter was making his way through the club, indiscriminately shooting at whoever stood in his way.
Tell the texts: 'Mommy I love you'
'In club they shooting'
Responds Mina: 'U ok'
Responds Eddie: 'Trapp in bathroom'
Asks Mina: 'What club'
From there, Mina Justice tried calling her 30-year-old son. No answer.
In the following texts, Mina Justice asks her son to explain where exactly in the nightclub he was hiding. Her son answers that he is in the bathroom with other patrons.
At 2.39am Mr Jusice texted his mother to call police. 'Hurry,' before sending her more texts: 'He's coming. I'm gonna die'
Later, as she stood outside the nightclub looking for her son and talking to reporters, she said her son also told her that the gunman was holding him hostage. 'He has us, and he's in here with us,' he wrote.
Told Mina Justice to media outlets Sunday evening: 'That was the last conversation.' 
It's unclear so far whether Mr Justice was one of the casualties.
More than 15 hours after that text, Justice still hasn't heard from her son. She and a dozen family and friends are at a hotel that has become a staging area for relatives awaiting news. Any news.
'His name has not come up yet and that's scary. It's just …' she paused and patted hear heart. 'It's just, I got this feeling. I got a bad feeling.'
'Swapped numbers' Omar Mateen kept gay dating app Jack'd
Seddique Mir Mateen: 'Homosexuals deserve to be punished but only by God'
Was Omar Mateen a closet homosexual? Was regular at Pulse Orlando nightclub 12 times
Did Noor Zahi Salman Omar Mateen's second wife also leave him?
Omar Mateen: 'It's easier to ban Muslims than guns in America'
AR-15 rifle: Omar Mateen used same gun favored by other mass shooters
Sitora Yusufiy Omar Mateen ex wife: 'He abused me'
Mir Seddique Mateen TV host: 'I support the Taliban'
Omar Mateen Pulse nightclub shooter: 'I got angry when I saw 2 men kissing'
Terrorism? Pulse Orlando nightclub shooting leaves 20 dead, 42 hospitalized, shooter dead
NSFW: Pulse Orlando nightclub shooter dead after leaving carnage
Some Orlando massacre survivors have also spoken about their struggle to stay alive. At about 2am at Pulse nightclub, one of the club patrons, Chris Hansen, thought the popping sound was part of the music. 'It went with the beat almost,' he said later.
A man with a gun, an AR-15-style semi-automatic rifle, was shooting people. Witnesses described dead bodies littering the ground and people trampling over one another in their struggle to stay alive.
At 2.09am, someone posted a frantic message to Pulse Orlando's Facebook page: 'Everyone get out of pulse and keep running.'
What happened early Sunday morning in Orlando was the latest example of 'soft-target' terrorism, targeting civilians in locations with minimal security and many potential victims.
The lucky ones were near the exits. But the club was never designed for such a horrifying moment.
Alex Choy, a former club employee, told the Miami Herald that the club has two main rooms, one for performances and drag shows to the left of the front door, and a larger dance room to the right that links to an outdoor patio.
Told Choy: 'It's a very, very small space,'
'If there was any type of shooting, it wouldn't take much to get everyone. Very close range.'
Mr Hansen, the club-goer who had mistaken the gunfire for music, told the AP that he escaped through the back of the venue by crawling on his elbows and knees.
Posted one club patron, Ricardo J. Negron Almodovar on the club's Facebook page after managing to escape the venue: 'I was there. Shooter opened fire @ around 2:00am.
'People on the dance floor and bar got down on the floor and some of us who were near the bar and back exit managed to go out through the outdoor area and just ran. I am safely home and hoping everyone gets home safely as well :('
Posted another user, Lilbia Carmen: 'Nothing yet. My daughter is in there. Please keep praying for them… She's waiting for cops to be able to come out. I was on the fone and all i hear is shot guns.'
Witness Anthony Torres posted to Facebook that he and his friends made it out of the club 'just barely as we started to hear fire being shot.'
'They are just pulling people out in stretchers loading them up,' he said, referring to first responders. 'Omg please god let everyone make it.
'People are screaming that people are dead,' Torres wrote in another post.
'Please God let everyone be alright … Never seen anything like this.'