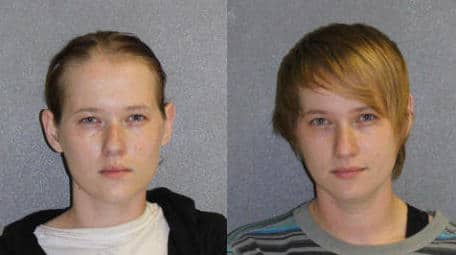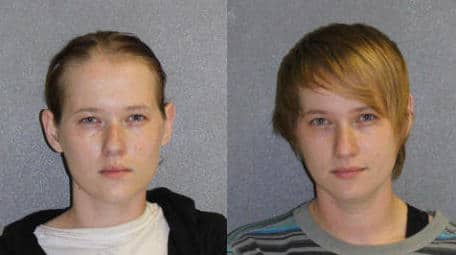 Staring longingly out of jail windows are identical Florida twin sisters, Kristin and Kayla Bergeron after the 24 year old pair took to holding up a Daytona Beach convenience store on Tuesday.
According to a report via The Daytona Beach Journal the sisters are accused of storming into a Food Mart and grabbing a 20 ounce bottle of ginger ale (cause robbing convenience stores is thirsty work) along with approaching the cash register where one of the sisters shouted: 'I have a gun, open the register.'
Replied stunned clerk Sabbir Ahmed in turn: 'Are you kidding me?'
According to court papers, sister Kayla was observed 'removing her hand from her pocket and displaying what appeared to be a small handgun.'
The twins then worked in tandem as Kayla kept the weapon trained on Ahmed, as sibling Kristi reached over the counter to grab $230.
As the pair fled in a Volkswagen Beetle a quick thinking Ahmed copied town the car license plate number.
Police arrested the twins less than a mile from the scene of the robbery, and recovered the cash and ginger ale from their car.
However, there was no sign of the gun and police believe the weapon 'may have been discarded' afterwards.
According to the arrest report, Kayla is a Daytona Beach resident and Kristi lives in Portland, Oregon.
The sisters were charged with robbery with a firearm or deadly weapon, with Kayla Bergeron held at Volusia County Branch Jail pending a $5,000 bond, while sister Kristi Bergeron was being held on $20,000 bail.