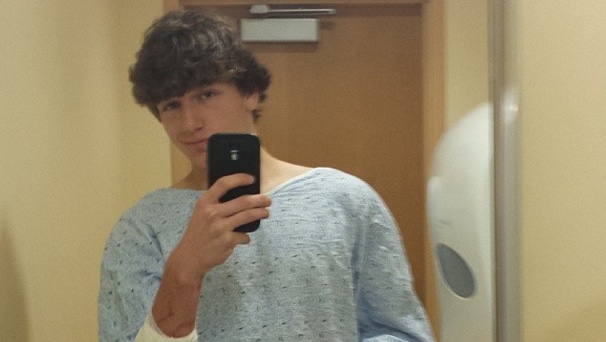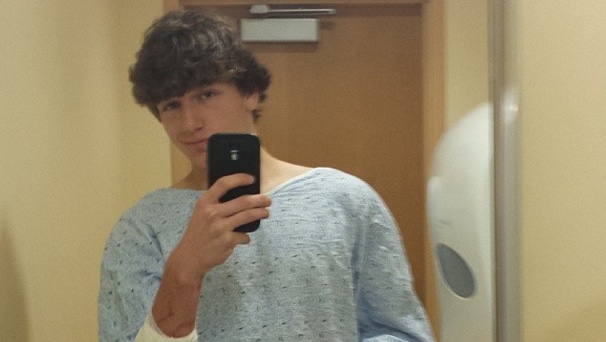 Social media has taken to congratulating one Franklin Regional High School student in Murrysville, Nate Scimio (@nate_scimio on instagram) after he pulled the alarm on a Pennsylvania school stabber who went on to stab 20, 7 seriously.
The student has yet to comment except to post a selfie of the injuries he received at the hands of the perpetrator, a 16 year old male student who at the time was armed with 2 knives as they set about indiscriminately stabbing students.
Reports heavy: According to witness reports and a number of grateful students on Twitter, one principal, helped wrestle the suspect to the ground and get his knives away from him.

Buzzfeed also reports how one student, Matt DeCasare, 17, a junior, told how Nate Scimio pulled the fire alarm after stepping in front of a knife to protect a female classmate.
'"[The attacker] was coming at this one girl with a knife,' DeCasare said. 'Apparently Nate Scimio stepped in the way and acted heroically was able to push the one girl away and saved her from being stabbed.'
To date authorities have not come to understand why the unnamed 16 year old went on a stabbing spree and whether his stabbings were premeditated or impulsive?
That said one thing is for sure, Nate Scimio knows he's the big shot today (that grin tells me everything I need to know). I'm wondering how many takers he's got for the prom?
Alex Hribal parents stunned. Was he bullied by rich white kids? 
Does Alex Hribal have a history of mental disease? 
Was Nate Scimio's selfie out of line? Social media erupts 
Alex Hribal friend and motive: 'He's a shy guy who never gets violent.' 
Why did Alex Hribal go on a stabbing rampage? Victim of bullying? 
Sam King, Franklin Regional HS assistant principal wrestled knife out of 16 year old 
Why were 20 students injured in stabbings at Pennsylvanian high school?