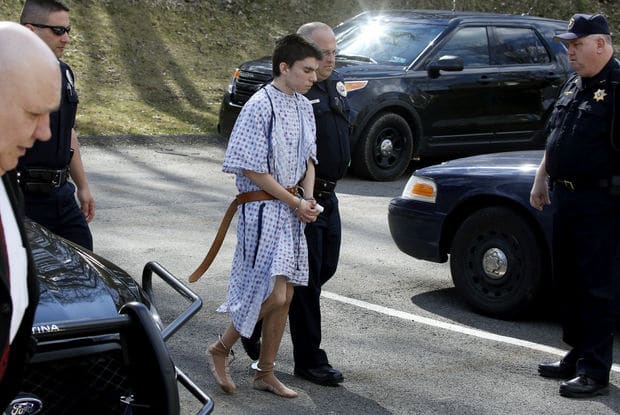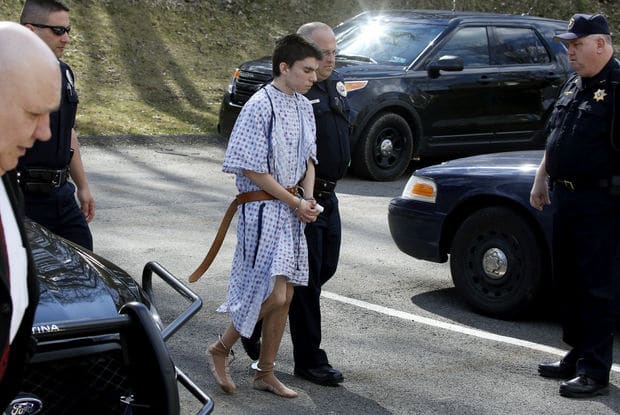 As investigators begin to make sense of what led to Alex Hribal, a 16 year old Franklin Regional High school 16 year old sophomore student randomly stabbing at fellow school mates one student has told that the assailant was a 'shy guy who never got violent.'
Reports ohio.com: A Franklin Regional student who said he knows Alex well, and who arrived at school after the incident had already began, said he was "shocked, surprised. … I know him pretty well. … I've never seen any anger from him, ever."
The student, who asked not to be named, called Alex "sort of a shy person. To me he never seemed like someone who would do anything violent. He never seems very upset or anything of that."
He said Alex's interests include "hockey, video games, things like that. … He would always share funny photos that he found on Facebook."
Alex Hribal parents stunned. Was he bullied by rich white kids? 
Does Alex Hribal have a history of mental disease? 
Was Nate Scimio's selfie out of line? Social media erupts 
Why did Alex Hribal go on a stabbing rampage? Victim of bullying? 
Sam King, Franklin Regional HS assistant principal wrestled knife out of 16 year old 
Nate Scimio pulls the alarm on Pennsylvania school stabber. Takes hospital selfie 
Why were 20 students injured in stabbings at Pennsylvanian high school? 
In coming to terms with why Alex Hribal may have went about his assault, students who knew the stabber told that he may have been bullied.
Reiterated one user on twitter: 'Yeah the kid may have been bullied. But you still have to be a piece of [expletive] to stab someone and try to take someone's life,'
Reiterated junior Gracey Evans via the Pittsburgh Post Gazette: 'I saw this kid in all black running down the hallway, stabbing,'
'He was just stabbing everybody that was in his way.'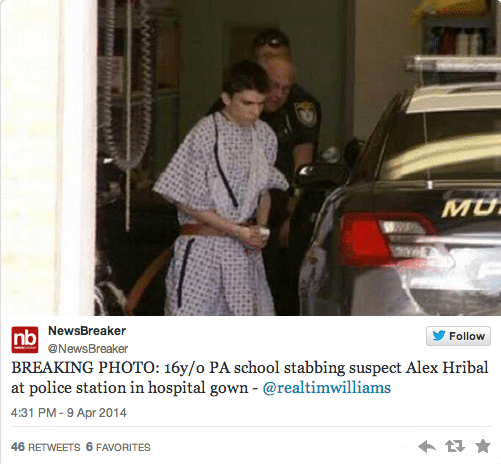 The stabbing motion is consistent with the sophomore student indiscriminately running down the hallway slashing at any one he could, perhaps in the belief that the whole school was guilty with the woe he had come to feel as the  result of purportedly being bullied.
Re tweeted Maria Satira of WNCT: 'My brother knows the suspect and says he was bullied. All students are at the middle school. May soon be released.'
Yet countering that possibility was one student, Mia Meixner who told the following: 'He was very quiet. He just was kind of doing it,'
'And he had this, like, look on his face that he was just crazy and he was just running around just stabbing whoever was in his way.'
Meixner would add that she didn't know Hribal, but he had been in a lot of her classes, 'He kept to himself a lot,'
'He didn't have that many friends that I know of, but I also don't know of him getting bullied that much. I actually never heard of him getting bullied. He just was kind of shy and didn't talk to many people.'
Hribal's attorney, Patrick Thomassey described his client as a 'nice young man,' who had never been in trouble.
Offered the lawyer: 'He's not a loner. He works well with other kids,'
 '…He's scared. He's a young kid. He's 16, looks like he's 12. I mean, he's a very young kid and he's never been in trouble so this is all new to him.'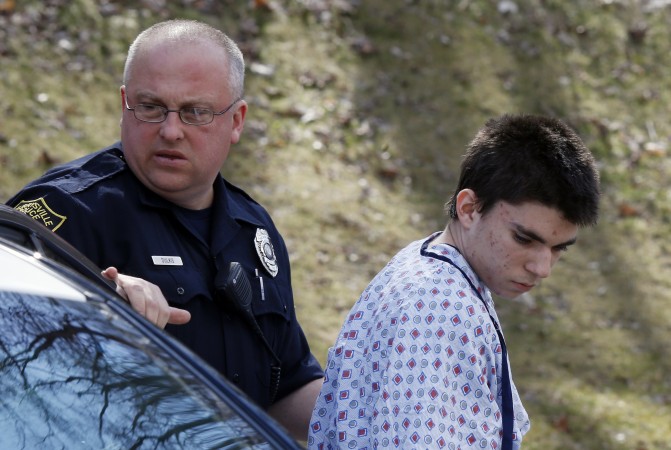 Student Matt DeCesare said via usatoday Alex Hribal was quiet and not widely known. He said most victims did not appear to be linked with him and were simply close by when the attack began.
'I know most of the kids who were injured,' he said. 'They don't have any connection to him.'
DeCesare said some students thought Hribal had been anxious or upset recently, and that he had shouted at a girl who had asked to see his homework Wednesday morning.
In briefing the media, Murrysville Police Chief Thomas Seefeld has told investigators were looking into reports of a threatening phone call between the suspect and another student the night before. Seefeld didn't specify whether the suspect received or made the call. He has yet to add to the discussion of whether Alex Hribal was bullied or why a young quiet shy boy who has never exhibited violent tendencies before suddenly erupted today.
Since being charged as an adult, with one count of carrying a weapon on school property, four counts of attempted homicide and 21 counts of aggravated assault, authorities have told that Alex Hribal has gestured that he wants to kill himself.