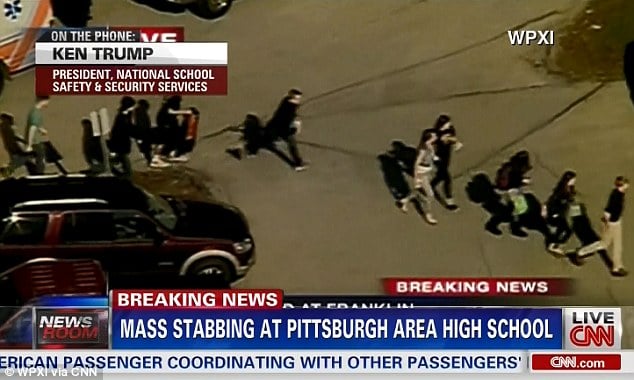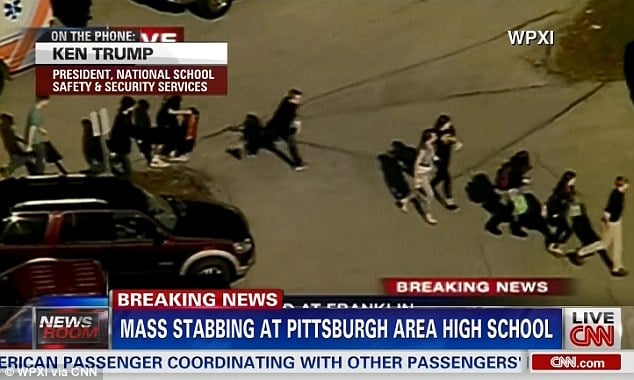 20 students have this morning been injured in stabbings at Pennsylvanian high school, Franklin Regional High School in Murrysville. At present authorities have apprehended a male student believed to be the perpetrator. At the time of the stabbings, the suspect, a 16 year old student was in possession of two knifes.
No motives or reasons have been offered as to what precipitated the violence, whether it was premeditated or impulsive?
Alex Hribal parents stunned. Was he bullied by rich white kids? 
Does Alex Hribal have a history of mental disease? 
Was Nate Scimio's selfie out of line? Social media erupts 
Alex Hribal friend and motive: 'He's a shy guy who never gets violent.' 
Why did Alex Hribal go on a stabbing rampage? Victim of bullying? 
Sam King, Franklin Regional HS assistant principal wrestled knife out of 16 year old 
Nate Scimio pulls the alarm on Pennsylvania school stabber. Takes hospital selfie 
The majority of the victims have told authorities are 14-17 years old students, including two adults.
At present it is understood 7 students have sustained life threatening injuries. Forbes Regional Hospital in Monroeville and two other hospitals are treating patients.
The stabbings took place circa 7am this morning as students proceeded to attend classes. Many students were not yet on campus and were alerted to the emergency while on the school bus.
Authorities have told that they have one person in custody, a male student who is being questioned. The identity of the individual has yet to be released.
A witness told KDKA the stabbings happened in the science wing of the building in multiple class rooms and hallways.
Officials do not yet know whether the suspect targeted certain students. It has been confirmed that he used a knife, however, officials haven't revealed how he was finally accosted.
It is believed that a 10th grade male student is responsible for the mayhem.
School authorities came to be notified of the violence after a fire alarm was set off.
'The student who pulled the alarm was part of the incident, witnessed the incident so it a good thing to do on his part,' told a parent of one of the students attending the school.
Soon after students were evacuated to the school football field.
Officials confirmed 20 victims were hurt in the early morning attack, some suffering minor scrapes and cuts to extremities. Four victims are in critical condition and at least five more students have serious stab wounds. Authorities are working to notify the parents of injured students.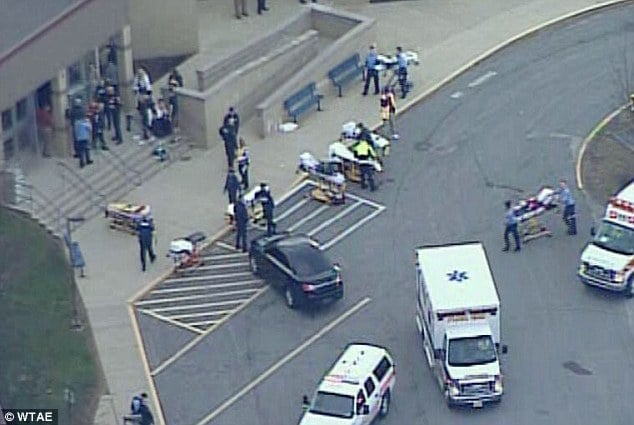 Offered Forbes Hospital spokesperson, Chris Kaufman: 'None of these are superficial wounds, they are all significant stab wounds, every one. They are all torso stab wounds, chest, back abdomen, flank. All 7 teenagers, I don't know about the adult.'
It is currently not understood what or why the attack took place and how many individuals were involved and how the individual came to attack the students.
Meanwhile one of the injured students has since posted an instagram image of injuries sustained. It is believed Nate Scimio pulled the alarm that alerted fellow students. See below.