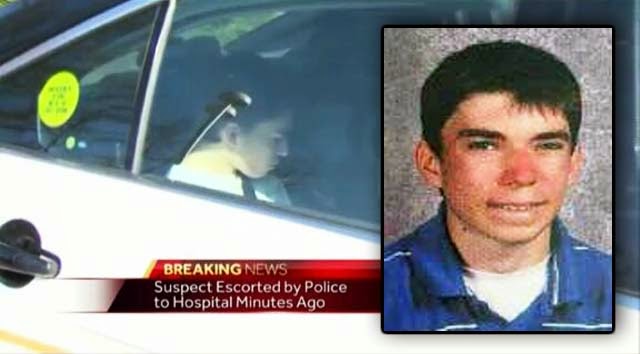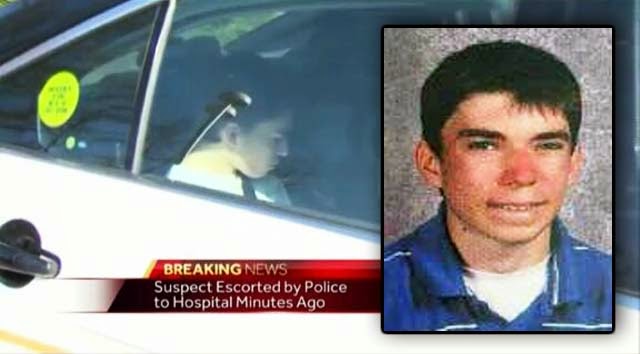 Alex Hribal has this afternoon been identified as the 16 year old perpetrator who went on a stabbing rampage at Franklin Regional High School student in Murrysville, Pennsylvania early this morning.
During his outburst of violence, the youth who has since been apprehended and detained for questioning allegedly stabbed 20 people–19 students and a security guard–before being wrestled to the ground by another guard and an assistant principal, Sam King.
Alex Hribal parents stunned. Was he bullied by rich white kids? 
Does Alex Hribal have a history of mental disease? 
Was Nate Scimio's selfie out of line? Social media erupts 
Alex Hribal friend and motive: 'He's a shy guy who never gets violent.' 
Sam King, Franklin Regional HS assistant principal wrestled knife out of 16 year old 
Nate Scimio pulls the alarm on Pennsylvania school stabber. Takes hospital selfie 
Why were 20 students injured in stabbings at Pennsylvanian high school? 
The epochtimes notes that Alex Hribal's Facebook page contains little information, although there is a mentioning of Adolf Hitler.
Despite the severity of some student's injuries, up to five were said to be critically injured, all of the victims are expected to survive.
Alex Hribai will be charged as an adult with one count of carrying a weapon on school property, four counts of attempted homicide and 21 counts of aggravated assault.
As of yet no official reason has been offered as to what triggered the attack, but police are looking into whether there was a 'threatening phone call' between Alex and another student the night before the attack.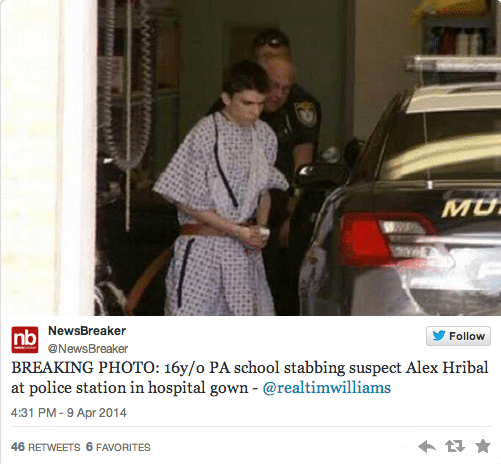 In coming to terms with why Alex Hribal may have went about his assault, students who knew the stabber told that he may have been bullied.
Reiterated one user on twitter: 'Yeah the kid may have been bullied. But you still have to be a piece of [expletive] to stab someone and try to take someone's life,'
Reiterated junior Gracey Evans via the Pittsburgh Post Gazette: 'I saw this kid in all black running down the hallway, stabbing,'
'He was just stabbing everybody that was in his way.'
The stabbing motion is consistent with the sophomore student indiscriminately running down the hallway slashing at any one he could, perhaps in the belief that the whole school was guilty with the woe he had come to feel as the  result of purportedly being bullied.
Re tweeted Maria Satira of WNCT: 'My brother knows the suspect and says he was bullied. All students are at the middle school. May soon be released.'
Chron offered the following:  On Wednesday, Mia Meixner, 16, said the rampage touched off a "stampede of kids" yelling, "Run! Get out of here! Someone has a knife!"
The boy had a 'blank look,' she said. 'He was just kind of looking like he always does, not smiling, not scowling or frowning.'
Meixner and Moore called the attacker a shy boy who largely kept to himself, but they said he was not an outcast and they had no reason to think he might be violent.
'He was never mean to anyone, and I never saw people be mean to him,' Meixner said. 'I never saw him with a particular group of friends.'
ABC would add via the brother of a witness, Alex Hribal 'wasn't a real well-liked kid' and had previously made death threats.
Told the source: 'I guess the kids who got the threats just assumed it's no big deal,'
The ibtimes has reiterated not much is known about Alex, although a Franklin Regional High School student told ABC News that he was a 'pretty normal kid.'
Assuming normal kids don't take to violently stabbing fellow school students.
Murrysville police Chief Thomas Seefeld said the bloody crime scene at the school, some 15 miles east of Pittsburgh, was 'vast' and may take a couple days to process.
Seefeld added that the suspect sustained injuries to his hand and was being treated for his wounds.
Heavy reports that one student told Fox News that the suspect came from a 'good family.'