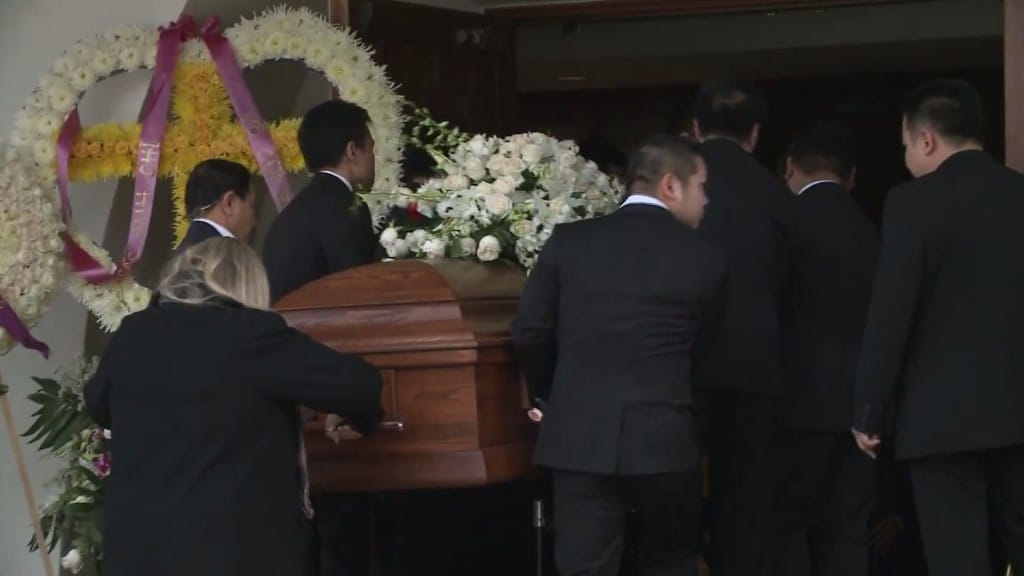 Kim Pham was yesterday laid to rest. The 23 year old Vietnamese American came to die after succumbing to a brutal kick to her head on the evening of January 19th during a skirmish outside of Santa Ana, California nightclub.
Her funeral was well attended by mourners at a private venue in Westminister, California on the outskirts of Los Angeles, just three days before what would have been her first wedding anniversary.
Leading the pallbearers was her husband who helped carry her casket to her cremation.
Told her stepbrother Jason Nguyen: 'I always try to have a tough-guy mentality, be the protector of our family, but she was the one who taught me how to let down my guard and to share something beautiful.' 
Offered Bao Trung Nguyen, Pham's second cousin: 'The departed ones are strong. Those who remain are weaker, our hearts still shocked and sad.' 
Many have come to hold the view they should forgive those responsible for Pham's death, so that their lives may be less burdened.
Reflected Tram Doan, Pham's stepmother: 'We focus on forgiveness. Everyone's life has value.'
The skirmish that ended with Kim Pham unconscious has since drawn national attention as to the insensitivity of her attackers and purportedly that of bystanders, many who chose to jeer the melee and video tape it. There has since been voiceforous debate as to why anyone failed to intervene and as to what may have precipitated the ensuing violence
Dung Pham, Kim Pham's father, would tell at the funeral he was touched by the generosity of friends and strangers.
Several people volunteered to videotape Pham's memorial service as a keepsake. Others offered to provide grief counseling to the family. Pham's co-workers at the Ink Press, a printing business in Garden Grove, said they would donate proceeds to help cover funeral costs.
Read a message on a Facebook page, Justice for Kim Pham: 'Our family wants to thank you everyone who showed up to Kim's funeral this morning. There is nothing more we can say because it was absolutely beautiful and serene. We want to share something personal for all the people who love and care for Kim. She is someone very special and we need to keep on sharing her story to the world. Gandhi once said, "Be the change you want to see in the world.'
To date two women, Candace Marie Brito and  Vanesa Tapia Zavalahave been charged with Kim Pham's murder. A third women is sought as well as that of two men sought for questioning.
To date the indicted suspects' lawyers have insisted their clients are merely scapegoats and their incarceration is the result of a witch hunt.
above found here
Why didn't anyone help Kim Pham? Are bystanders guilty?
Candace Marie Brito charged over Kim Pham death: 'This is a witch hunt!'
Cops must decide today whether to charge second Kim Pham suspect.
Kim Pham father, Dung Pham wants to forget the grief.
Kim Pham investigation stalled. No one wants to come forward.
New Kim Pham murder suspect identified. Picture released.
Vanesa Tapia Zavala insists Kim Pham threw the first punch. 
Vanessa Tapia Zavala charged with the murder of Kim Pham. 'I'm not guilty.'
Kim Pham was killed because she cut line.
Kim Pham blog last entry: Be bold go forward and live like hell.
Kim Pham attacker arrested after nightclub argument. Too beautiful to be killed?