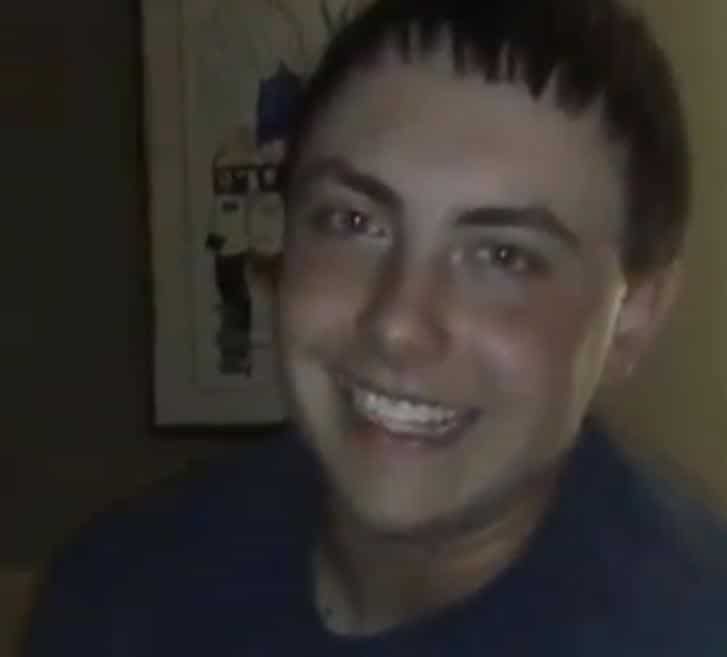 Steubenville rape now turns up photos of two new women semi naked. More victims involved?
Steubenville rape witnesses may now still face criminal charges. Internal disarray?
Steubenville rape witnesses urged to come forward. But is it wishful thinking?
Steubenville rape witnesses still refuse to cooperate. But why?
Steubenville rape case leads to Anonymous releasing new video of intent.
Steubenville rape case leads to guards protecting school. Death threats made….
How Steubenville High will force a change in whether we accept rape or not?
Former Stebeunville High school student Michael Nodianos not facing charges. But should he?
Steubenville High school rape video teen is desperate to be forgiven. Death threats galore…
Steubenville high school rape charges cease. Angry mobs protest.
Steubenville High school rape case leads to new Anonymous leaks. New names…
Steubenville High school students joke about rape in video leaked by Anonymous.
Should Michael Nodianos be expelled because of the viewpoints he expressed?
Michael Nodianos, the individual in the center of leaked anonymous tapes courtesy of 'hackivist' group Anonymous is now facing the real possibility of being expelled (see below) from Ohio State University where he is said to have started as a freshman this past September.
In fact not only is the young man facing calls for his expulsion, he is also facing calls for the repudiation of a scholarship offered to him as well.
As bustedbichesandinternetstalkers goes on to note at present Ohio State has yet to comment on the matter or what action if any it will take on Nodianos.
On another front one also has to wonder, irrespective of how distasteful or alarming Nodianos' comments and views are, should he necessarily be punished for expressing them, no matter how palatable the majority of us finding them?
The issue once again highlights the moral ambiguity and hazard that groups like Anonymous are creating by calling attention to individuals and entities it sees as complicit in nefarious undergoing. On one hand one ought to be relieved that such outings and bad behavior are brought to the public's attention but one also wonders the degree of legal impunity and culpability that groups like Anonymous are sidestepping that most legal media outlets are honored to follow in order to preserve autonomous discussions and not unneccarily disrepute or discredit individuals or entities said to be pursuing on the surface illicit or disturbing acts or views.
Reflected a variety of readers on the web:
While it is sad that justice is not being delivered by the legal system or the society supporting the perpetrators, there is an ironic mix of justice and vengeance in knowing that these hacktivists have meted out a form of punishment to the perpetrators and their enablers that is similar to the rape of this poor girl: they've attacked and humilated the offenders without giving them the means of fighting back.  
 
Furthermore, just as the victim will always haunted by this incident to some degree for the rest of her life, so now will the perpetrators everytime they apply for a job or college admissions, or whenever a potential love interest or their future children decide to look them up on the Internet.
Good for Anonymous. Certain types of crime need this modern lynch-mob treatment. Relying only on the courts or the authorities does not stop certain crimes, or the creepy fallout from them — sometimes it is society, the community, itself that has to step up and stop activities, and mete out justice.
The below is via Ohio State University Facebook page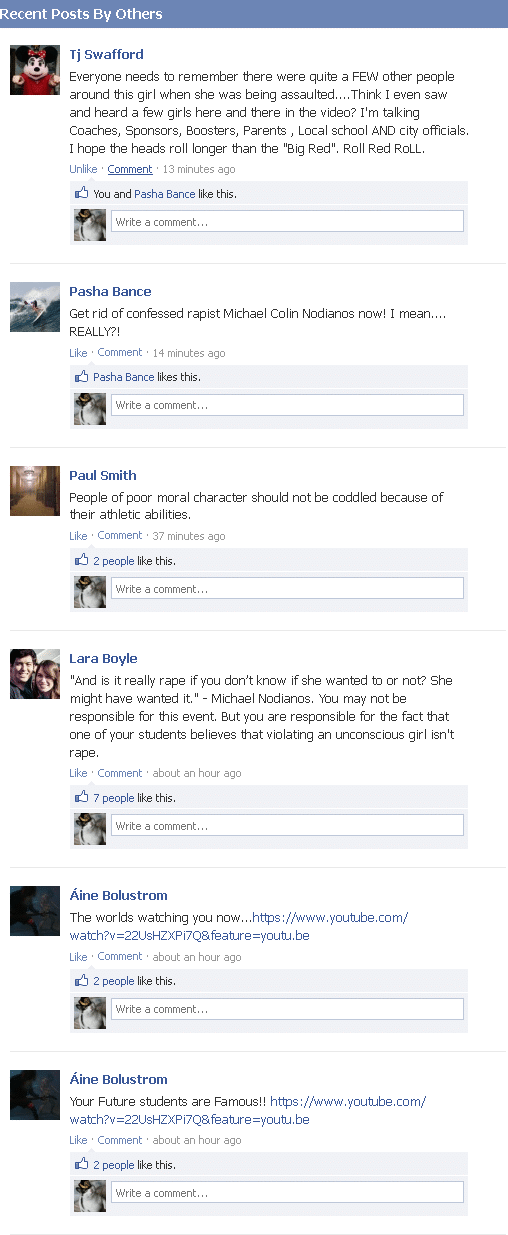 Commented alumni member Johnny Dee : is OSU a rapists school? Im more than a bit disgusted after watching a video of a young man who should be strung up, not receiving a scholarship. If that little girl had been my daughter he would already have received justice. wtf is happening to this country where behavior such as this is covered up?
7 hours ago · Like · 2
There are calls by alumni for the staff, students and other alumni to petition the university for his immediate removal as well.