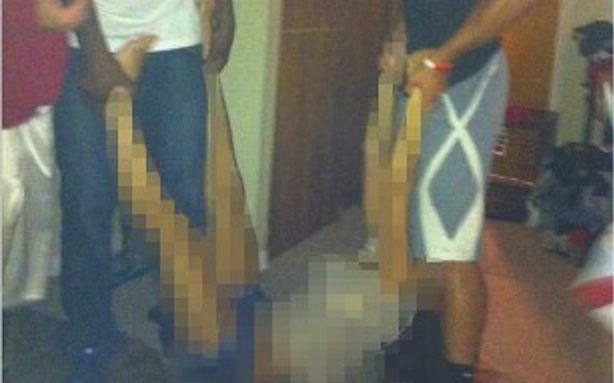 Steubenville rape case charges may be dropped and the trial moved?
Steubenville high school student apologizes for posting rape picture. Denies wanting revenge.
Steubenville rape now turns up photos of two new women semi naked. More victims involved?
Steubenville rape witnesses may now still face criminal charges. Internal disarray?
Steubenville rape witnesses urged to come forward. But is it wishful thinking?
Steubenville rape case leads to Anonymous releasing new video of intent.
Steubenville rape case leads to guards protecting school. Death threats made….
How Steubenville High will force a change in whether we accept rape or not?
Former Stebeunville High school student Michael Nodianos not facing charges. But should he?
Steubenville High school rape video teen is desperate to be forgiven. Death threats galore…
Steubenville high school rape charges cease. Angry mobs protest.
Steubenville High school rape case leads to new Anonymous leaks. New names…
Steubenville High school leaked video now leads to demands for Michael Nodianos' expulsion.
Steubenville High school students joke about rape in video leaked by Anonymous.
Authorities continue to be stymied by individuals who to date have refused to yield and step forward about their knowledge of a purported rape of a 16 year old minor last August at the hands of Steubenville High school alumni.
In an effort to affront closely guarded attitudes Steubenville school board has begun an expansive outreach program which aims to challenge preconceived views towards rape and violence towards women, bullying and substance abuse.
Offered a statement the board released: "By remaining silent, witnesses thwart the work of investigators which may ultimately prevent justice from being served."
That said tensions continue to remain high in the community as reports that Jefferson County Sheriff Fred Abdalla and his family have now received a death threat whilst Steubenville's police chief received an email which led to his computer shutting down.
Reports windy: Steubenville police Chief William McCafferty said he was checking work email at his office Wednesday when he opened a message and his computer was disabled.
McCafferty said the email was one in a series he's received from someone claiming to be a hacker angry at others who have been critical of law enforcement's handling of the case. McCafferty said the emailer had been sending directions in attachments for how to get back at the group.
The threats and havoc that local law authorities have suffered comes off the heels earlier this week of local school authorities deciding to put schooled in the Steubenville, Ohio zone in lockdown mode and safeguard with unarmed guards as anonymous threats have continued to increase and flummox the community.
Reflects windy: Some question why other students weren't charged, and bloggers and hacker-activists have alleged a cover-up meant to protect the popular football program.
A judge determined after a lengthy hearing in October there was only enough evidence to charge the two students, one of whom is accused of raping the girl in a car, the other in the basement of a house.
At that hearing, a third student testified he took a video with his phone of the alleged attack in the car, while another student testified he took pictures with his phone of the alleged attack in the basement.
Both testified they deleted the images within hours. Prosecutors said at the hearing that the two would have been charged had those images been found.
So far no word as to whether new individuals have volunteered to step up to authorities to volunteer what they may have witnessed or heard pertaining to the purported rape of the 16 year old minor. Which is to say no one would have stepped up had it not been the efforts of hacker group Anonymous to bring the case forward in the first place and whom have paradoxically with their strong arm tactics forced those who may have considered coming forward to stay in the shadows as the stakes grow ever higher as trials are begin to set this upcoming February…
Revenge porn website founder Hunter Moore has a new scary venture in mind even if Anonymous are now targeting him.
Anonymous accusation of Amanda Todd stalker is false say cops.
Anonymous track man who released naked deceased images of Amanda Michelle Todd via twitter.
Anonymous outs man who spread topless photos of Amanda Michelle Todd who committed suicide.