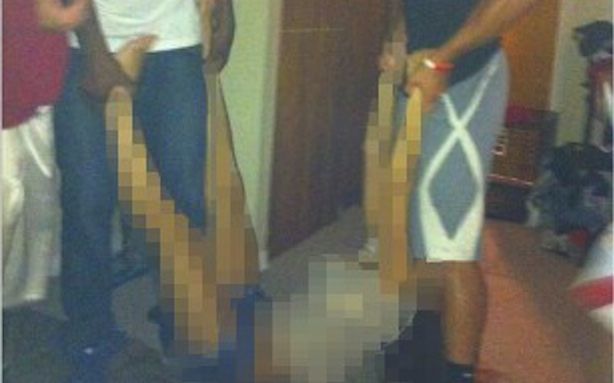 Steubenville rape case charges may be dropped and the trial moved?
Steubenville high school student apologizes for posting rape picture. Denies wanting revenge.
Steubenville rape witnesses may now still face criminal charges. Internal disarray?
Steubenville rape witnesses urged to come forward. But is it wishful thinking?
Steubenville rape witnesses still refuse to cooperate. But why?
Steubenville rape case leads to Anonymous releasing new video of intent.
Steubenville rape case leads to guards protecting school. Death threats made….
How Steubenville High will force a change in whether we accept rape or not?
Former Stebeunville High school student Michael Nodianos not facing charges. But should he?
Steubenville High school rape video teen is desperate to be forgiven. Death threats galore…
Steubenville high school rape charges cease. Angry mobs protest.
Steubenville High school rape case leads to new Anonymous leaks. New names…
Steubenville High school leaked video now leads to demands for Michael Nodianos' expulsion.
Steubenville High school students joke about rape in video leaked by Anonymous.
The stakes have just gotten higher for the individuals at the center of the Steubenville rape case as authorities have now disclosed that they have come across the shocking images of two new women facedown and partially naked on the floor.
Said to be taken at the same basement where a current 16 year old girl is claiming she was raped at the hands of various members of the Steubenville High school's football team the photos now raise the real possibility that in fact there may indeed be a history of abusive and violent action towards young girls at the hands of the football team.
The UK dailymail goes on to note that that photographs were found stored on a cellphone belonging to a teammate and friend of accused Ma'lik Richmond and Trent Mays.
It is at present thought the photos were not taken on the night of the current investigation in place pertaining to the purported rape of a 16 year old minor this past August. That said what makes the images even more horrific is the fact one can't tell whether the girls are conscious or not when the photos were taken, something which would only serve to reaffirm said individual's history of consistent violent and debasing treatment of said young girls.
Reports the dailymail: The friend, a fellow wrestler and footballer, who cannot be named for legal reasons, was present on the night in August when the girl was allegedly raped by the two. 
He provided eyewitness testimony at the probable cause hearing last October at which the rape charges were upheld.
MailOnline has seen the 300-page transcript of the hearing in which the full horror of that night in Steubenville is revealed.
The existence of these earlier photographs, retrieved by forensic analysts, emerged only under cross-examination and the witness repeatedly denied all knowledge of them in spite of their presence on his phone.
In a tense courtroom exchange Walter Madison, Richmond's attorney questioned the witness: 'There is a photograph here of a woman on the same carpet as the carpet in xxxx's basement. Do you recall that photo on your phone?'
The witness replied 'No sir.' Asked about a second picture the witness claimed, 'I have never seen those pictures in my life.'
It has also been revealed that two of the three teammates who gave preliminary testimony admitted taking photos on their cellphones. That said both are said to have deleted the evidence  before police seized them, thus escaping arrest.
The discovery of the additional photos is sure to once again rile the community of Steubenville, Ohio which has found itself up in arms with the fact that to date only two individuals have been so far charged and that witnesses to the purported rape have so far have declined stepping forward.
The case once again highlights the enduring parochial attitudes towards women and the enduring reverence the football team receives in spite of damning evidence now beginning to make the day of light. What has equally frustrated protesters is why no one chose to intercede in the evening of debauchery where it is believed the minor was drugged, urinated on and photographed multiple times in compromising positions.
Mays and Richmond go to trial on 13 February. Ma'lik Richmond is charged with rape. Trent Mays is charged with rape and disseminating photographs of a nude minor.