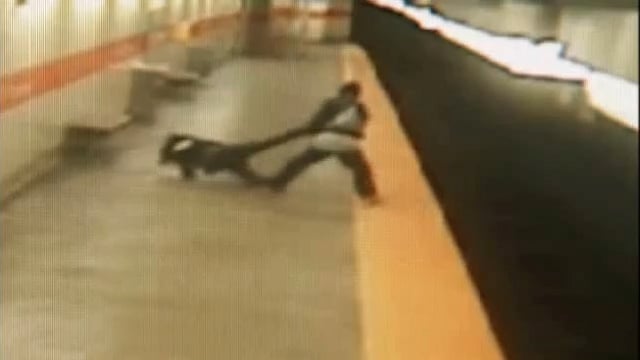 Just in case you think all the subway mayhem only happens in NCY think again. The shit also happens in Philly too….
gawker: A man was arrested yesterday and charged in connection with a horrifying assault on a subway passenger in Philadelphia. Disturbing footage of the Tuesday afternoon attack was captured by surveillance cameras inside the Chinatown SEPTA station, and ultimately led to the man's arrest two days later.
Kids can someone back up and tell me what the hell is going on in America? Since when did we have such an endemic love affair with beating up strangers and throwing them in harm's way? Is it something in the coco pops we munch or sniff on? Or is it something to do with the fact that living in the US is a little crazy?
As it turns out the 23 year old woman survived her ordeal (and what an ordeal) with only a few scratches and bruises. Yet to be honest I don't know what type of trauma she'll be experiencing going forward, not the yummy kind to be sure.
The assailant, 36 year old William Clark was eventually apprehended and charged with aggravated assault and robbery. To his cache of unremarkable behavior, Clark has a stellar history of previous robbery, burglary and carjacking.
Video captures subway passenger pushed to his death by deranged panhandler.
Man caught on camera sexually molesting sleeping woman on NYC subway.
Oh really? Stinky woman urinates then showers on busy NYC subway.
Gruesome weekend on NYC subways with 4 deaths including decapitated head on platform.
Video: It's time to watch your cops vs fare avoiders subway brawl.
WHY DON'T YOU JUST BE A MAN ABOUT IT? TRYING TO FIGURE OUT IF A MAN SHOULD GIVE UP HIS SEAT FOR A WOMAN….
VIDEO OF DRUNK ASS MAN TRYING TO GET BACK ON THE SUBWAY WHILST BOXING HIMSELF AND BEING BOOED BY PASSENGERS.
WOMAN USES NYC SUBWAY TRAIN AS HER PERSONAL SHOWER.
Crazy Naked Racist on the 6 train. 'Yo nigga' is buggin'
STUDY DECLARES NYC SUBWAYS ARE DIRTY.
HAVE YOU HAD A CHANCE TO PLAY WITH THE UBIQUITOUS HERALD SQUARE SUBWAY RAT YET?
ARE YOU UP FOR WEARING THE DISPOSABLE SUBWAY RIDING GLOVE?
BLOODY LOCO IS WAITING FOR YOU BY A SUBWAY NEAR YOU!
DID YOU GET INTO A SUBWAY SPAGHETTI BRAWL YESTERDAY AFTERNOON?
Blood bath on the number 6 train local