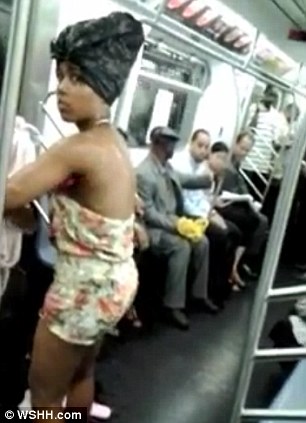 When in dire need just let the good shit go…
Video footage has emerged depicting a woman who appears to be urinating in a subway car before then taking out a gallon of water and giving herself an impromptu rinse. In the background one can make out the visage of disbelieving passengers.
The video begins in a packed train with a woman complaining to her friend how urgently she needs to pee and how she should have peed before getting on the train. It's a situation many New Yorkers by now are accustomed to by now, except for what happens next…she wets herself.
From there passengers begin to get up in disbelief whilst the woman at the center of the wetting now begins to take off her soiled shoes and socks with one unassuming passenger (God bless New Yorkers) giving her a paper towel to help clean up with.
From there the woman takes out a pink sponge and some soap (cause one should always be ready to clean up after themselves in the event of accidents) and proceeds to give herself a good scrub.
By now fellow passengers are sniggering whilst the woman dressed in a tiny floral jumpsuit bemoans that 'It's not funny! I can't stay like this stink.'
The video first released this past Thursday on website hip-hop site WorldStarHip Hophas been making the rounds with many speculating if it all wasn't just a clever attention seeking stunt. Or was it?