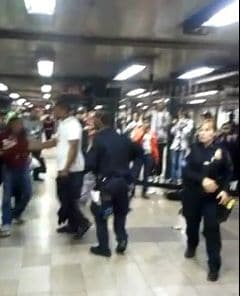 Let's admit it, nothing reeks of rite of passage than the trying to beat the toll fare and police brawl confrontation. It's simply part of growing up if you're a nuanced hardened NY'er. Right?
That said, it's time to draw focus on the 'chabang' going on the video- to be blunt it's a free for all. Fists, pocket books being flung and as you will soon hear a lot of wailing and the pandemonium exalting of by standers – half of whom are rooting for the cops, the other half rooting for the fare trespassing seeking truants.
In the end the cops get their would be fare beaters and the world  once again subdues into a dim hum.
Such are the disorderly affairs of the NYC subway system, but then again you probably have a story or two yourself…
WHY DON'T YOU JUST BE A MAN ABOUT IT? TRYING TO FIGURE OUT IF A MAN SHOULD GIVE UP HIS SEAT FOR A WOMAN….
VIDEO OF DRUNK ASS MAN TRYING TO GET BACK ON THE SUBWAY WHILST BOXING HIMSELF AND BEING BOOED BY PASSENGERS.
WOMAN USES NYC SUBWAY TRAIN AS HER PERSONAL SHOWER.
Crazy Naked Racist on the 6 train. 'Yo nigga' is buggin'
STUDY DECLARES NYC SUBWAYS ARE DIRTY.
HAVE YOU HAD A CHANCE TO PLAY WITH THE UBIQUITOUS HERALD SQUARE SUBWAY RAT YET?
ARE YOU UP FOR WEARING THE DISPOSABLE SUBWAY RIDING GLOVE?
BLOODY LOCO IS WAITING FOR YOU BY A SUBWAY NEAR YOU!
DID YOU GET INTO A SUBWAY SPAGHETTI BRAWL YESTERDAY AFTERNOON?
Blood bath on the number 6 train local
OBSERVATIONS ON THE L TRAIN. NYC.