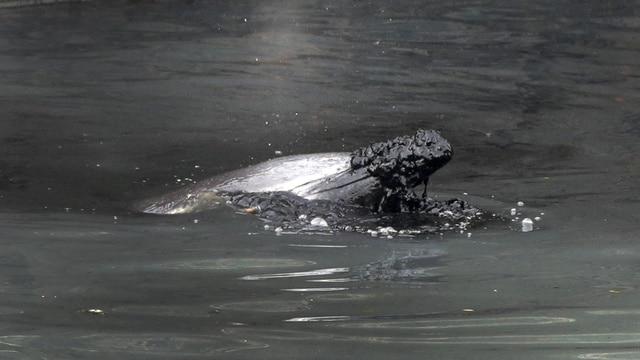 Making headlines this afternoon is the improbable story of a dolphin which has found itself stranded in Brooklyn's ultra grimy polluted Gowanus canal. Making matters worse it is believed that the dolphin is bleeding and no rescue operation can be attempted until high tide expected at 7pm tonight.
As people continue piling along the Union st bridge rescuers have begrudgingly expressed they dare not attempt rescue the dolphin until high tide comes for fear of sinking into toxic waters.
Reiterated Robert DiGiovanni senior biologist at the Riverhead Foundation: "Unfortunately, all we can do is watch and wait for the tide to rise, so the animal can get out on its own. It's not safe for us to get people in the water."
Offers the nydailynews: DiGiovanni said from time to time dolphins do swim into the canal, but they usually swim in packs. He said it's rare for one to break off alone, and to get as far north as the Union St. bridge, near inland end of the canal, where its polluted waters stagnate.
It's understood the dolphin was first noticed at the entrance of the canal, near Hamilton ave circa 9am this morning.
With onlookers continue congregating, officials sadly reckon the odds are pretty much against the dolphin.
The dolphin's plight is sure to raise questions as to why it has taken so long to clean the toxic canal which was only listed on a national supefund site courtesy of the Environmental Protection Agency back in 2010.