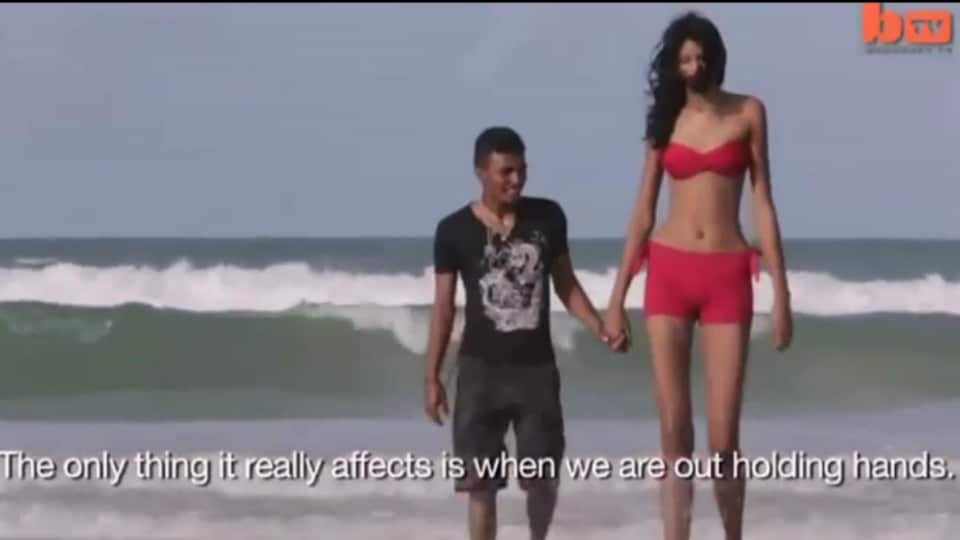 Who said size really matters?
At 6'8", 17 year old Brazilian Elisany de Cruz Silva is said to be the tallest teenage girl in the world, a situation that has come about as a result of a rare form of gigantism caused by a benign tumor in her pituitary gland (since removed).
Since turning 13 the UK's dailymail report that Elisany has had to contend with severe going pains and migraines, being too tall to ride the school bus and had her hopes to be a model dashed by the fact she keeps exceeding industry standards.
That said she does a boyfriend,  22 year old Francinaldo da Silva Carvalho who she's really into. At 5'4" and a construction worker to boot Francinaldo has managed to make a positive difference in Elisany's life.
Reflects Francinaldo:
"She is a beautiful person. She is tall but she is so pretty, with a beautiful face. I don't mind having a tall girlfriend. I feel free and relaxed as a person and don't care what people say."
And what does Elisany reckon?
"The only thing that really affects us is when we hang out holding hands – it seems like he is my little brother or son. But I didn't choose him, God did."
The pair are said to be happy together and she loves nothing more than stooping to kiss him and giving him clothes from the top shelf which he cannot reach.
Which is love's way of saying where there is a will there is a way…